Tomatoes not only make your favorites dishes taste better but they are also good for your skin and hair if applied topically. They are rich in vitamins and minerals such as A, B, C, and E that are essential for your hair growth. Tomatoes reduce your hair fall, add shine to the strands and help fight dandruff. Applying tomato masks to your scalp and hair will lead to healthy and stronger hair to show off so here we are with some amazing tomato hair masks that you can easily prepare and apply at home.
Tomato, Honey, and Lemon Mask
Tomatoes are a rich source of antioxidants, this hair mask will help you with getting rid of dandruff and itchiness on your scalp.
Ingredients:
2-3 Tomatoes
Half lemon
1-2tbsp honey
How To Prepare And Apply?
Blend the tomatoes in a blender and make a smooth paste
Add lemon and honey to the paste
Mix all the ingredients well in a bowl
Massage it on your roots in circulation motion
Leave the hair mask for 30mins and rinse off using mild shampoo and plain water
Tomatoes and Coconut Hair Oil
This powerful concoction of coconut oil and tomatoes is going to make your hair thicker and stronger by adding perfect shininess to the strands.
Ingredients
2-3 ripped tomatoes
3-4 tbsp virgin coconut oil
How to Prepare and Apply?
Take a blender jar and put the tomatoes in it
Make a smooth paste
Warm up the coconut oil on the stove and add it to the tomatoes puree
Make sure the oil is not too hot as you will have to apply it to your scalp
Massage this paste on your roots and hair
Leave it for 30-40mins and then rinse off using shampoo and apply conditioner
Tomatoes and Curd Mask
Curd helps in treating dandruff and providing you healthy hair, it also results in softening of your hair strands.
Ingredients
1-2 ripped tomatoes
2-3tbsp curd or yogurt
How To Prepare And Apply?
Make a puree of the tomatoes and mix them with the curd
You can even add 1-2tbsp coconut oil if curd makes your hair dry
Apply the paste on your washed hair
Let it sit for 15-30mins then rinse off using a mild shampoo and conditioner
Tomatoes Juice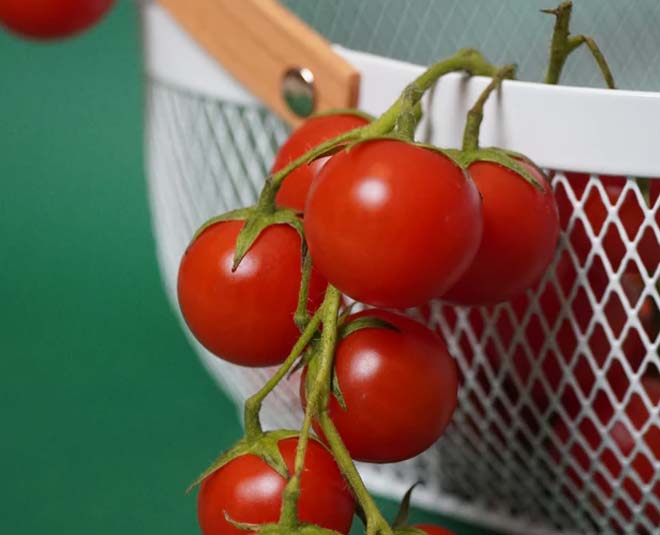 Tomatoes consist of acidic properties and hence they help with balancing out the PH level of your dry hair. It helps to prevent excess oil production on the scalp and boosts blood circulation.
Ingredients
2-3 ripped tomatoes juice
castor oil (optional)
How To Prepare And Apply?
Make a smooth paste of tomatoes and form it in a puree
Now you can add the castor oil to the paste or apply it directly to your scalp
Leave the paste for 20-30mins on your hair and scalp
Then rinse it off with water and use a mild shampoo and conditioner afterward
We hope these hair masks will help you achieve healthy and shiny hair. Stay tuned to Herzindagi for more.
image courtesy: Unsplash, freepik
Did you like this article ?