Sonam Kapoor is one of the most amazing and breathtaking people in the industry. Her grace and charm are magical attributes of her bubbly self. She is indubitably a perfect diva, the most impeccable fashionista, and a National Award-winning actress. There are so many things about her that we love one important thing is that she always shares her mantras with her fans.
This time Sonam took to social media to share her makeup routine before heading into the day. The routine is majorly also about how you can hide and conceal the dark circles and visible spots on your face through makeup. So, if you too want to look as stunning and vibrant as Sonam on a daily basis then read on to find out how she does it with her makeup wand.
Foundation & Concealer Under The Eyes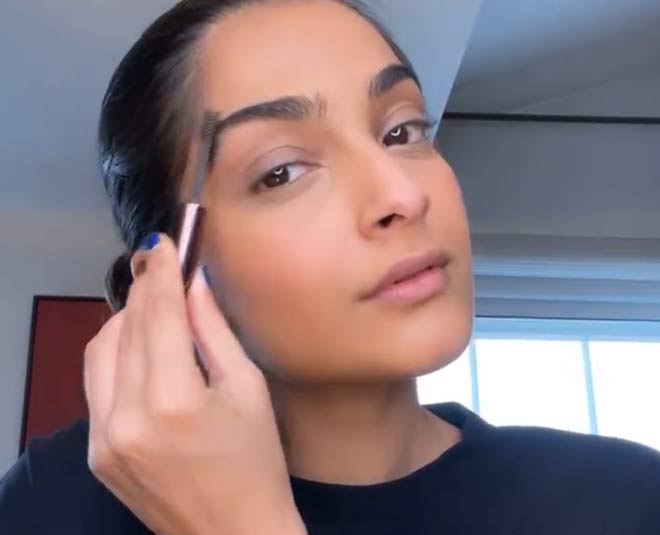 Wash your face and apply primer before diving into this look. Dot a bit of foundation over the face and then apply some liquid concealer under your eyes, covering all the dark circles evenly. Do this for your entire face where ever you find any spot cover, conceal it, and using a makeup blender to even out the concealer. Do not spread the conceal-over areas were not required, use it only where you have uneven skin or hyperpigmentation.
Loose Powder
Fix the concealed areas with a dab of loose powder on the finger. Then take a medium size blending brush and apply some compact powder with its help. Roll the brush over your entire face in order to give even coverage.
Blush
Moving on, take the blush brush and apply some light pink tinted blush on the apple of your cheeks and a hint of it on the bridge of your nose. Blend it well and then move on to the next step.
Defining The Brows
Your brows are one of the key features of your face that define it well. That is why you must fill in your eyebrows nicely. As a part of a hack you can use your old mascara to give your brows that deadly angle.
Do The Lips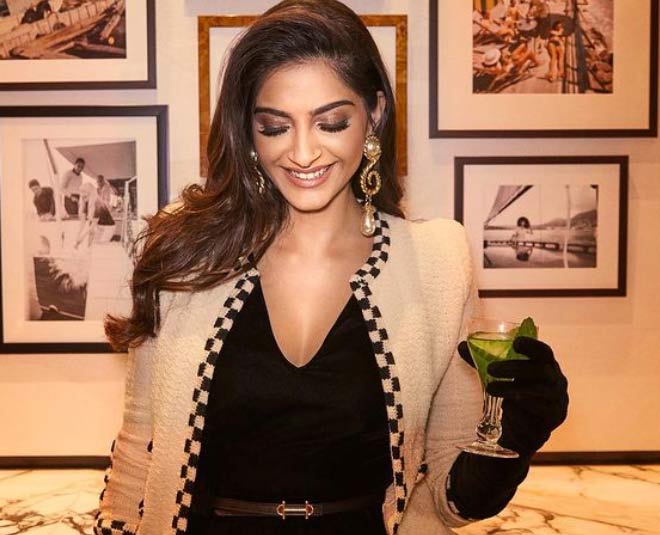 Another important part of this daily makeup routine is how Sonam keeps the look all simple with her nude pink lipstick. She takes a very subtle pink that's close to her natural lip shade and makes it look super beautiful.
Highlighting The Face
Next, comes to the step that most girls love - highlighting. Just highlight the highs of your face with a mild golden tint highlighter(5 ways to apply highlighter) using a highlighter brush. Apply it over your nose's bridge, the highs of your cheeks, below the eyebrows, on the forehead and chin.
Don't miss: Sonam Kapoor's Latest Photoshoots For Harper's Bazaar Prove She Is The Ultimate Fashionista
Mascara To Lift Up The Lashes
Just like your eyebrows, the makeup trends of today have a high prominence of thick lashes and that is why mascara (reuse old mascara)has become a vital part of our makeup routine. So, Sonam just takes the mascara and applies it to the end of the lashes, this makes the lashes look denser. Finally, just get wrapped in your favourite dress and enjoy.
Don't miss: Sonam Kapoor's Most Amazing Looks From Her Instagram For You
Stay tuned to Her Zindagi for more such pieces.
(Image Courtesy: Instagram Sonam Kapoor)