Many of the spices that we use daily in our cooking have healing properties. They can also be used for external skin and hair treatments and get rid of pimples and dandruff. Our skin goes through a lot on a daily basis. Using chemical-infused products, sometimes make situations worst. That's why it is always safe to use natural ingredients. They almost have no side effects, are great for skin and of course are cost-efficient. Some of the Indian spices that you can use to get that healthy glow are:
Turmeric
Turmeric is one of our traditional beauty aids. It has been used in Indian households for generations. Recent research has revealed that turmeric helps to delay the visible signs of ageing, like lines and wrinkles. It softens dry skin and prevents moisture loss. Due to its antibacterial and anti-inflammatory properties, turmeric also helps to control acne and rashy conditions.
Add a pinch of turmeric to curd and apply daily on the face.
Wash it off after 20 minutes. It helps to remove tan and control acne.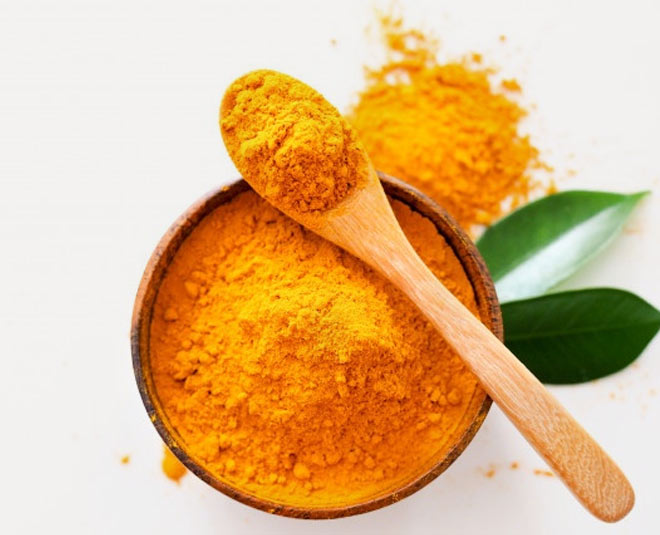 Ginger
In Ayurveda, ginger is known as 'a universal remedy' because it has so many benefits. Teas and pills are made from ginger alone. Ginger tea can be taken after meals for digestion. It has many healing properties and is said to contain many antioxidants, which help to delay the visible signs of ageing on the skin. Ginger juice can be applied on the skin, mixed with other ingredients. It is said to control oily-skin conditions, like acne, a summer problem.
Ground Pepper
Many of kitchen spices can be added to other ingredients to make homemade face packs and scrubs, or even ointments. Packs and scrubs may be applied once a week, for normal to dry skin, while for oily skin, they may be used more often. For instance, a pinch of ground pepper may be added to yogurt and honey and used as a pack. Wash it off after 10 minutes. It has antibacterial properties and is good for acne-prone skin.
Don't Miss: How To Use Ice Cubes For Flawless Skin
Before applying pepper, apply very little on your inner wrist. If there is any irritation, redness or rash, avoid applying pepper. Or you can apply a drop of essential oil of pepper to a face pack. It adds a glow and is also said to minimise blemishes, like dark patches or marks. You can also mix grated ginger with rose water and honey and apply on the skin. Rosewater is a natural coolant. Powdered nutmeg can be mixed with curd and used as a scrub.
Cinnamon Powder
Cinnamon powder can be mixed with honey and fenugreek powder into a paste and applied daily directly on acne eruptions only, leaving it on for half an hour. Cinnamon helps to control acne and can be applied on acne eruptions, to heal and control the condition.
Don't Miss: Here Is How & Why You Should Protect Your Skin From Sun Damage
Fenugreek
Fenugreek (methi) is another common spice that powerful healing qualities and benefits for the hair. The seeds help to control dandruff and oily scalp conditions. Fenugreek also contains lecithin, which actually helps to moisturise the hair and is thus useful in cases of dry, damaged and chemically treated hair.
Indeed, nature is not only the best cosmetologist but an expert chemist. She has provided such versatile natural ingredients to enhance the beauty of the skin and hair. I would say that an entire range of cosmetic products exists in nature.
A world-renowned beauty expert, Shahnaz Husain is known for giving beauty tips that can magically transform your skin. For more stories from Shahnaz Husain, stay tuned to HerZindagi.
Picture Courtesy: Twitter