Organic pedicure has become one of the biggest beauty trends today. As the name suggests, organic pedicure involves the use of natural oils and extracts. These organic ingredients cleanse and exfoliate your feet. The best part about this pedicure is that it is free of any chemicals which can harm your skin or nails in the long run.
You can do an organic pedicure at home using a few natural ingredients. Here is your guide:
Organic Pedicure At Home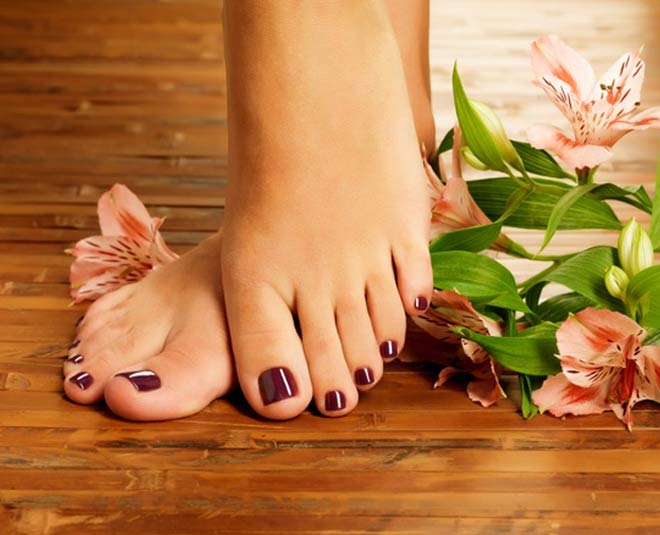 Things You Will Need:
Nail Brush
Pumice Stone Or Heel Scrubber
Nail Clippers
Emery Board
Cotton Wool
Cotton Buds
Massage Cream
Nail Polish Remover
Nail Polish
Small Tub For Soaking Feet
Directions:
Begin with removing old nail polish with a remover and cotton wool.
Soak your feet in warm water. Add some herbal shampoo or vegetable oil, sunflower oil, or olive oil to the water. You can also add coarse salt to this water. Keep your feet soaked for 15 minutes.
Next, take out your feet and pat dry. Clean your nails with the brush. Make sure the brush isn't too hard.
Use a pumice stone to clean the heels and sole. Avoid using any metal scrubbers as they can damage your skin. Or you can scrub your feet with a rough towel or loofah. Now cleanse your feet with clean water and dry.
Using a nail clipper, cut your nails if required. It is best to cut your toe nails straight as giving them shape can lead to ingrown nails. Using an emery board, smoothen the nails.
Don't Miss: Shahnaz Husain Suggests Easy Home Remedies To Take Care Of Hands During Covid-19
Never use a sharp instrument to cleanse your nails. Don't cut the cuticles of the toenails.
Take some almond oil and apply on your nails using a cotton bud.
Prepare a scrub for your feet using a mix of ground almonds, yogurt, and sugar. Mix them in a bowl and apply on your feet. After 15-20 minutes, rub gently on the skin in circular movements. Massage well on the heels. Wash off with water.
Next, massage your feet with sunflower oil or olive oil. Wipe off the excess using a moist towel. Make sure you apply oil on your nails too and massage in upward strokes from the toes towards the ankles. Wipe your feet with a moist towel.
Don't Miss: Make Full Use Of These Foot Care Remedies This Summer & Make Them Look Good Even In Slippers
In a bowl, add 1 tsp lemon juice and honey with 50 ml rose water. Mix well and apply on your feet. Keep for 30 minutes and then wash with normal water. This helps in moisturising and softening your feet.
If you like to apply nail polish, put some cotton wool between the toes, and start applying in broad strokes from the base of the nail to the tips. After the first coat dries, apply another coat.
Foot Wrap At Home
Other than doing this organic pedicure at home, you can also prepare a foot wrap at home. For this, you need milk, oats, aloe vera gel and pure almond oil. Mix all the ingredients well. Apply it on your feet and tied a gauze bandage or clean cloth around your feet. Lie down and relax for 20 minutes.
Natural, Effective Ingredients For Foot Care
Aloe vera is a powerful moisturiser and it also comes with healing properties which makes it great for your feet. It helps in softening and smoothening your feet. Milk, oil, and oats help in cleansing and nourishing the feet.
Shahnaz Husain is a renowned beauty expert and all her remedies work for real. For more stories from the expert, stay tuned!