Rakul Preet Singh started her career in the movies as a South Indian actress. But, courtesy to her hard work, rising popularity, and fandom, the actor seems to have become an unstoppable star. Other than just being a talented actor, she also is undoubtedly one of the most charismatic and beautiful personalities in the industry. While some are fans of her smile, others simply are infatuated with her facial features. Since, many wonder what she does to maintain that radiance on her skin with such a hectic schedule, the actress, in an interview to Vogue spilled her beauty secrets.
Rakul Is A Fan Of Natural Remedies
Some of the spices, oils and citric fruits are always available at every Indian household. The actress uses these ingredients only to get rid of eye bags, tan and to massage the face. Every alternate day she applies a generous amount of coconut oil on her whole face, including eyes and neck. With summer, skin tanning is natural. While one should never skip using sunscreen, they can also use face packs made from tomato, a concoction of turmeric, gram flour and yoghurt on the affected area. "On alternate days, I use coconut oil on my face, under my eyes and to massage my neck. When I tan, I rub a tomato or a concoction of turmeric, gram flour and yoghurt on my face," said Rakul.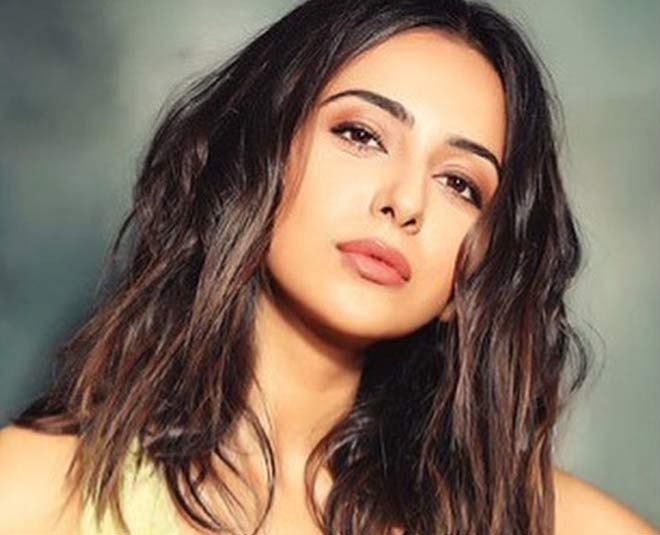 Don't Miss: Look Younger With Regular Usage Of Sandalwood In Different Ways
She Swears By This DIY
Being the upper layer of the body, our skin goes through a lot on a daily basis. To protect it from certain kinds of cellular damages caused by free radicals, such as smoke, sunlight, pollution, etc, it needs powerful antioxidants. Fruits and veggies are packed with it, thus, eating or applying them on the face makes a huge difference. Seems like the 29-year-old star realised this early in her life and that's why she swears by fruit facial since her childhood. Be it papayas or bananas, Rakul applies fresh fruit on her face. She inherited this beauty tip from her mother. "As a kid, my mum would have us apply the fruit we ate on our face—from papayas to bananas, my skin's got them all," she was quoted in the interview.
Don't Miss: Try Malaika Arora's 3- Ingredient Fruit And Vegetable Ice Cube Hack For Toned, Glowing Skin
Workout Is Important For Beauty
Workout not only helps the body to stay fit, but also is great for the skin. While many may not believe this, Rakul Preet Singh, explained the significance of sweating in the gym for glow and beauty. "It's very important to sweat for your skin to glow, and I'm addicted! You can see it on my face when I don't work out for two days. I work out every morning, even if it means waking up at 4am before a shoot," revealed the star. Be it yoga, or jogging, people who exercise daily have a certain glow that lasts for several hours. It happens due to increased blood flow and the release of endorphins during the workout session. It is believed that the dewy appearance can also be the result of sweat.
Rakul Prefers Healthy & Clean Food
What you put in your system, reflects on the skin. Unhealthy fat from junk and fast food lead to different kinds of skin problem. To avoid it, the adaptation of a healthy lifestyle is imperative, which includes eating healthy. "I hate the word diet; it's very depressing. For me, it's a lifestyle! What I like is something we all have grown up eating — ghar ka khaana. I'm a big foodie, but I prefer healthy and clean food. I'm well aware of the food I eat — the macronutrients I intake, the source of my food, the oil used to make it and much more," said Rakul, during an interview with another leading newspaper.
If you liked this article, do comment on our Facebook page. Stay tuned to HerZindagi to read more articles on celeb beauty regimens.