Masaba Gupta is the quirkiest designer in town and we mean it. She practically has done it all by first creating magic with her edgy prints as she started off her journey with House Of Masaba. Then she hopped on to releasing a cosmetic line called LoveChild By Masaba that caters to providing beauty and makeup products for the Indian women. A step that is very inclusive in a market that otherwise is very fair complexion centric.
View this post on Instagram
Masaba has moved from strength to strength during her journey from fashion, beauty, movies, OTT and more. She certainly is one of those personalities who has donned many hats and carried it off with grace. Masaba's OTT adventure Masaba Masaba that aired on Netflix takes us through her life and journey along with her iconic mother, Neena Gupta of course.
View this post on Instagram
LoveChild By Masaba Launches Band Baaja Blush & Highlighted Nakhre
Masaba has now released an all new range of face colours including cream blushes called Band Baaja Blush and powder highlighters called Highlighted Nakhre that are sure to win over all the ladies' hearts.
The launch will be catering to the ongoing shaadi season in the country and has been made appropriate for all the pretty patakas and soni kudis in the land.
Don't Miss: Abu Jani Sandeep Khosla Bring Out The Glory Of Giddha Collection
View this post on Instagram
Band Baaja Blush
View this post on Instagram
The cream blush called Band Baaja Blush gives you a little flush of creme that brings your dull cheeks to life and gives you an instant dewy finish that can tie your whole look together. It is available in six super pigmented shades called; Lal Lal Land, Cinnamon Choli, Brown Kudi, Bubblegum Baraat, Peach Puchka and Shocking Sharbat. Enriched with niacinamide, squalene, shea butter and hyaluronic acid these blushes are highly pigmented and dewy in texture but give you a matte effect on the skin and are long lasting enough to take you through those party nights.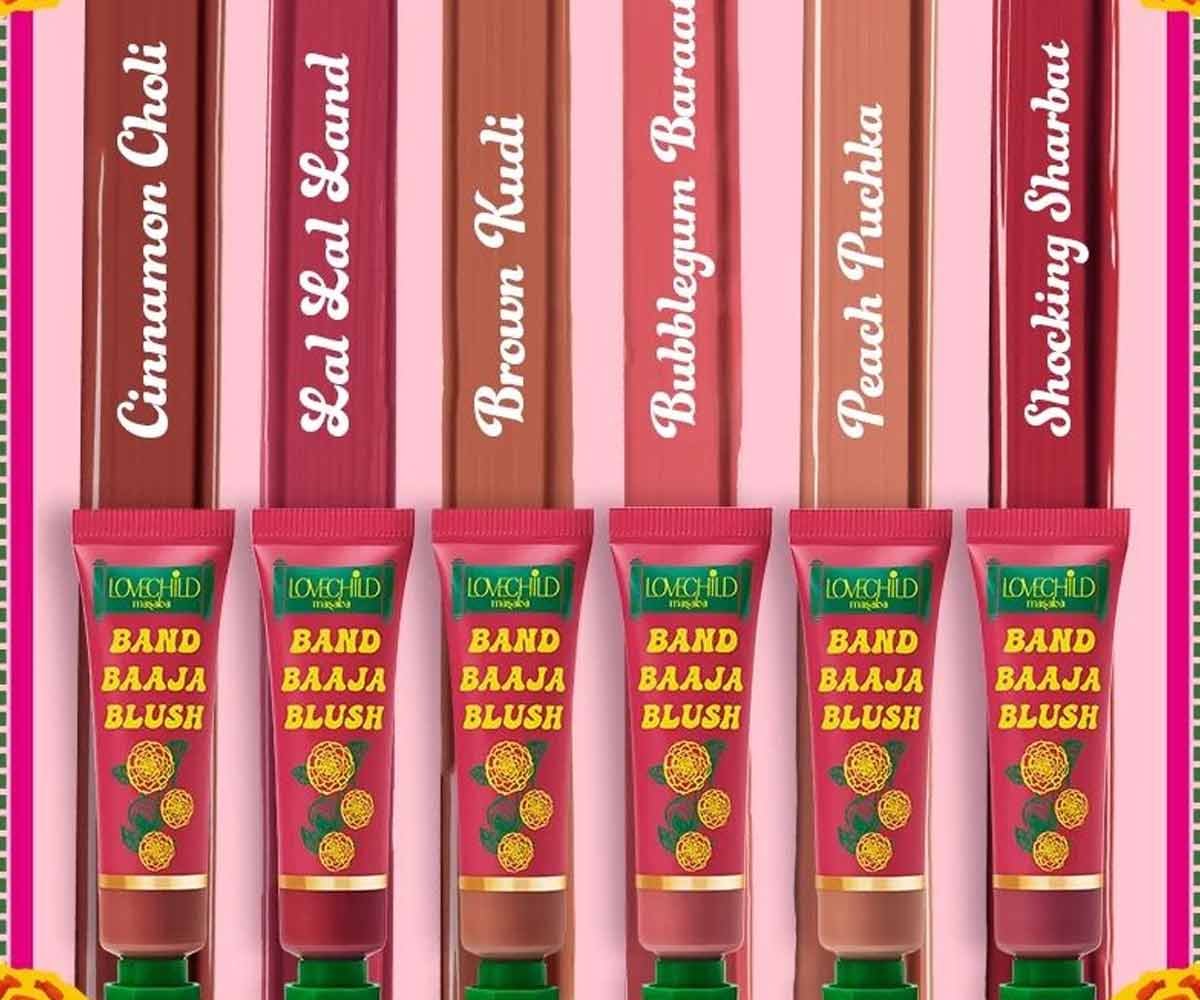 Don't Miss: Sabyasachi Drops His White Wedding Collection, Netizens Are in Awe
View this post on Instagram
Highlighted Nakhre
View this post on Instagram
The Highlighted Nakhre range of highlighter palettes have awe-inspiring highlighter shades that are perfect for enhancing your face, neck and body contours with a single application. These are available in two shades, Chandni & Sitara that have a mix of champagne golds, pinks, bronzes and more to light up your face and life all at once.
View this post on Instagram
Did you like this article ?