In a short span, Kiara Advani has managed to make a mark, and its all because of her impressive performances with movies like Kabir Singh, Lust Stories, Good News among others. Also, those who follow her would agree when I say that she has a spotless skin and we all go green with envy seeing that! Wondering where she gets that glow from? Well, as they say, it is best to stick to natural ingredients when it comes to your skin. Kiara Advani follows the same route and goes for simple beauty remedies rather than going for any expensive beauty treatments.
Kiara's DIY Remedy
In an interview with Vervemagazine, Kiara Advani shared her DIY beauty remedy. She said, "My mom makes this paste with fresh cream and besan which works as a scrub and she insists I follow this home treatment once a month."
Don't Miss: This Is What Kiara Advani Eats For Breakfast
How To Use?
In a bowl, add a tablespoon of besan and mix with some fresh cream. Mix well to make a paste. Apply all over your face and neck, keep for 20 minutes, and then wash. Rinse with water. This can be done twice a week for quick results.
When used together, these two ingredients make your skin glow naturally.
Why This Remedy Works?
Both besan (gram flour) and fresh milk cream (malai) are natural ingredients and have no side effects on the skin. These two ingredients are commonly used in the Indian kitchen and have some amazing skin benefits.
Besan For Skin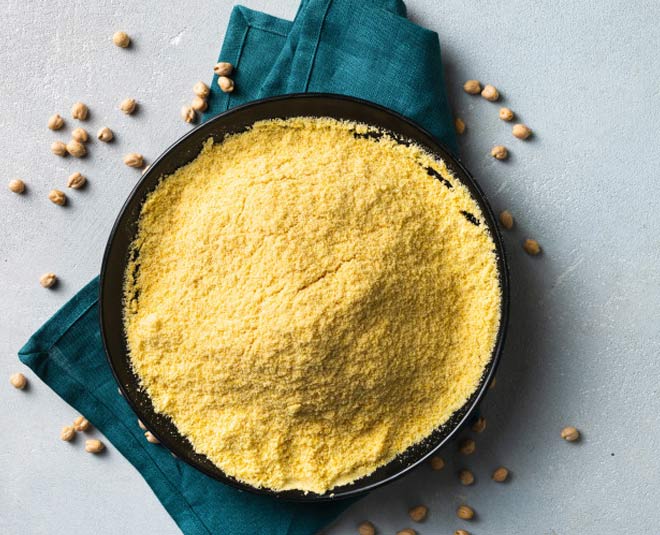 Gram flour works as an exfoliator for your skin. It removes all the dead layers and makes your skin glow. It also helps you get rid of blackheads and whiteheads.
Besan is great for tan removal. It lightens your skin colour naturally and makes it glow.
Regular usage of besan or gram flour can help in removing fine facial hair.
Gram flour has zinc which helps in fighting skin infections. If you have acne-prone skin, then you must add gram flour to your skincare routine.
Besan is great for oily skin. It helps in reducing oiliness on your face. Too much oil on the face leads to acne and pimples.
It has anti-ageing properties that make your skin look youthful.
Malai For Skin
Malai or milk cream is a thick layer that forms on the surface of the milk. Do you know it can totally transform your skin?
Fresh cream or malai can do wonders, especially during these hot summers. It helps in treating sun tan and sunburns.
Malai can be used as a moisturiser. It is great for dry skin. It makes your skin feel smooth and soft.
Malai also works as a good face cleanser. It clears the dust and dirt on the skin and cleans your face pores.
Fresh cream gently exfoliates your skin and removes all the dead skin cells. It makes your skin appear smoother and softer.
Kiara Advani's go-to beauty DIY is super easy to use and works for real. I tried it and you should too! Though it is completely natural, it is best to do a patch test on your hand before applying the scrub on your face. For more celebrity beauty secrets, stay tuned to HerZindagi.