Using A Scrunchie, You Can Embrace The Spacebun Hairstyle
Scrunchies have made a major comeback and here's how you can style your hair using one!
Timeless, chic, and classic. The best of past decades always manage to make their comeback in today's fashion trends and are we are very glad to find scrunchies among them. A scrunchie hairstyle is relatively casual and easy to style. Rock these hairstyles in the office or while working from home on your next Zoom call. They're versatile, chic, quick and suitable for any occasion depending on how you style them.
Space Buns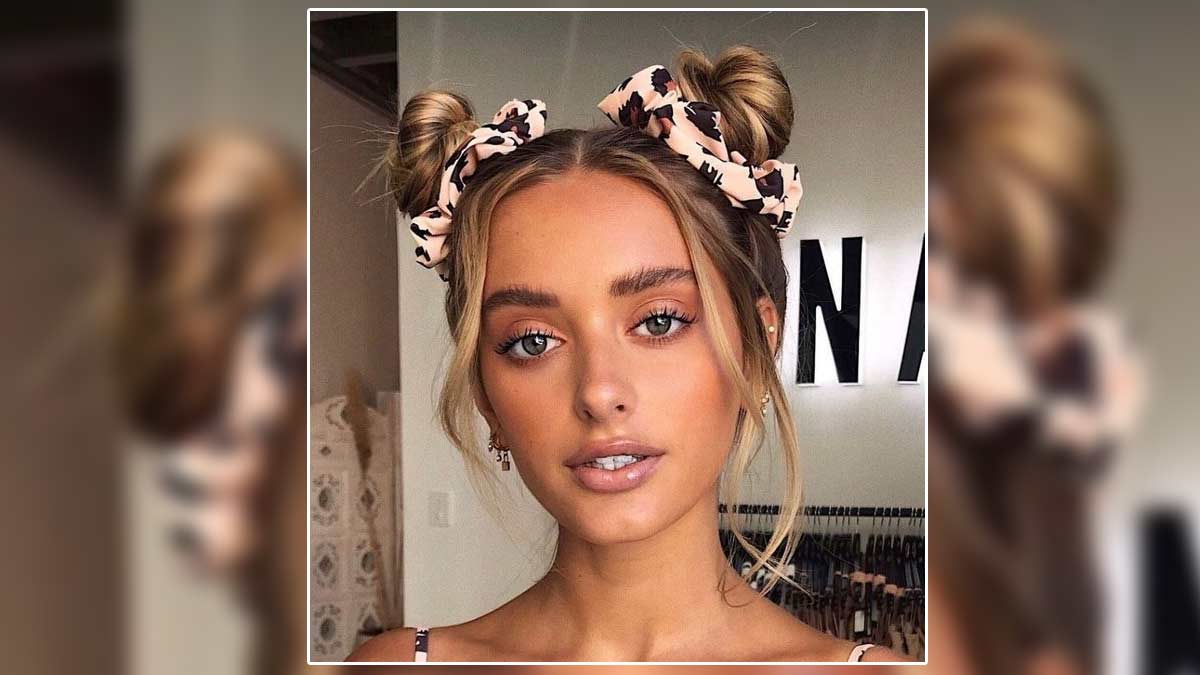 Space buns make you look younger and youthful. Adding a scrunchie to your space bun hairdo is the perfect choice for a summer hairstyle. Here's how you can do it-
Parting your hair into two equal halves from the center of your face, take a partition, sleeky straight, or just random hair, and tie it onto two buns on the top of your head.
Securing them with a plain rubber band, place them in the position you desire.
To complete your look, throw a scrunchie to each of the two space buns.
You can also take out strands of your hair from the front of your face to give it a girly look!
The Scrunchie Ponytail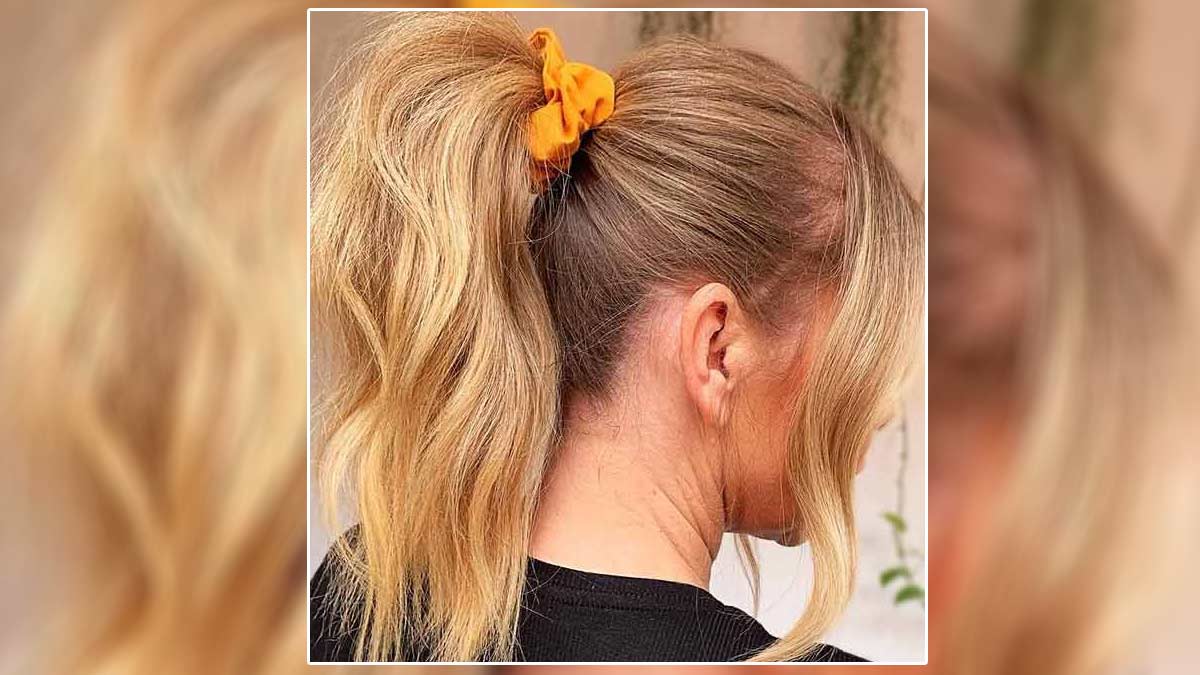 Ponytails, being a daily essential, can be given the twist of a scrunchie. Here's how you can-
Taking a hold of your entire hair, secure your ponytail using a simple rubber band at the desired position.
Use a scrunchie on top to give the added volume effect on top of the black rubber band and you're good to step outside.
Half Pony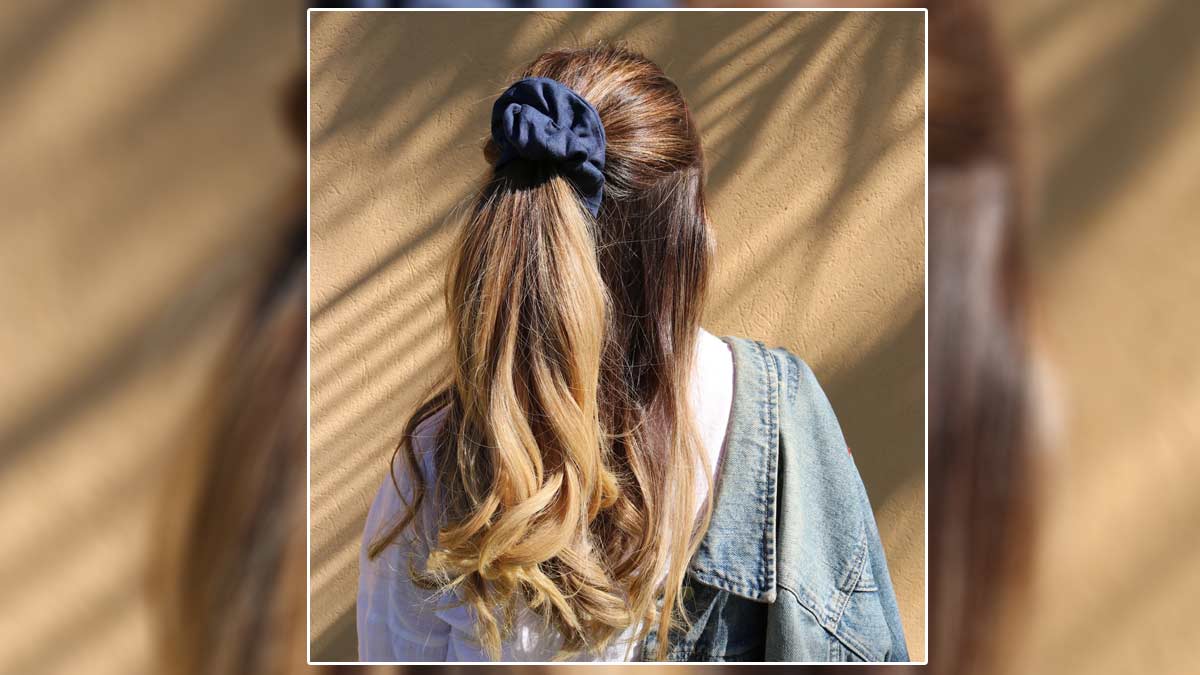 Half ponys have been a thing for generations. Be it a toddler, or a grown-up woman, everybody loves a half pony. You can style yours using a scrunchie, and this is how-
Take a parting from the side of your ears on each end, and pull the hair into one single bunch.
Secure the desired amount of hair using a plain, tight rubber band and top it with a scrunchie.
Low Braided Bun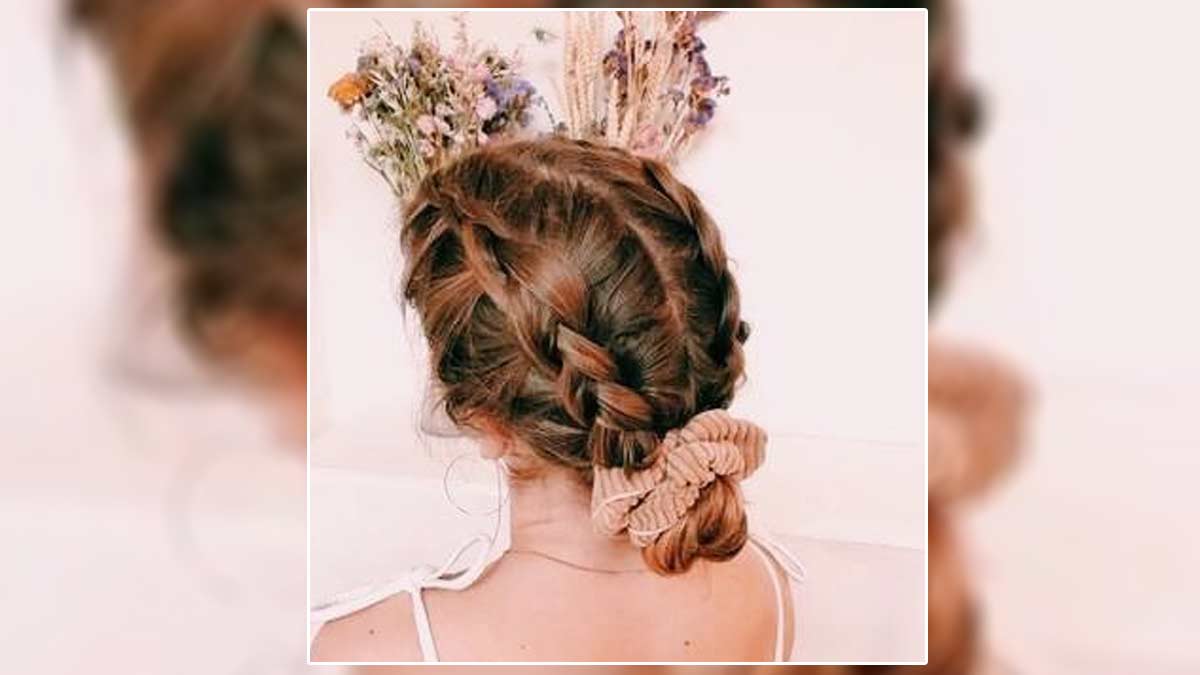 Buns have been a fun thing to play around with. With many styles that can be curated around the same hairstyle, here's what you can do with a scrunchie-
Taking all of your hair, tie them into a loose braid, leaving some hair for a bun at the end.
With the braid being done, secure the ending with a plain rubber band.
Wrap around the braid and the leftover hair in a circular motion, and secure the same with a rubber band at a lower degree.
Topping the bun with a scrunchie, you are all set to make it to the grand affair!
Multi-Scrunchie Ponytail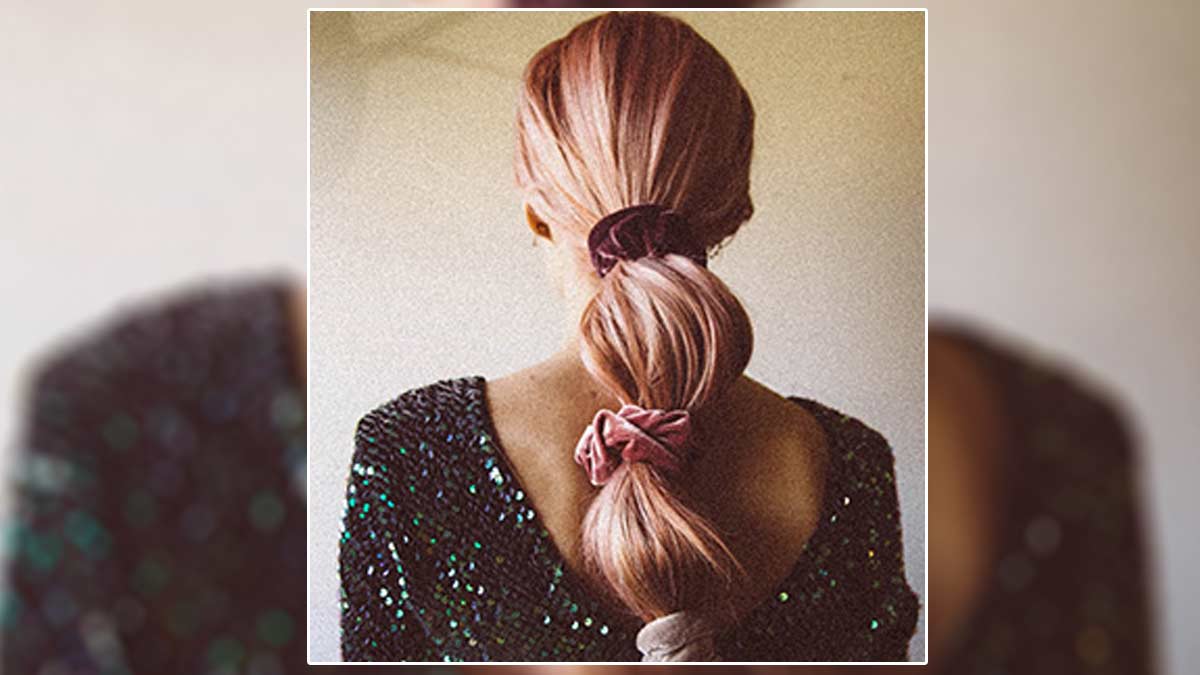 Using one scrunchie may seem like a cliche thing to do. To max it out, you can add a layer of scrunchies to your hairstyle without making it seem like a lot. Here's a step-by-step for you-
Grabbing your hair from the top of your head, secure the ponytail using a rubber band and top the same using a scrunchie.
Giving a little gap in between, add another layer of the scrunchie.
Following the last step again, keep adding layers to your ponytail until you are satisfied with the look!
Topknot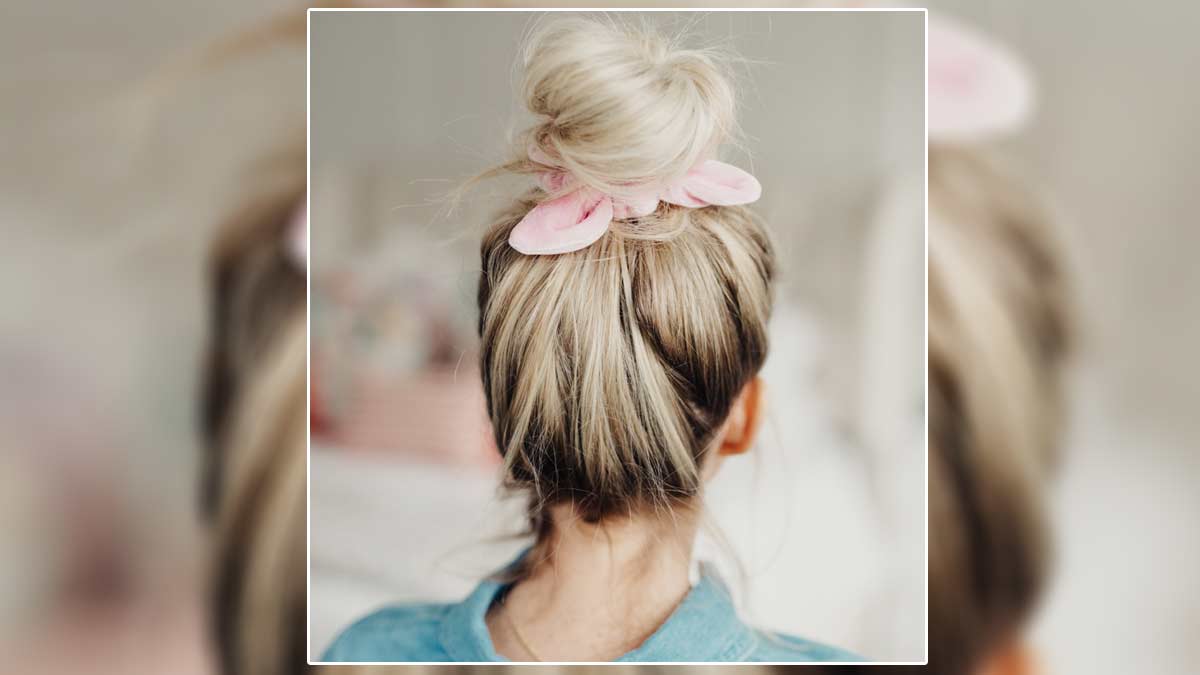 Who doesn't love a bun? We certainly do! You can top your bun with a top knot! Here's how-
Taking your hair into a ponytail, secure them using a rubber band.
Now take the pony hair in a circular motion around the initial knot, making it into a bun.
Secure your bun with a plain rubber band and top it with a scrunchie!
High Pony And Braid
High ponies have never been this fun. Throw in a scrunchie and make it as joyful as you can, here's a step-by-step-
Taking the entire hair population of your head, secure the same using a rubber band at the top of your head.
With the hair in the ponytail, you can then dive is making a braid. You can go for a fish braid or a simple braid, totally up to your choice.
Secure the ending of your braid with a rubber band, and top it up with a scrunchie.
In this hairstyle, you can add two layers of scrunchies, one being at the starting of the braid and one on the end.
Attach A Scarf
While scrunchies are not the only thing that can help accentuate your hairstyle, you can add a scarf to your hairstyle. With every hairstyle you do, you can add a scarf by pulling one side of the scarf through the scrunchie before you use it.
Have more ideas? Connect with us over our official Instagram account and drop us a comment. Stay tuned to HerZindagi for more tips and tricks!