Be honest, while slathering all that sunscreen on your face before stepping out in the sun, do you ever think of your feet?
Summer is the time when we all take out those pretty and chic footwear to round off our everyday looks. So, our feet get exposed to the harmful rays of the sun and they start to get tanned. It leaves us with footwear marks and we end up just covering our feet with shoes the rest of the season.
Well, you don't really have to do that. If you are really embarrassed about that tan on your feet, here we have some easy home remedies that are easy to do and effective.
1. Curd And Gram Flour
Gram flour or besan is known as a skin brightening agent. You can use it with other natural ingredients like lemon juice and curd to get rid of all that tan on your feet.
In a bowl, add 1 tbsp of gram flour, 2-3 tbsp curd, and 1/2 tsp lemon juice. Mix well to make a paste.
On clean feet, apply this feet mask generously. Keep this on for about 20-30 minutes.
Once the pack dries, start to scrub it off.
Wash with normal water. You will see instant results.
2. Sandalwood And Honey
Also known as chandan, sandalwood is known to have anti-tanning properties. When used with honey, sandalwood can help you remove the tan and soothe your feet.
In a bowl, add 1 tsp of
sandalwood powder
and honey. Mix well. Apply this paste to your tanned feet. Keep for 30 minutes and then wash with cold water.
3. Milk And Milk Cream
Milk is best known to be a skin lightener and moisturiser. Tanned feet get dry and further lead to itchiness. Using a mix of milk and milk cream can help.
In a bowl, add 1 tsp of raw milk and 1 tsp of fresh cream. Mix well.
Apply the mixture on your feet and massage. Leave it for an hour and then wash. You can also keep this mix overnight and wash it the next morning. It will leave you with soft and tan free feet.
4. Oats And Curd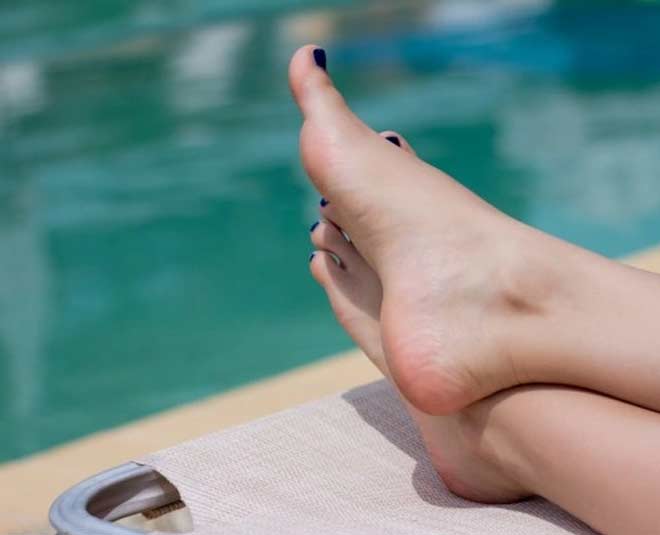 It is a good idea to exfoliate your skin to remove all that tan. Oats are commonly used in the preparation of scrubs as they have exfoliating properties.
In a bowl, add 1 tsp of oats and curd.
Add in a few drops of lemon juice.
Apply this mix on your feet and gently scrub for a few minutes.
Wash with cold water and pat dry.
Follow with a moisturiser.
5. Cornflour And Turmeric
This one is another great feet pack to get rid of all the sandal marks on your feet because of the tan. Both turmeric and cornflour can help enhance your skin complexion.
In a bowl, add 1 tsp cornflour, a pinch of turmeric, and 1 tsp honey. Mix well.
Apply this mixture on clean feet and wash with cold water after 30 minutes.
Though all these feet packs are prepared using natural ingredients, you should do a patch test on your hand before applying it directly to prevent any skin issues.
Do try these homemade feet packs to remove sun tan. For more such beauty-related stories, stay tuned!