Dandruff is one of the most common hair issues. It occurs when small bits of dry skin start shedding from the scalp. These bits are usually made up of the dead skin on the scalp and can leave your hair itchy and greasy. Dandruff is usually a long term issue and it can take a good amount of time to finally get rid of the condition.
There can be different reasons why you are suffering from dandruff including irritated skin, not cleansing hair properly, dry skin, fungus, skin consitions and sensitvity to certain hair care products.
Common Causes Of Danduff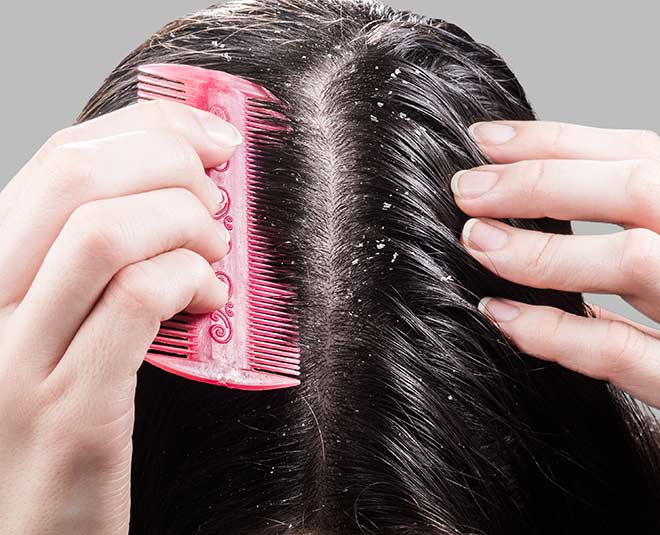 Shampoo habits
Dryness
Age
Weak immune system
Skin disorders
Oily skin
Oiling the scalp too much
Climatic changes
Anchal Kapur, Co-founder & Lifestyle Medicine Coach, Wellcure shared, "Dandruff indicates that your scalp and hair are not getting the right amount of nourishment. Or, your body is supplying the nutrition to other parts of your body that need it more than your hair and scalp. Dandruff also implies that there is an imbalance of nutrients and healing conditions in your body."
"Adopting a natural lifestyle helps improve the quality of blood and increases nutrition available to the hair follicles, which in turn arrests and reverses issues like hair fall and dandruff. Eating a diet of plant-based, natural foods and including more raw/live foods in the form of salads, sprouts, and soaked nuts will restore your body's acid-alkaline balance, and provide nutritional support to heal from this condition," she further added.
We also asked the expert if there are any natural remedies which can help treat this common hair issue. She shared the following, natural home remedies for dandruff. Read on.
Onion Juice
Apply onion juice to your scalp. Leave it on for 20 minutes and then wash it off.
Don't Miss: 5 Best Anti-Dandruff Shampoos In India You Can Buy Online
Neem Leaves Paste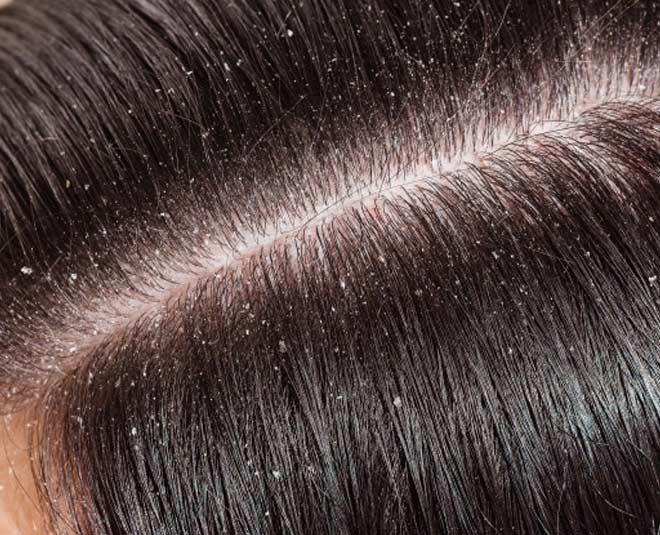 Apply the paste of neem leaves on your scalp and hair. Leave it on for 30 minutes and then wash it off. This will help to fight against infections that cause dandruff and other hair issues.
Camphor
Add camphor in coconut oil, and apply it to the scalp. Leave it on for 20 minutes before washing.
Lemon Juice
Take two spoons of lemon juice diluted with 2 spoons of water. Apply this solution to the scalp. Wash it off after few minutes.
Don't Miss: Tame All Your Hair Woes With These Homemade Garlic Hair Packs
Do Yoga
Yoga asanas, such as Shirsha asana and Ardha shirsha asana improve blood circulation to hair roots, curtailing dandruff. Doing Surya Namaskar every day smoothens out the blood circulation in the entire body, including your head. You can start with any number of Surya Namaskars, and try to reach 10- 12 sets daily
Stay Hydrated And Eat Healthy
Stay hydrated, drink coconut water and fresh juices. Eat fresh, local, and seasonal fruits and vegetables.
Though these home remedies are completely natural and should not have any side effects on your hair, make sure you consult a doctor if the the problem persists. Also, if you see a side effect of any of these home remedies, discontiue right away.
Remember that results of all the home remedies vary from person to person. What works for someone else might not work for you. Keep a note of things that work for your hair and hair concerns and follow the same.
We hope this guide helps you treat dandruff. For more such hair care related stories, stay tuned!