Skincare is something that concerns all of us unanimously. While skincare was always essential, with the pandemic leading us to be stuck at home, we have started to be more passionate about skincare. Moreover, there has been a growing trend of using homemade skin-care products. All of us are going in a total natural, all organic mode.
This is why today we have brought to you yet another recipe of an all-natural body scrub that will rejuvenate your skin and give you a freshness that no amount of highly expensive products can!
This is a recipe of 'Coconut Rose Sugar Scrub' and before we get to the materials required and directions, let us tell you the benefits of its star ingredients.
Coconut Benefits For Skin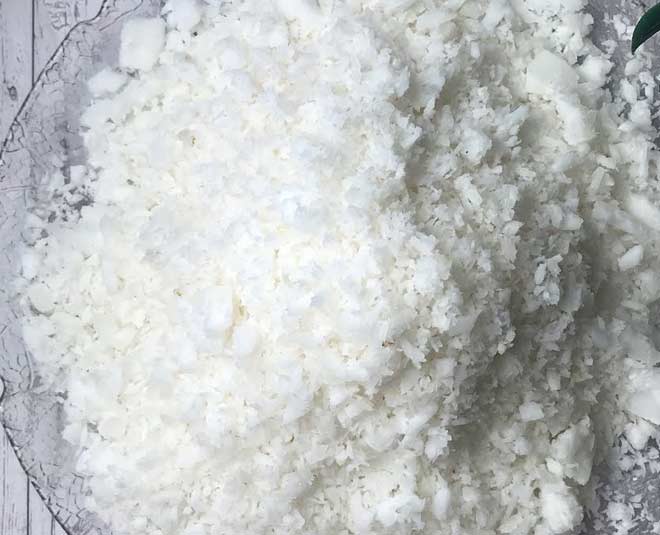 Image Credit: i.ytimg
The oil extracted from coconut helps hydrate the skin.
Coconut also reverses aging.
It exfoliates the skin.
Rose Benefits For Skin
Image Credit: cdn.shopify
Rose petals are anti-bacterial in nature.
It is excellent in fighting acne and breakouts.
Rose moisturises the skin and even acts as a brilliant toner. (read more benefits of rose water)
Sugar Benefits For Skin
Works as an excellent skin-lightening ingredient.
It removes the dead skin cells and exfoliates the skin.
Sugar is also known to naturally moisturise the skin.
How To Make Coconut Rose Sugar Scrub
Ingredients Required
1 Cup White Sugar(Organic)
¼ Cup Shredded Coconut(Organic)
¼ Cup Natural Coconut Oil
¼ Cup Rose Water
4-5 Drops Rose Essential Oil
Directions
Take a bowl and put sugar and coconut in it.
After adding the dry ingredients, add coconut oil and give it a nice mix so the oil covers every dry particle.
After this, add the rose water and mix.
Add the rose essential oil in the end and just fold the batter gently. You do not want to overmix here and make the fragrance of the oil escape.
Read How To Make Watermelon Scrub- DIY Watermelon Face And Lip Scrub For Glowing Skin And Soft Lips
How To Use This Scrub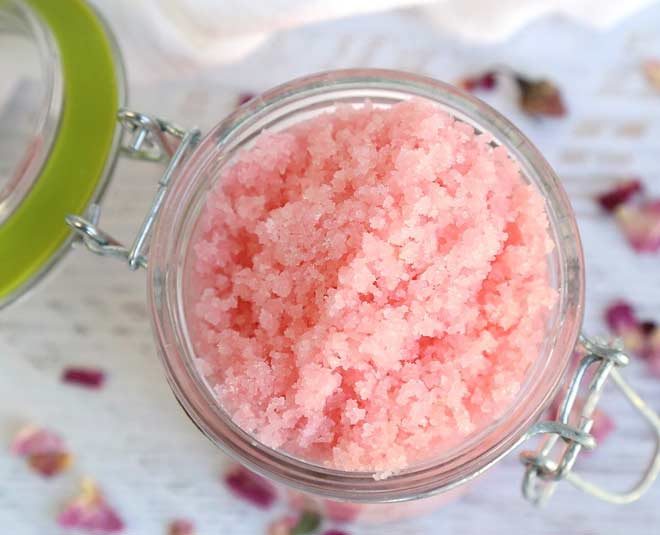 Image Credit: beautycrafter
You can use this scrub on your hands and feet as an exfoliant. Apply it on your dry skin and rub it in circular motions till you begin to see your skin absorbing the oil. Rub it for around 10 minutes and leave it to sit for 15 minutes. Rinse it with warm water and your skin will be silky smooth!
Read More On Sugar Scrubs- Learn How To Make Mermaid Sugar Scrub At Home!
In case you are applying this on your face, ensure that all the ingredients are organic. Do not add more than 5 drops of essential oil(read what you can do with empty essential oil bottles). While applying, do not rub rigorously as that would cause rashes. On your nose, chin and forehead you can rub it normally, however, on your cheeks you need to maintain a very slow-paced and gentle motion.
This scrub is perfect for gifting purposes as well. Homemade gifts have started to get way more appreciation than store-bought ones. Moreover, this looks extremely pretty which makes it an ideal gift! Just make the scrub, put it in a transparent glass jar. Close the lid, tie a pink ribbon on the jar and you are good to go!
Who knew ingredients as basic as sugar, coconut and rose water can be instrumental in making such a high-quality product! If you found this article helpful, stay tuned to Her Zindagi for more such content!