Learn How To Make Mermaid Sugar Scrub At Home!
Here is how you can make mermaid sugar scrub in these simple steps!
Sugar scrubs are gaining a lot of popularity off late. With the entire lockdown situation, people have been trying new things at home and DIY beauty products are the most tried ones. While there are a million ways to make scrubs using coffee, ground rice, sugar, brown sugar etc, in this article you will learn how to make a mermaid sugar scrub. Mermaid sugar scrub is made with just the perfect ingredients that are a blessing for the skin. It is not one of those beauty products that just look aesthetic but don't work in reality. This scrub works wonders and its looks are an eye candy!
This scrub looks so beautiful that you might just want to eat it up. With colours of blue, pink and purple and the sugary texture, this looks like something mermaids would feast on. Without any delay, let us get straight at how to make the mermaid sugar scrub what are its benefits!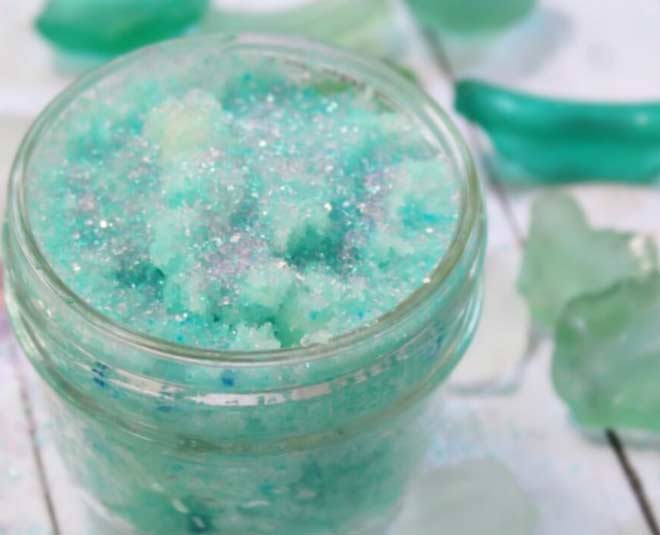 Image Credits:rufflesandrainboots.s3.us-west-2.amazonaws
Ingredients Required:
One and a half cup white sugar
½ cup coconut oil
3 drops Food colouring: Can be either blue/purple or if you find a cotton candy colour then it's even better!
6 drops mermaid fragrance. If you don't find this online, lavender or candy fragrance works
Instructions:
Take a bowl and add the sugar, oil and food colouring.
Use a whisk to mix it well.
The mixture should become fluffy and combine well.
Add the essential oil/fragrance.
Scoop it out in a transparent jar and store it there.
Don't Miss-Try These Homemade Brown Sugar Scrubs For Healthy, Glowing Skin
Usage: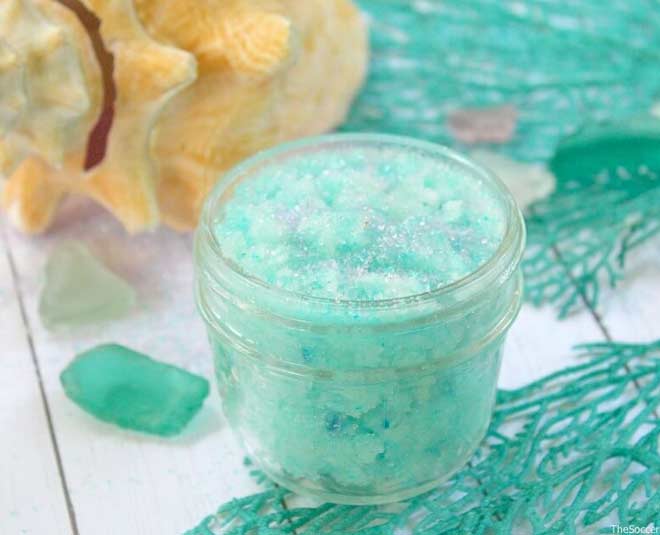 Image Credit;thesoccermomblog
While you can use it on your face as well, make sure the food colour you add is organic if you do so. However, this scrub is best used on the body especially on your hands and legs. They will remove the dead skin cells and brighten up your skin. The coconut oil will moisten your skin after the scrub has removed the dead skin cells. This scrub is best after a long day outside, when your feet has a layer of dust and your heel is cracked up. Apply the scrub and massage in circular motion and between your toes. Scrub it well for fifteen minutes and then wash it off. Your feet will now feel smooth and extremely soft. You can also use this scrub on your hand in the similar way.
This scrub is also good for rejuvenating your lips. Take a bit of the scrub in your hand and apply on your lips. Use one or two fingers and move it around your lips like you brush your teeth. Be sure to be very gentle since our lips are very delicate. Do this for around five minutes and rinse it off with cold water. You will be able to see the difference immediately!
Don't Miss-Here's All That You Need To Know About Scrubbing Your Skin
Follow these steps to make your own mermaid sugar scrub and stay tuned to Her Zindagi for more such content!