When it comes to hair care, your hair goes through a lot. Be it chemical-ridden hair growth products or expensive hair straightening procedures. Do you know that there is one such ingredient in your kitchen, which will solve all your hair woes naturally? It is none other than, desi ghee. This Indian household staple not only makes food tastier but also provides nourishment to your mane. From hair growth and silkier hair to dandruff free and stronger hair, ghee will benefit your tresses in every way possible. Here are some effective hair masks which must be given a try at least once.
Ghee For Hair Growth
Are you experiencing a low or almost not growth, when it comes to your locks? Well, fret no more as desi ghee is here for your help. Just with a few basic kitchen ingredients, you can make a nourishing mask, which will revitalise your hair.
Ingredients required- Ghee, aloe vera gel and lemon.
Step 1- Take 2 tbsp of ghee in a bowl and squeeze half a lemon in it.
Step 2- Add one tbsp of aloe vera gel and mix well.
Step 3- Apply this paste on the roots of your hair and massage well.
Step 4- Gently rub for 1-2 mins. This will help your scalp absorb the ingredients well.
Step 5- Let it sit for 20 minutes and then wash off with lukewarm water and shampoo.
Avoid using a hair conditioner, as the natural ingredients will give you a smooth finish, once your hair dries off.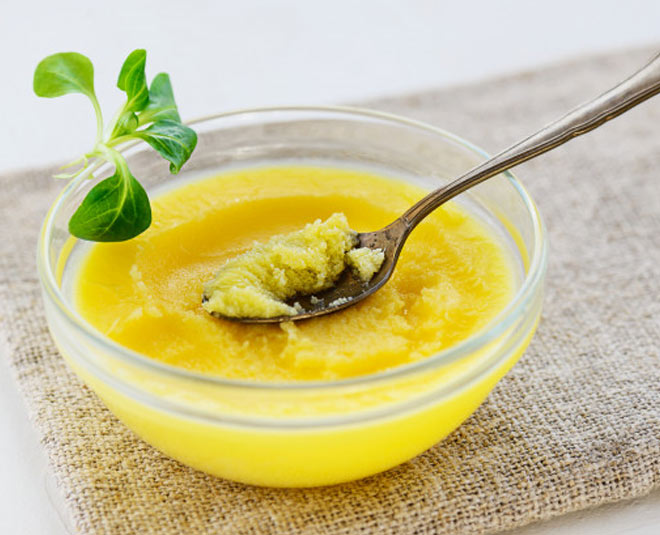 Don't Miss: Bid Adieu To Dead Skin With These Simple Homemade Scrubs
Ghee For Dandruff And Scalp Infections
Monsoon is here and so is the problem of dandruff and scalp infections. The weather gives rise to painful scalp infections, while dandruff makes it worse. Use this effective remedy to treat these issues in a jiffy.
Ingredients required- Desi ghee and dettol/savlon.
Step 1- Take 2-3 tbsp ghee in a bowl and add 1 tbsp of dettol or savlon in it.
Step 2- Mix it well and apply the paste on your scalp with the help of a cotton ball.
Step 3- Avoid using your hands and cover every bit of your scalp properly.
Step 4- Leave it on for 15-20 minutes and then wash off with a mild shampoo.
While ghee treats the dandruff issue, antiseptic solution bids adieu to infections. Mixing dettol or savlon with ghee will dilute it and effectively solve your painful scalp problems.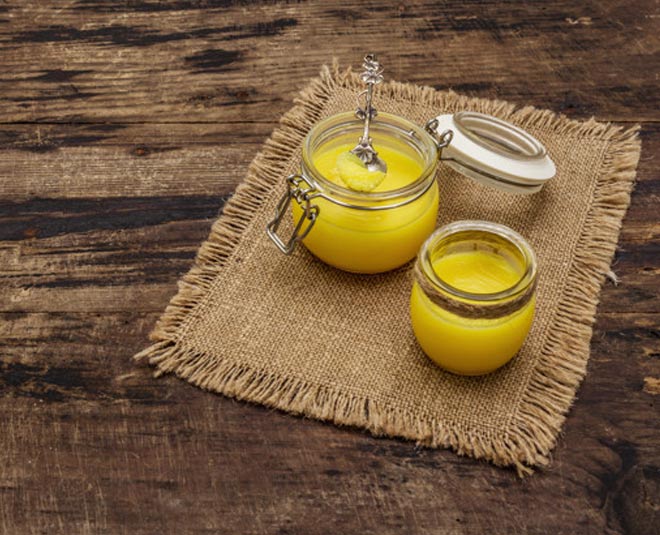 Don't Miss: Use Homemade Onion Oil For Quick Hair Growth
For Silkier And Straighter Hair
People who wish to have naturally silkier hair, without using any harsh chemicals and expensive products, this is an ideal solution for you.
Ingredients required- Desi ghee and one egg yolk.
Step 1- In a bowl, beat the yolk properly, till it turns fluffy.
Step 2- Add 2 tbsp of warm oil and mix well.
Step 3- Apply this mixture especially on your scalp, layer by layer.
Step 4- Cover the length of your hair, with the remaining mixture.
Step 5- Let it sit for at least 30 minutes and then wash it off.
Make sure you always wash your hair with a mild shampoo after applying desi ghee masks, as they might leave a peculiar smell, if not washed properly.
For more such DIYs and remedies, stay tuned to HerZindagi.com