The wedding season is on and we also have the day of love, Valentine's Day approaching. This is the time when you start with your grooming and make rounds to the salons and beauty parlour. But by sparing some time for yourself, instead of spending so much money, you can do certain things yourself as well at home. From doing your own facials to waxing, there is nothing you cannot do yourself except maybe for a haircut where you may not want to take a risk unless you know you are good at it. One such activity or step is back polishing which enhances the shine of your back if you want to wear anything low cut. How about making your own back scrub at home? Here are 5 scrubs you can make yourself that will help you out.
Haldi Scrub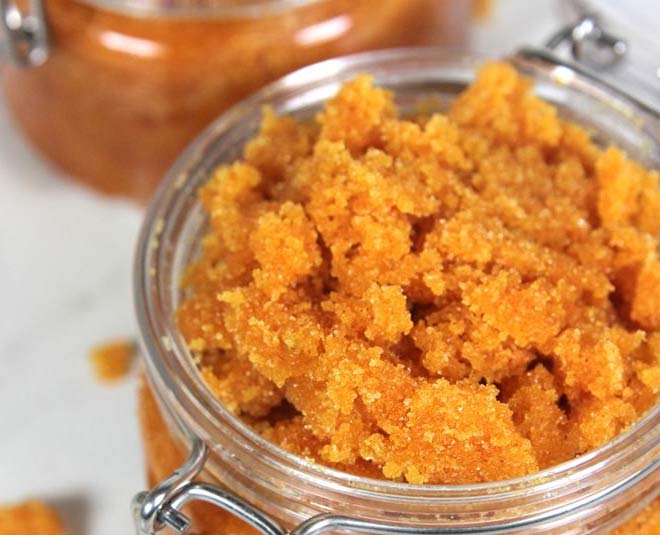 What You Need
2 Tsp Turmeric Powder
1 Cup Granulated Sugar
1 1/2 Cup Coconut Oil
Method
Make a paste using all the ingredients.
Wash off your skin with water and then apply this paste.
Using fingers and back cleaning brush, cleanse with a light hand and work on your body for a 10 minutes minimum and then wash it off. Do this thrice a week at max and do not forget to moisturise well later.
Curd Scrub
What You Need
1/4 Cup Olive Oil
1 Tbsp Curd
1 Tsp Honey
3 Tbsp Sugar
Method
Mix the ingredients together and apply the paste to your skin.
Massage it into your skin and if you can, leave it on for 15 minutes.
You can also use a back scrubber but with a light hand.
Wash it off with lukewarm water and do this thrice a week.
Don't Miss: HZ Tried & Tested: Milk & Honey Gold Smoothing Sugar Scrub Small Pack Detailed Review
Oatmeal Scrub
What You Need
1/2 Cup Raw Honey
1/2 Cup Oil Of Your Choice
½ Cup Uncooked Oatmeal
½ Cup Brown Sugar
4 Drops Geranium Essential Oil
4 Drops Frankincense
Method
Make a fine powder using all the ingredients in a grinder first and then mix in the liquid ones.
Mix well to make a paste and then apply.
Massage the paste gently on your skin in circular motions and take good 10 minutes to scrub well.
Wash it off with lukewarm water and then moisturise.
Use this scrub twice a week to get rid of the dead skin cells which will make space for glowing skin.
Don't Miss: Top 4 Chemical Exfoliates In India Safer Than Physical Exfoliates Or Scrubs
Peppermint Scrub
What You Will Need
¼ Cup Olive Oil
12 Peppermint Essential Oil Drops
1 Cup Brown Sugar
Method
Make a paste of these ingredients and apply it to your body.
Massage it gently and give a minute or two to each section to cleanse exfoliate properly.
Wash it off with lukewarm water and do it thrice a week.
Don't Miss: HZ Tried & Tested: Bare Body Essentials Lip Scrub, Lip Serum Roll On Detailed Review
Coconut Oil Scrub
What You Will Need
¼ cup Sugar Granules
½ cup Coconut Oil
Method
This scrub has the least amount of ingredients which just have to be mixed well but do not melt the oil as the sugar would dissolve in it.
Start applying the scrub on your skin and in a circular motion, exfoliate properly.
Take your time on your back and use a back scrub in the end.
Rinse it off with lukewarm water and then moisture.
You can use this scrub thrice a week.
All the scrubs are eco-friendly, easy to make and the ingredients are available easily which can be utilised every time you make a scrub.
Stay tuned to HerZindagi for more such tips that will give you glowing and healthy skin.