Winter is almost here and along comes the issue of dryness in our lives. Our skincare regime changes and our hydrants become more intense. Not just skin, our lips suffer as well. So I tried the Bare Body Essentials Lip Scrub and Bare Body Essentials Lip Serum Roll-On and here is my detailed review on it.
Claims
Lip Serum: According to the brand, this serum will thoroughly repair and hydrate the delicate skin of your lips. It consists of argan oil and sweet almond oil, which softens and protects your lips from damage. It helps in restoring the natural pink tone and maintains the sheen of your lips.
Lip Scrub: This scrub gets rid of the dead skin cells from your lips and moisturises them with the presence of almond oil, cocoa butter, shea butter, argan oil, vitamin E, beeswax, and olive oil.
Main Ingredients
Lip Serum: Argan oil and sweet almond oil.
Lip Scrub: Cocoa Butter, Shea Butter, Almond Oil, Argan Oil, Beeswax, Olive Oil, Vitamin E.
Packaging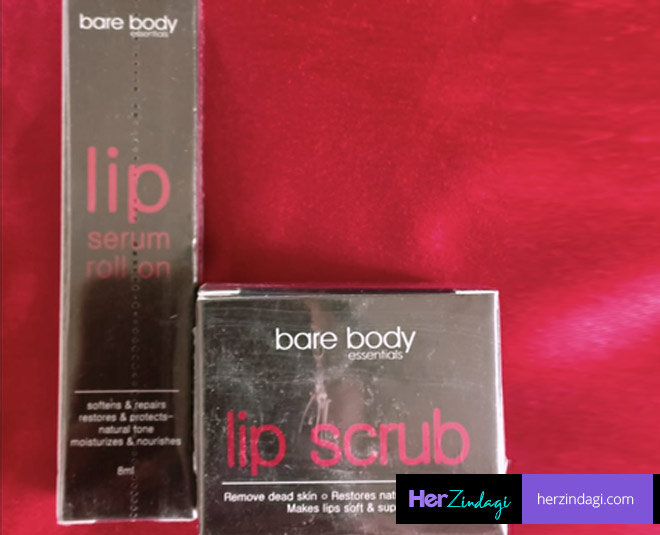 Both the serum and the scrub come in glass bottle and tub respectively. The glass is dark in colour which is good as it saves the ingredients from sunlight damage.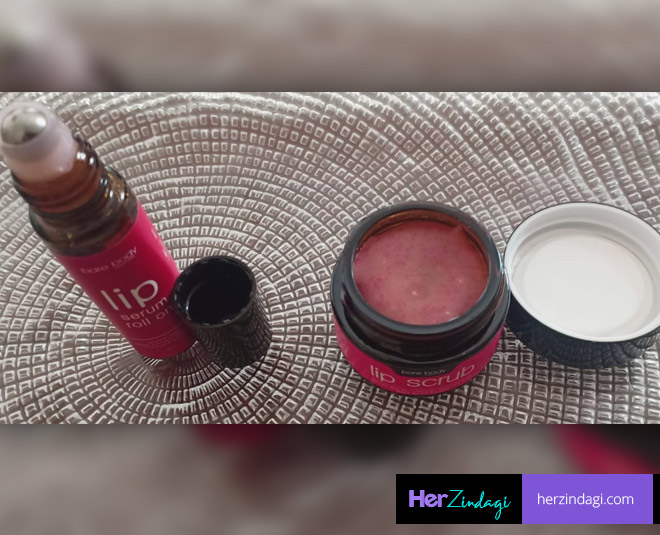 The packaging is mostly black but the labeling is in pomegranate pink which makes the bottles look really pretty sitting on my dressing table. The caps are sturdily made from plastic and the roller of the serum is smooth so it glides like a charm on the lips.
Fragrance/Consistency
The fragrance of the serum is very sweet but not heady. It reminds you of the fact that it has nourishing oils in it. The consistency is that if a thin serum but it is transparent and a little goes a long way.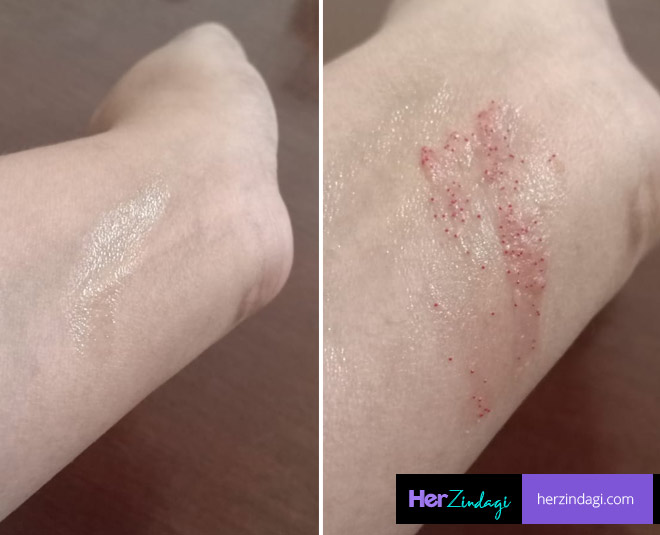 The scrub on the other hand is more on the strawberry side when it comes to fragrance and the consistency is what beeswax mixed with small granules would be like.
Price
The Bare Body Essentials Lip Scrub is priced at Rs 350 for a 15 gm jar.
The Bare Body Essentials Lip Serum Roll-On is priced at Rs 499 for an 8 ml bottle.
My Experience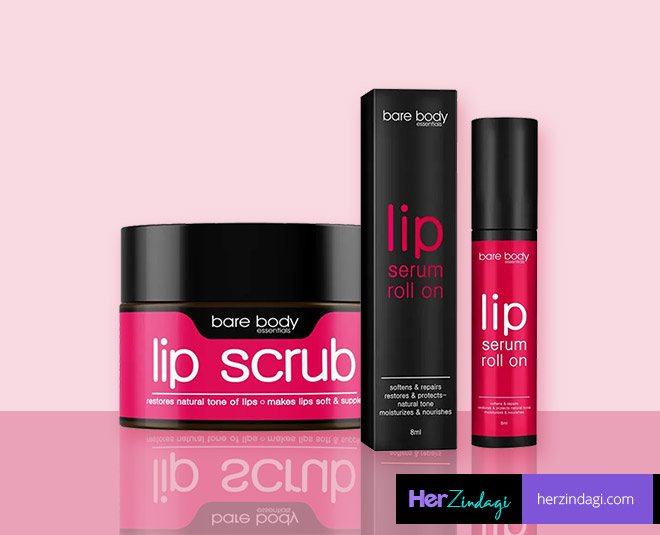 My skin becomes very dry whenever there is a season change and this serum has been my saviour. Chapped lips are synonymous to the cold season and we all have to look for ways to hydrate them. I was skeptical of the fragrance as sometimes sweet smells can be a bit heady but this one does not bother.
Don't Miss: HZ Tried & Tested: Plum E-Luminence Deep Moisturizing Creme Detailed Review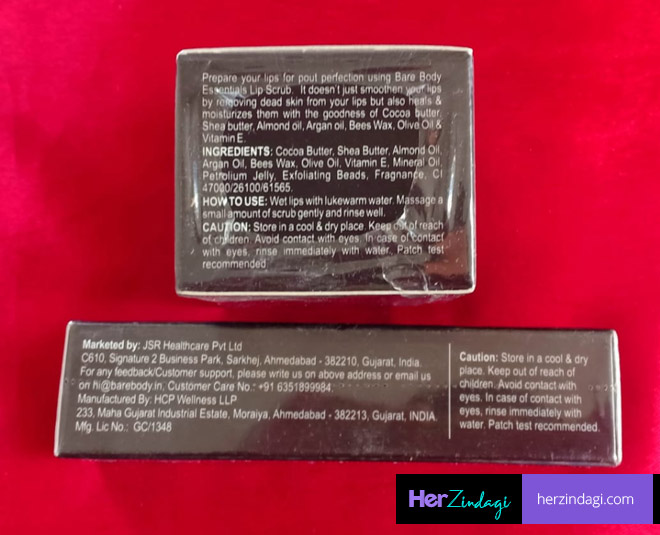 I have been applying very little and then as per directions I massage my lips and that lasts long. I let it be for 30 minutes and then I apply lipstick if I have to go out even though I wear a mask, it is a habit and the love for lipsticks so cannot help it. I have been using it for almost a month now and I am happy.
Don't Miss: HZ Tried & Tested: Satvik Elegance Hemp Seed Body Oil Detailed Review
The lip scrub as well is excellent! I use it every alternate morning and then apply the serum. The granules exfoliate well and the strawberry fragrance does not bother. The beeswax in the scrub makes sure that your lips do not become dry. A little goes a long way so the jar is worth the price.
Pros
Both the lip serum and scrub are packaged in dark glass.
Little goes a long way.hydrating and the scrub does not leave your lips dry as most scrubs do.
Both are very
Worth the price.
Cons
You need to wash the scrub post-exfoliating, with warm water as it can be a bit sticky.
My Verdict
A big fan of the serum, the scrub grew on me after using it twice as you need to find out on your own as to how much quantity should be scooped out in one go as it is very smooth at first touch. The price I think is fine and the packaging is pretty. Do give it a try.
Rating
4.5/5
Stay tuned to HerZindagi for more such reviews.