Now that everyone is locked up in their houses, it is time we take care of ourselves, indulge in some self-care just like our favourite celebrities. One celebrity who has been giving us self care goals is Hina Khan. Hina is making the most of this time by indulging in skincare. She is also sharing her beauty routine with her fans on her social media.
All this while, Hina Khan has been treating us with her skin care and fitness routines on her social media. Recently, Hina Khan took to her Instagram and shared pictures of herself, following her beauty routine. Her beauty routine is super simple and can be followed in just 3 steps. Follow it to get naturally beautiful, glowing skin like hers. Scroll down to know more.
Face Roller
Facial rollers are taking over the beauty market like anything these days and yesterday, Hina Khan was seen using an amethyst facial roller on her face. Facial rollers remove all the toxins from your skin, reduce the appearance of ageing signs like fine lines, under-eye bags, and dark circles.
Don't Miss: Here Is Why Hina Khan Is Our Favourite Celebrity
Facial rollers are available in a variety and you must pick the one you think will work best for your skin. Hina Khan was seen using an amethyst roller. This crystal is believed to heal the nervous system, it balances the hormones, calms inflammation and also brings a sense of peace. This purple stone is also known for purifying the skin. It improves the blood flow in the skin and helps in regenerating the skin cells.
Don't Miss: Hina Khan Uses Rose Water On Face Before Going To Bed, Here Is How You Can Use It Too
Icing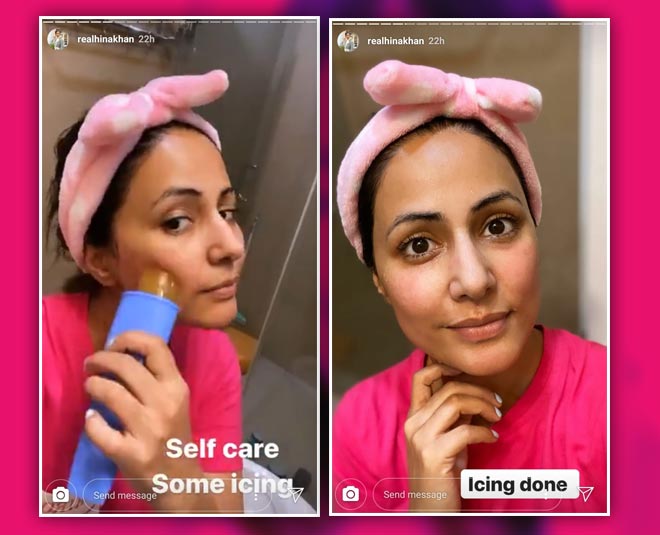 We earlier shared with you how ice can work like magic on your skin. After using a facial roller on her skin, Hina Khan did some icing on her face. Skin icing helps in tightening your skin. It is the perfect solution for anyone who faces the problem of open pores as the icing helps in shrinking them. Ice works as a toner for your skin and makes it look smoother. Here are some more benefits of skin icing:
Makes your skin glow
Reduces oiliness
Prevents acne
Reduces swelling
Refreshes your skin
Soothes skin burn
Face Mask
Hina Khan ended her beauty regime with a facial mask. Facial masks are gaining a lot of popularity these days and that's because they are available in a variety and one can choose the right mask as per their skin type. Also, face masks are super easy to use, they are handy and you can actually use them anywhere. Just apply it for 15 to 20 minutes, wipe it off or wash your face and done! Facial masks have some amazing benefits for your skin. Read on to know:
Face masks help you get clear skin. They help you clean your pores by removing the dead skin cells and excess oil.
If you have dry skin then face mask is a must for you! Facial masks help in moisturising your face, they hydrate your skin.
Using a face mask regularly helps you get an even skin tone.
Facial masks help in increasing the production of collagen that tightens your skin and makes it look more youthful.
Face masks help you reduce the signs of ageing like wrinkles, fine lines.
Now that you know Hina Khan's beauty routine, follow it to get a spotless, beautiful skin just like her! For more stories around celebrity beauty secrets, stay tuned!