Let's be honest, our beauty is incomplete without healthy and well-groomed nails. Especially now when people are going gaga over nail care, nail art, and manicures over social media.
Getting healthy and strong nails isn't a tough task. All one needs to do is follow some healthy practices. Some of you might be following them but can't really see them working. Well, that some of your practices are ruining your nails.
Here, we thought of listing down some common mistakes we all do which disturb our nail health. Read on.
1. Cutting Our Cuticles
Do you often end up cutting your cuticles while trimming your nails? This is one of the biggest mistakes you make. Cutting your cuticles means that your skin is at a higher risk of getting infected. Also, when your cuticles start to grow back again then they look flaky and take time to grow properly. So, cutting your cuticles will not only ruin how your hands look but also keep you at the risk of getting infected.
2. Applying Nail Paint Too Often
How often do you apply a nail paint? We all love our nails painted, looking beautiful. However, if you colour your nails every now and then, you are ruining them yourself.
Our nails need to breathe and if they don't get to, our nail bed gets damaged. This is because our nails don't get enough nutrition to stay healthy and strong.
Not just that but going for nail extensions without any break can also damage your nail bed.
3. Buffing Our Nails Just Too Much
We all wish for healthy and shiny nails. Buffing is believed to be one of the easiest ways to get glossy nails but do you know how this practice can harm your nails?
Buffing your nails almost everyday will ruin all the layers of your nails. This can further lead to weakening of your nails. Don't buff your nails everyday, it should be done just once a month.
4. Picking Up Nail Paint
We all know there is nothing more satisfying than peeling off chipped nail paint. (tips to remove nail paint) Agree?
However, not many of us know that this habit can damage our nails. This can take away the natural layers of our nails and weaken our nails.
Don't Miss: Here Is Why You Should Get A Manicure Done Once In A While
5. Not Washing Our Hands Before Applying Nail Polish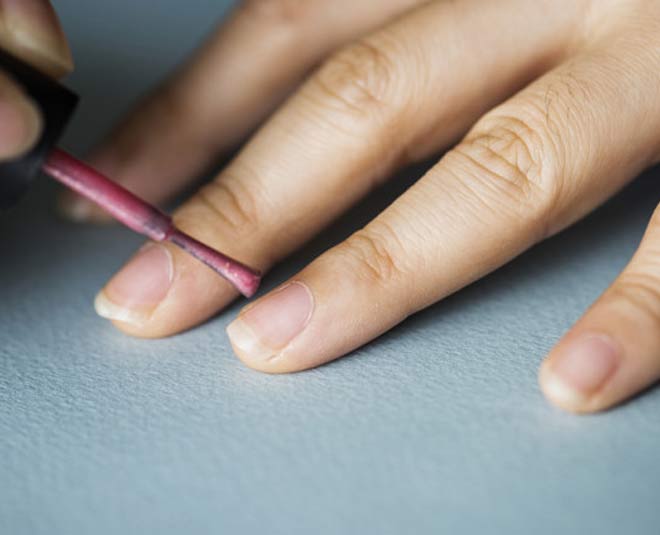 This is one mistake that so many of us do. Do you clean your hands and nails before applying a fresh nail paint?
If you have dirt or any residue on your nails before applying the nail polish then this can collect on your nails and prevent the nail to produce any nourishing oils which it naturally does. Cleanse or scrub off any dirt on your nails and then go ahead with applying your nail polish.
6. Using The Wrong Nail Paint
You can't risk your nail health by using any regular nail polish or paint. While buying one, make sure you buy one which is free of any toxic components such as formaldehyde or toluene which can damage your nails.
Don't Miss: Want To Fix A Broken Nail? Try These Super Easy DIYs At Home
7. Not Using A Base Coat
Applying a base coat before using the nail paint not only gives you a flawless nail paint look but also prevents your nails from getting damaged. It strengthens your nails and prevents them from getting damaged.
We hope this guide helps you keep your nails healthy and strong. For more such stories, stay tuned!