Winter is well known for its dry weather. The chilly weather tends to dry up all the moisture and hydration from our skin, making it dull and dehydrated. Our hands get the most neglected when it comes to skincare and the consequences of this show up in the form of dry and cracked skin. The moisture surge in our hands causes the skin to look wrinkled, aged, dry and rough. Read on to learn about a step-by-step guide to hand care during the winter season.
Soak and Cleanse
The first step to soft and supple hands during winter is soaking and cleasing.
#1: Pour the lukewarm water into the bowl and add a few drops of body wash into it.
#2: Add 1 tbsp of olive oil and ½ tbsp of salt and mix everything together until it lathers up.
#3: Soak your hands into this for 10 minutes and you can do this twice a week throughout the winter season to see great results.
The body wash cleanses your hands as the olive oil locks the moisture of your hands along with the salt.
Don't Miss: 6 Natural Ingredients You Should Add To Your Winter Skincare Routine
Exfoliate
Exfoliation is an important step of skincare but it is essential that a gentle scrub is used to exfoliate our hands during winter as a harsh scrub can do more harm than good.
#1: Grind 10-15 almonds and make a powder. Grind one cup of oats and make oats powder.
#2: Add one tablespoon of almond powder, oats powder, ½ tbsp of almond oil and your favorite body lotion in a bowl. Mix it till it reaches a paste like texture.
#3: Use this gentle scrub to exfoliate your hands twice a week. Massage the mixture all over your hands, leave it for five minutes and rinse after.
Almonds have vitamin E in them and vitamin E is essential for the skin during winters as it hydrates the skin's barrier. This scrub also helps get rid of the dullness in the skin.
Don't Miss: 5 Tips For Taking Care Of Your Nails During Winters
Moisturise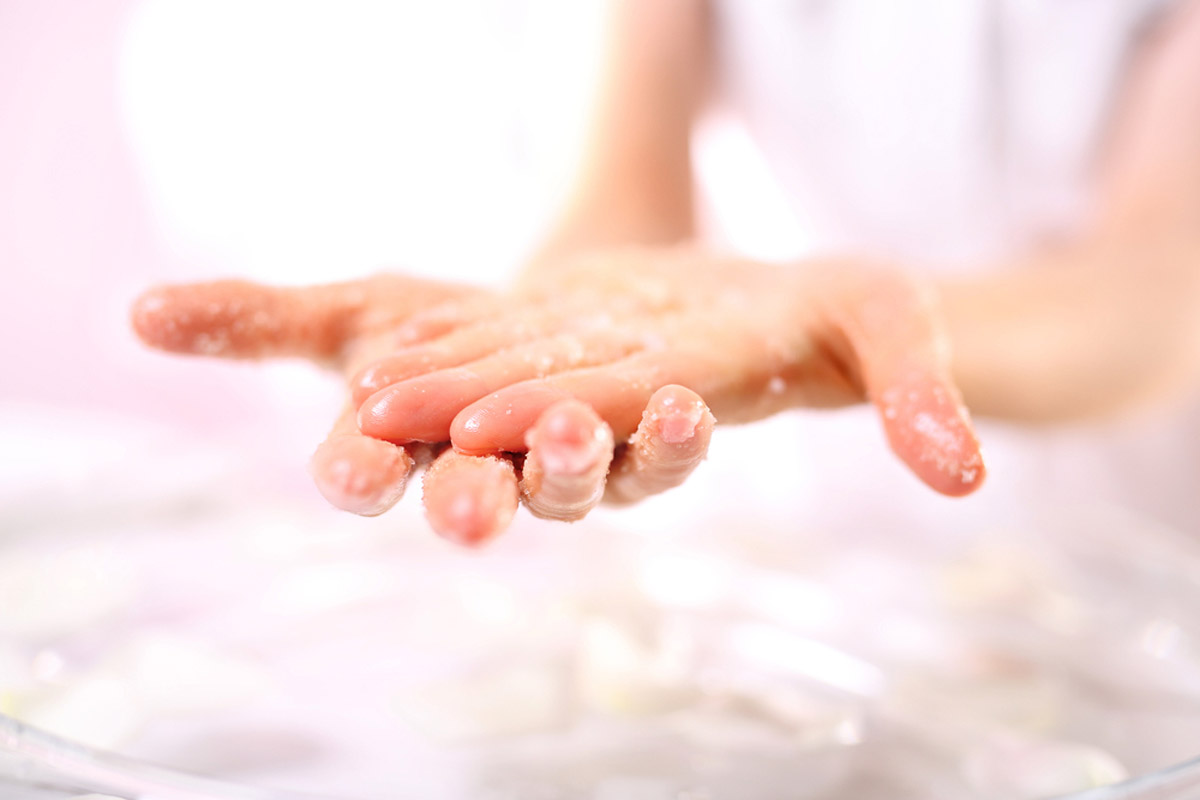 The last step of this hand care guide is the most important. This homemade gel-based moisturiser will act as an effective hand cream and seal in all the moisture in your hands.
#1: Add ⅓ cup rose water and ⅓ cup olive oil into a bowl and beat it for three to four minutes.
#2: Add 3 teaspoons of transparent aloe vera gel into the oil mixture and beat it for two to three minutes until it forms a creamy consistency. Add three vitamin E capsules and 10-12 drops of any essential oil of your choice. Beat the mixture for atleast five to six minutes.
#3: Apply it all over your hands and massage thoroughly as the moisturiser penetrates into the skin. Remember to store this moisturiser in the fridge.
Keep in mind to massage your hands with this moisturiser everyday, preferably before going to bed. You can also use gloves throughout the winter season to protect your hands from the weather.
Did you like this article ?