Make Your Eyes Pop Like Priyanka Chopra Using These Hacks
Give yur eyes all glammed-up look using these hacks.
Makeup is a fantastic invention. A little experimentation with your makeup kit and brushes can result in an exceptional look that everybody admires. A little lip overlining can create a wonderfully lush pout in no time, while a sweep of contour can create chiseled cheekbones and so much With makeup, you can go from simple to WOW in no time and get whatever look you want. Makeup has the ability to enhance any appearance; all it needs is a little creativity. Every celebrity, including Priyanka Chopra, always dazzles us with their gorgeous makeup. However, Priyanka Chopra's eye makeup is always admired a little more than any other look. If you also want to make your eyes pop like a celebrity, you can do it too using simple tricks. Get the look you desire whenever you want and flaunt your style everywhere you go. Use these tips to make your eyes pop out.
1. Just Wing It!
Winging the eyeliner can elongate the curve of your eyes and make them pop, giving you your desired look. However, to create a winged eyeliner look, opt for an eyeliner with a fine tip.
For this look, start tracing a line from the centre of the eyelid all the way to the edge of the eye.
Then, draw a slanted line towards the brow.
Now from the tip of the line, create a line downwards till you have an elongated triangle.
When you're finished, fill it in and you're done.
2. Tightline The Eyes
Tightlining is a makeup hack that can instantly make your eyes appear larger. For this, you only have to line your upper waterline.
Simply lift your upper eyelid to see the upper waterline clearly.
Then, using the Kajal, begin lining your upper waterline.
This trick of liner, creates a subtle, naturally defined look.
3. Brighten Up The Inner Corners
Use a highlighter or an eyeshadow hue that has a similar effect to brighten up the inner portions of the face.
As we all know that highlighter helps in reflecting light off the face, resulting in a lovely radiant finish. Similarly, placing a highlighter on the inner corners of your eyes can make your eyes appear larger and wider. For the most spectacular effect, use a champagne tone or a comparable shade of eyeshadow pallet.
Using a pointed brush, gently press the eyeshadow shade on the inner corners of the eyes.
That's it. You're finished with a gorgeous eye appearance.
4. Choose A Volumizing Mascara
Mascara helps elevate your lashes at the base, making your eyes appear bigger and more open.
Curl your lashes before applying mascara for this trick. This step is important since the hack will fan out your lashes for a more awake appearance.
Hold the mascara brush at the base of your lashes and wiggle and swipe upwards to apply the mascara.
To coat the lashes at the lashband's edge, simply hold the mascara wand upright and coat as usual.
Don't miss: Eye Makeup Products That You Should Definitely Have In Your Pouch


5. Thicker Brows Are the Way to Go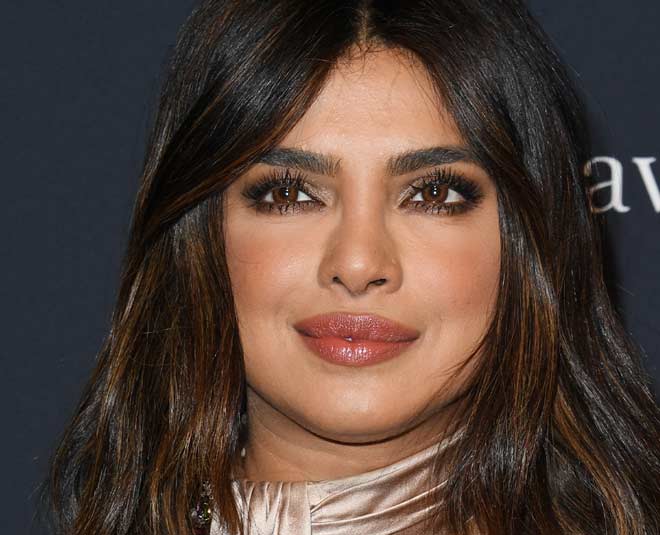 A well-groomed brow is the trick for making your eyes appear larger. Eyebrows that are well-groomed can frame the face as well as your eyes.
Begin by grooming your brows with a spoolie and then start creating hair-like strokes.
After that, fill in the entire brow area.
Then, using the spoolie, go over your brows again to blend the colour in.
Tips To Thicken Your Eyebrows Naturally At Home
Here are some tips for naturally thickening your eyebrows at home:
Castor oil is one of the greatest home remedies for thick brows. Castor oil aids in the growth of hair. It thickens and fills up your brows. All you have to do is massage some castor oil into your brows and let it on for 30 minutes. This is something that can be done every day.
Apply some olive oil to your brows. Allow it to sit for a few hours before rinsing it with water. This remedy should be performed once a day.
Massage the aloe vera gel into your brows for 30 minutes, then rinse with warm water.
Almond oil is high in vitamins A, E, and B, which promote hair growth. This remedy can be used on a daily basis. All you have to do is apply the oil on your brows at night and wash them the next morning.
Onions are rich in sulphur, which prevents hair loss and promotes hair growth. All you need is to chop 1 small onion, take 1 tablespoon lemon juice, and a cotton ball. Blend the onion until it becomes a paste, then strain it. Use this paste to fill in your brows. After one hour, wash it off with a cotton ball coated in lemon juice
Don't miss: Five Tips To Thicken Your Eyebrows Naturally At Home


These hacks are going to give you the stunning appearance of bigger eyes and make your eyes pop. Try these hacks and do let us know how they work out for you by commenting on our Facebook or Instagram page.
For more such beauty hacks and tips, stay tuned to HerZindagi!