Got Grapes At Home? Do Instant Glow Facial Using The Fruit With This Step By Step Guide
Grapes are a powerhouse of antioxidants which can benefit your skin in multiple ways.
Grapes are packed with essential nutrients which are good for our skin. From reducing acne to enhancing your skin's elasticity, grapes can benefit your skin in many ways. Ever imagined how this delicious fruit can be incorporated into your beauty routine? Well, there are different ways.
Treat yourself to a quick, relaxing grape facial. You don't need any fancy salon devices to do this facial at home. Just have some natural ingredients from your kitchen handy and you are good to go! So, here, we have a step-by-step guide to do grape facial at home.
Step 1: Grape Face Cleanser
You can any among black or green grapes to do this facial at home. Both green and black grapes are loaded with nutrients that are beneficial for your skin in some way or the other.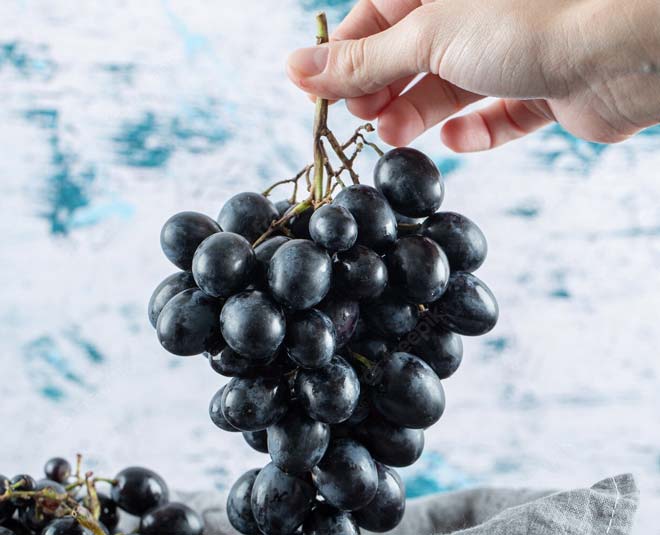 Chop grapes into small pieces and blend to make a juice. Strain the juice and take it out in a container. Dip a cotton ball in this juice and apply it all over your face and neck. Keep for a few minutes and then wash off with normal water.
Step 2: Grape Face Toner
Next, it is important to tone your skin. A lot of times while pampering our skin at home, we forget to tone our skin. It is essential to keep your skin tight and youthful.
In a spray bottle, add grape juice and rose water.
Scrape out fresh aloe vera gel from the plant and add it to the spray bottle.
Shake the bottle well.
Spritz this grape face toner all over your face and neck. Let it all soak in and then wash off with normal water.
Step 3: Steam
Facials are incomplete without steaming your face. It is a crucial step because it helps open up the pores of your face, pull out the dead skin, whiteheads and blackheads.
To steam your face, all you need is a bowl full of hot water and a towel. Bring water to a boil and pour in a big container. You can add a few drops of essential oil to it if you want to make it a more relaxing experience. Keep the container over a table and lean your head towards it. Cover your head with a towel. Make sure your head is about 6 inches above the water. Steam your face for 5 minutes.
Step 4: Grape Face Exfoliator
Exfoliating your skin will help remove the dead skin layers, blackheads, and whiteheads which take away the natural glow of your skin.
In a bowl, add mashed grapes, instant coffee powder, and honey. Mix all the ingredients well.
Using your fingers, start massaging your face with this grape scrub.
Make sure you are gentle on your skin.
Wash off with normal water.
Step 5: Grape Face Massage
A quick massage will help you relax your skin, enhance blood circulation on the face which will give your face an instant glow.
In a bowl, add chopped grapes and mash them using a spoon.
Add fresh aloe vera gel to the bowl and mix well.
Next, break a vitamin E capsule in the bowl and mix.
Apply this massage cream all over your face and neck.
Massage gently in circular motions till the cream absorbs.
Step 6: Grape Face Pack
Finish off the at-home facial with a face pack that brightens up your face instantly.
Grape Face Pack For Oily Skin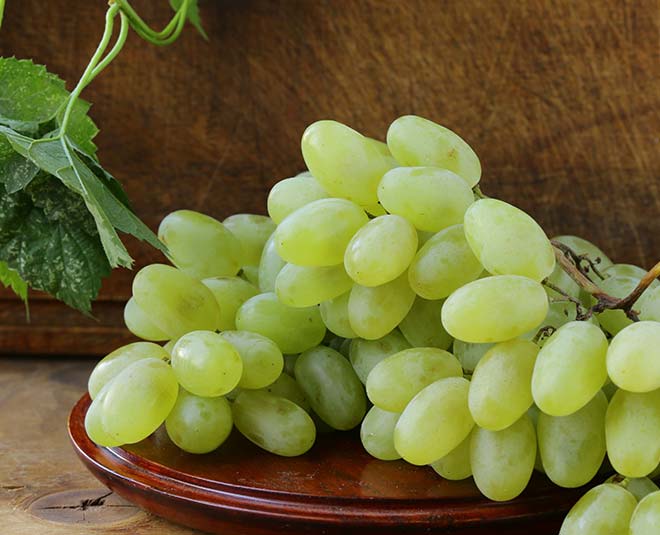 Add 1 tsp Multani mitti, 1 tbsp lemon juice, 1 tbsp rose water and 1 tbsp grape juice in a bowl. Mix all the ingredients and apply them all over your face. Keep for 10-15 minutes and then wash.
Don't Miss: Pamper Your Skin With This Easy Gram Flour Facial At Home
Grape Face Pack For Dry Skin
In a bowl, add 1 tbsp grape juice, 1 tbsp honey, and 1 tbsp papaya. Mix well the ingredients well and apply on your face. Let the face pack dry and then wash.
Grape Face Pack For Normal Skin
Chop strawberries and grapes and blend to make a paste.
Apply this paste to your face and keep for a few minutes.
Wash off with normal water.
Grape Face Pack For Combination Skin
Cut tomato into small pieces and blend it with chopped grapes.
Apply the mixture on your face with your fingers or a brush.
Wash off after 15 minutes.
Though this facial is completely natural, uses ingredients that usually don't have any side effects, we suggest you do a patch test for all of them before applying them to your face to check for any skin allergies.
This grape facial can be done once a month or once in 15 days for that instant glow on the face. If you try doing this grape facial at home, don't forget to share your experience with us on our Facebook page. For more such beauty-related stories, stay tuned!