This year the Cannes red carpet has been crazy with our Indian beauties setting fashion and makeup goals. While some went out their way with Deepika Padukone changing 5 times just for a photo shoot, Priyanka's nude look in different hues was game on. New entrant Hina Khan was not so bad herself with blue lids and sunkissed makeup. Now we cannot do the bizarre makeup like the Met Gala, that was hardly an inspiration for every day looks unless that is of your taste of course but these looks by Deepika, Priyanka, Hina and Diana Penty are inspiring for us Indians. Let's take a look at their makeup break down.
Hina Khan
Her make-up is perfectly balanced thanks to international hair and makeup artist Liz Bomben. Hina Khan's cheeks have been done up using Mehron makeup cream cheek palette, the twinkling blue eyeshadow which is a reflection of her dazzling gown have been drawn using Mehron shimmer eyeshadow palette. The subtle blue eyeliner has been made using Kiko blue intense colour kohl with a shimmering pout thanks to the Mehron Sweet Palette topped with Kiko Milano 3D Hydra Lip Gloss. The game here is to keep the lips and cheeks as nude as possible with all focus on the eyes which bring out the colour of your eyes and at the same time keeping them in sync with the Ziad Nakad gown.
Diana Penty
Breaking down Diana Penty's Day 2 look at the Cannes for The FICCI Forum at The India Pavilion, we truly were mesmerised with her red pout. In an Amit Aggarwal new age pristine white and cream saree with statement jewellery by Aquamarine, her makeup done by Marianna Mukuchyan is what made her stand out. Subtle highlighter and light pink blush on the cheeks make her look sun-kissed. The eyes were painted subtle with a pink eye shadow and a heavy-duty mascara and elongated eyelashes using fake eyelashes.
Don't Miss: Top 5 Nude Matte Lipsticks For The Indian Skin
Priyanka Chopra Jonas
With all focus on her white gown, Priyanka has gone super subtle with her nude makeup all the way. Her brown eyelids are subtle but they have been perfectly shaped and not totally made to merge. The eye shadow has also been lightly sketched below her water line with a touch of black eyeliner to give an outline to her almond eyes. Her lips are nude, not exactly brown but roasted pink brown like a desert rose in matte. The rest of her make-up is completely sheer be it the cheeks, the nose or the chin. You just need a subtle highlighter for the highest points of the face.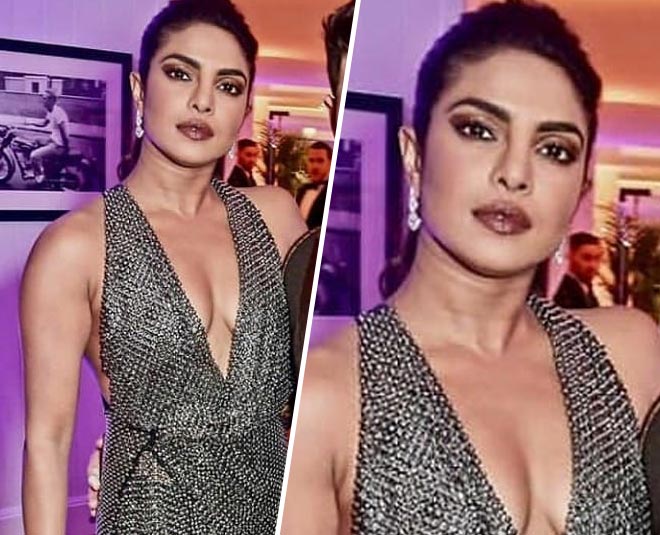 Deepika Padukone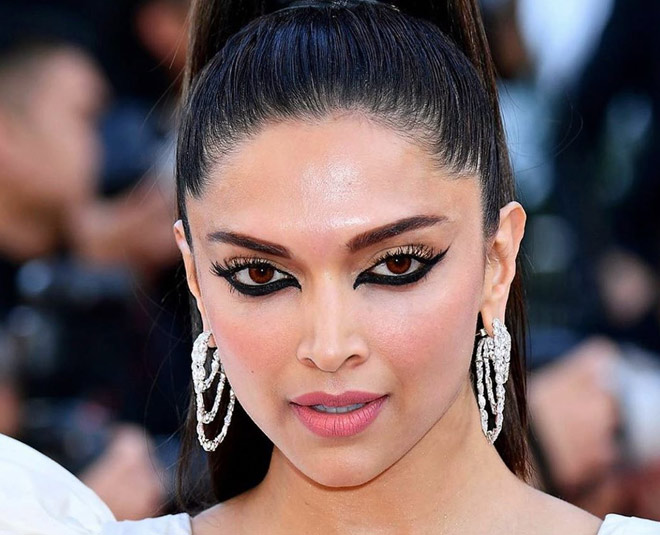 This one is no brainer. This stunning beauty looks sexy in whatever she wears and does to her face. Here her makeup is nothing but the kick-ass eyeliner! Drawn like that of a leopard in case you haven't noticed, you can easily achieve the same finish using an eye gel liner with a brush or with a kajal with gel consistency or formula. If you want the focus to be on your eyes like Deepika Padukone's then keep the rest of the face simple and subtle. Just dab a little blush in peach maybe but keep it really soft and yes if the occasion is huge then do not forget a dash of highlighter on the nose bridge, chin and cupid's bow.