Off late, skincare has become a major part of our lives. We are paying attention to the serums and oils our skin needs and people are ready to invest in them. If you are looking for a Hyaluronic acid serum to update your routine then pick from these best 5 which have had good reviews so far. Some of them may be a bit costly but you could get them at a cheaper price if you grab them during sale time.
Minimalist's Hyaluronic Acid 2% + Vitamin B5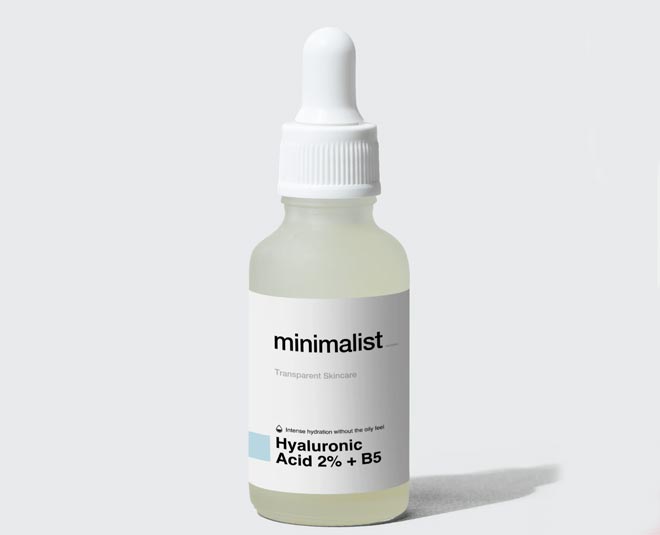 Buy this bottle of goodness for Rs 599. It is feather-light when we talk of the formula and has a multi-molecular 2% Sodium Hyaluronate (a salt of HA). It provides multi-level hydration and gives you an instant plump look. It contains aloe juice instead of water and provides pro-Vitamin B5. It is non-sticky, and the Hyaluronic acid has been sourced from Royal DSM, Netherlands as claimed by the brand.
It's Skin Hyaluronic Acid Moisture Serum
Buy a 40 ml bottle for Rs 900. This serum is lightweight and melts into the skin. It gives you soft and moisture-rich skin. The serum also contains lavender scent and is suitable for all skin types. The brand claims that it uses mostly natural ingredients. The product is free from alcohol, scent and colouring.
The Ordinary's Hyaluronic Acid 2% + B5
This 30ml wonder costs Rs 2999 in India. This is a lightweight serum which rehydrates the skin deeply. It has Vitamin B5 which offers long lasting hydration and visible plumping of the skin. The brand claims that it provides lipid barrier strength, moisture retention, and surface hydration.
Don't Miss: Face Masks For Acne Prone Skin, Sensitive Skin Under Rs 700
L'Oreal Paris Revitalift 1.5% Hyaluronic Acid Serum
Buy this 15 ml bottle for Rs 499. It is suitable for all skin types, is non-sticky and lightweight, has no alcohol, is paraben-free and fragrance-free.
Don't Miss: HZ Tried & Tested: Plum E-Luminence Nourishing Toning Water Detailed Review
Himalayan Organics Hyaluronic Acid Rejuvenating Facial Serum
Buy 30 ml bottle for Rs 2195. It has vitamin C extracts as well as vitamin E. It is excellent for lightening the dark spots, for reducing the wrinkles and the fine lines you want to get rid of. It is something you can count upon for moisturisation.
Stay tuned to HerZindagi for more such suggestions and save research time online.