Exposure to excessive humidity for a prolonged period during the rainy season may cause our skin to go itchy, cracked and rough, which in turn makes the skin prone to breakouts, flaky patches, and hyperpigmentation. A homemade DIY face mask and exfoliator can go a long way to pamper your skin with gentle and natural ingredients.
Ms. Caroleen Gomez, the Beauty Expert, and Founder at Revees Clive told HerZindagi that "using facial exfoliators (scrubs) and masks on a regular basis also helps to remove dead skin cells, softens skin, reduces pores and fine lines, combats uneven complexion and detoxifies skin in a nourishing way that allows for a natural and healthy skin glow."
Here are a few DIY facial scrubs and masks shared by her that you can prepare and use at home to tackle monsoon-related skin problems
Radiance-Revealing Rose Face Scrub

A very gentle yet potent facial scrub suitable for every skin type and can be used around the year.
What do you need
Rose Petal Powder 1 Tsp
Orange Peel Powder 1 Tsp
Honey 1 Tsp
Rosewater 1 Tsp
Get-Even Oatmeal And Milk Scrub
A wonderful mask help to get an even complexion – makes your skin smooth, nourished and glowing.
What do you need
Fresh Raw Milk 2 Tsp
Finely-Ground Oatmeal 2 Tsp
Soaked Almond Paste 1 Tsp
Glycerine 1 Tsp
Extra Fine Sugar Or Rice Powder 1 Tsp
Sweet Almond Oil 1 Tsp
Pore-Cleansing Yogurt And Coffee Face Mask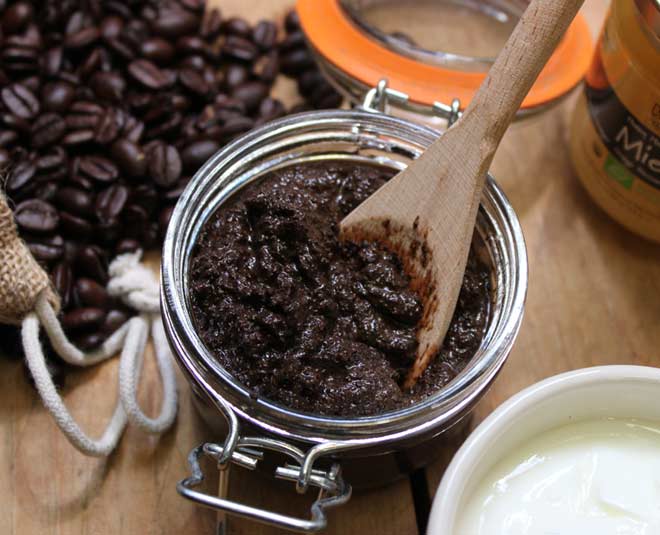 Yogurt will soften your skin, while coffee and turmeric will purify your pores, improve skin elasticity and even skin tone.
What do you need
Yogurt 1 Tbsp
Coffee Grounds 1 Tbsp
Turmeric ½ Tsp
Honey ½ Tsp
Super-Moisturising And Youthful Skin With Cocoa Face Mask
This delicious face mask is perfect to treat your skin with a shot of youthfulness. Cocoa has a high flavonoid content which reverses skin damage due to UV rays; it is also an excellent moisturizer that hydrates the skin and provides essential nutrients to it.
Don't Miss: Here Is How Green Tea Solves Acne Problems!
What do you need
Cocoa powder or melted dark chocolate 3 Tsp
Rose Petal Powder ½ Tsp
Aloe Vera Gel 2 Tsp
Honey 1 Tsp
Strawberry 1 Pc
Go Away Acne! Charcoal And Clay Mask
This mask may not smell amazing due to the presence of garlic, but it is a very effective detox treatment that will leave your skin super clean and healthy. Bentonite clay and charcoal flush out toxins; garlic contains allicin which helps to kill acne-causing bacteria; whereeas witch hazel serves as a potent astringent to tighten pores.
Don't Miss: HZ Tried & Tested: Re'equil Pea Protein & Ceramide Hair Mask Detailed Review
What do you need
Bentonite Clay or Fuller's Earth Clay 1 Tbsp
Activated Charcoal Powder 1/2 Tsp
Neem Powder ½ Tsp
Fresh Garlic Cloves 2
Witch Hazel Extract 2 Tsp
Honey 1 Tsp
How to prepare these face masks and scrubs?
All the ingredients need to be mixed in the proportions as mentioned above and made into a smooth paste for preparing the face mask. On the other hand, for preparing the exfoliator or face scrub, use slightly coarse ingredients (such as orange peel, oats and sugar) to form a paste, and if required, add water to adjust the consistency.
How to use them optimally?
To Use Face Mask
Apply a generous amount to clean skin (avoid the eye area). Leave it for 15-20 minutes and then rinse off with water. Tip: If the mask dries up quickly before the desired time, then spray normal or rose water to moisten it.
To Use Face Scrub
Moisten clean face with warm water. Apply a generous amount of scrub onto the skin along with gentle circular motions for 2-3 minutes. Leave on the skin for 5 minutes and rinse with water.
Make the most of these face packs and stay tuned to HerZindagi for more such beauty masks and scrubs which can be easily made at home.