Most of us love 'mehndi' or 'mehendi' or 'henna' tattoos and we look for occasions or just them some done when in the mood. They look so pretty and no one can take away that indulgence from us. Be it simple or heavy there is something for everyone, if we are going to the office where they do not particularly look nice if your hands are too full ( kind of looks unprofessional) we can also get a simple bel done or a simple design just at the back of our hand. So, let's just explore the designs that we can get done on the back of our hands, this Karvachauth 2020, with two exceptional front hand designs as they are worth mentioning and the latest I came across on Instagram. So what are we waiting for? Let's get scrolling ladies!
Intricate Jaali Work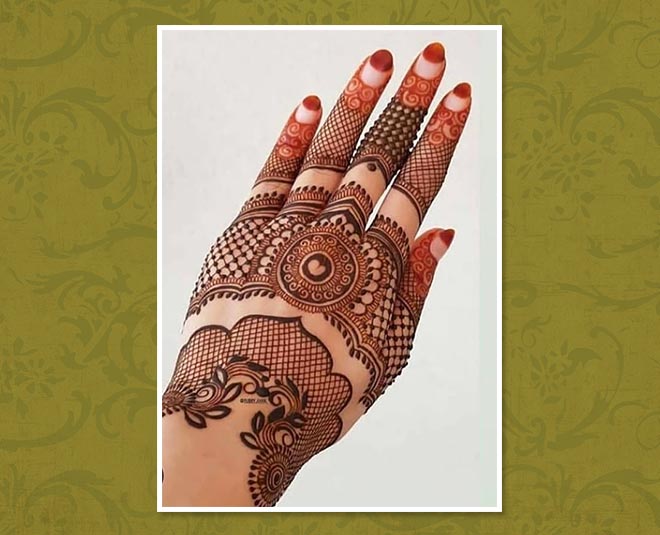 This mehndi design is intricate, has breathing space and looks unique for sure. Although not for office it is perfect for a bridesmaid or that mehndi ceremony you are headed to.
View this post on Instagram
Jewellery Design
These 4 designs fill in the bejewelled design look category. They look intricate yet pretty. Here although they have used black mehndi, I would recommend that you stick to the good old original henna. Nothing beats that colour which is organic and pure and traditional. Buy Prem Dulhan Mehendi Cone 12pc in 1 box, made from 100% pure leaf of natural Henna No Chemicals, No PPD, No Side Effects Box color purple & cone Brown for Rs 90, here.
Badi Bel Design
If you love bold designs then this design is for you. I found it very interesting as the bel made here is somehow adding grace to the entire design. Of course, you can make some changes to the design with whatever motifs you like but I suggest that you take a picture of this or a screenshot and take it to your mehendiwaala. Buy Grehlakshmi 201 Aakarshak Mehandi Design 18 for Rs 30, here.
Don't Miss: These Are The Top Mehndi Designs Rakhi Special
Classic Intricate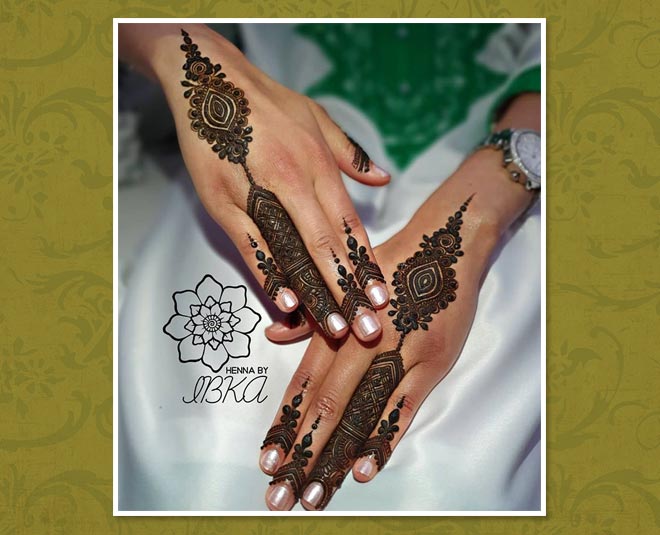 Designed by Ibka, this mehndi design won my heart big time as it looks very very classy. It's traditional yet classy and very unique. It is not very filling on the hand, is spaced out and perfect for the office as well. Put a nude nail paint or a red, anything would look pretty with this one.
Cross Stitch Design
If you like checks or cross stitches then this one is for you. It looks quite modern but with a traditional touch. It will look good even with your western wear. Buy Mehndi Designs: Traditional Henna Body Art (Dover Pictorial Archive) for Rs 306, here.
Bel Jaali With Landscape Wrist
This design is beautiful! The inside you may have seen before but the work on the wrist is different and pretty. It has a landscape on it which has been drawn with a serious concentration clearly.
Full Bridal Patch Work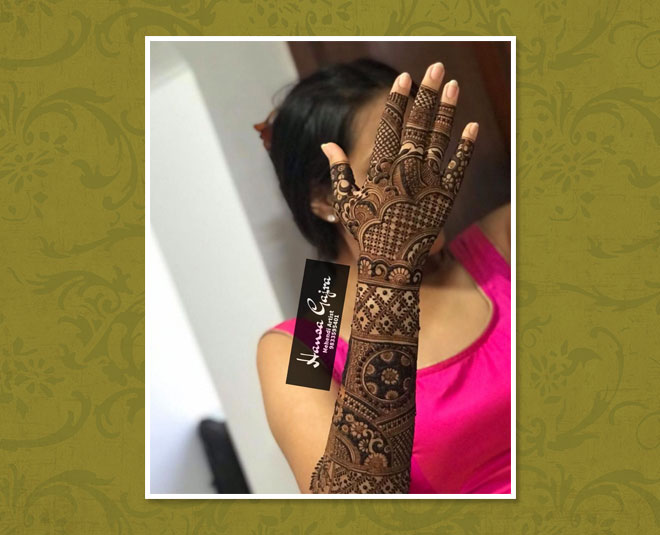 Agreed that this one is for a bride but I had to share it because the work is beautiful! This past year I saw many hands of the new brides but some had the same designs in different permutation combinations. But this one is like patchwork done right and I am loving it!
Midi Rings Tattoo Look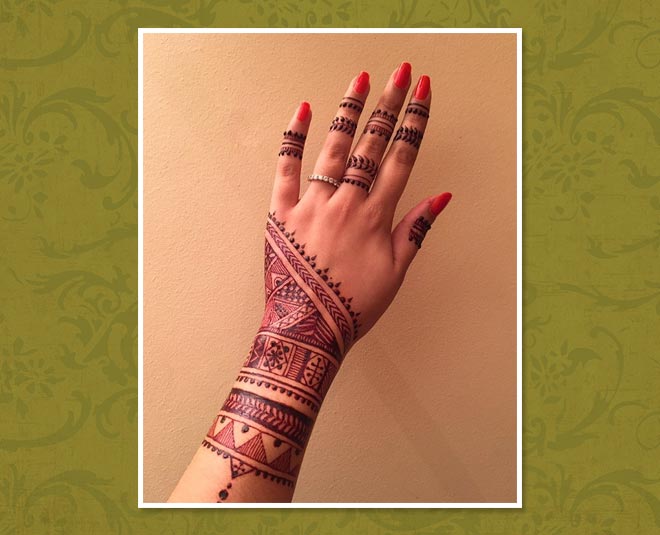 This one looks like a blend of Azetic tattoo designs, tribal prints and the midi rings made on the fingers look so pretty! What caught my attention was the diagonal design. Somehow when the designs are not in your everyday shape, they attract the human eye and well, we mehndi lovers would never shy away from the same right?
Wreath Designs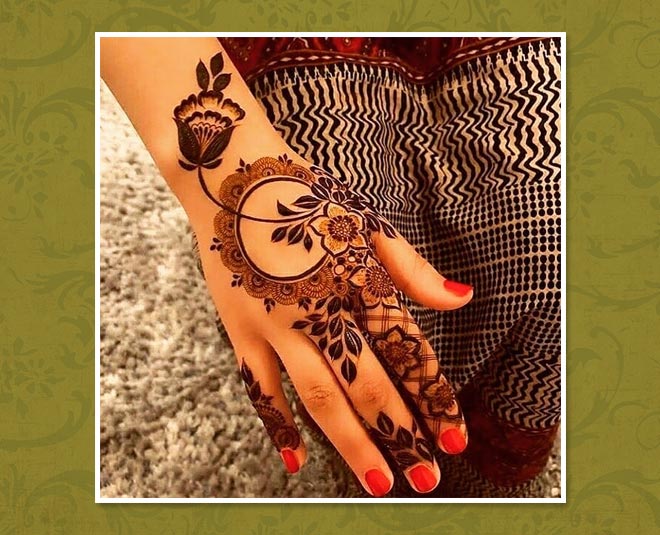 It is bold, super floral and we are loving it! This wreath-like design is very different and I can totally imagine a rustic rose nail paint to complete the look. It will look super cute when you wear a white tee with denim or a white kurta.
The Latest: I Said Yes! Swag!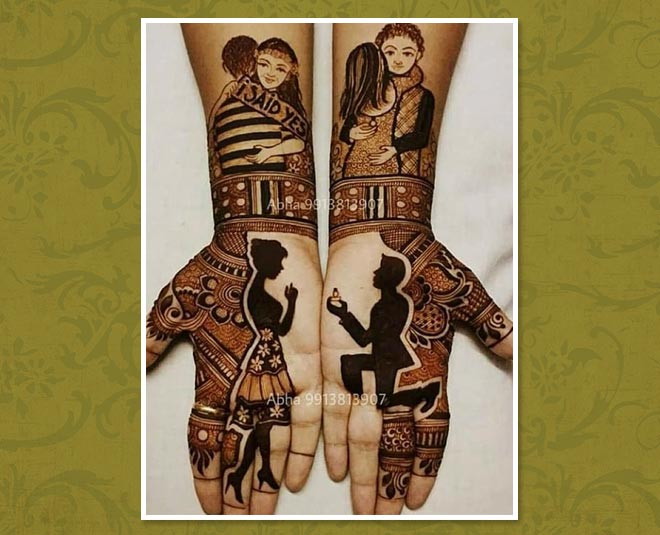 This one is an exception as it is not a back design but the moment I came across this design I have to share it! It's a swag mehndi design that not everyone can carry but those who can go for it! Got that attitude? Flaunt it! This proposal mehndi narrates a sweet story and will definitely make you stand out girl!
For more mehendi designs and festive looks, stay tuned to HerZindagi.