If you like keeping up with beauty trends then, you surely must be aware of the fact that eye creams have become the game-changing beauty product that brands are going on a spree to sell.
But what do these eye creams even do? With the drastically increasing screen time the eyes get harmed and the skin under them gets pigmented due to strain and stress. In addition to that, our unhealthy sleeping habits also are responsible for strained eyes. All the stress build-up further leads to puffiness in the eyes, dark circles, pigmentation around the eyes and then you might also feel pain in lifting your lids and similar problems might arise.
Therefore, we must make a few important lifestyle changes and try using these eye creams as they do help rejuvenate the eyes and help relieve the stress in them. However, we would only recommend using DIY natural eye creams and thus we are here with a few simple recipes for you to try!
DIY Aloe Vera And Rose Water Eye Cream
One of the easiest DIY creams for your eyes, this is not only known for soothing the pigmentation, redness, and dark patches under the eyes but this natural cream is one that can also help you keep your eyes super hydrated while also kicking off the bagginess from them. In order to make this amazing DIY cream for your eyes, you can you will need a mixing bowl, aloe vera gel, rose water and a few vitamin E capsules.
Take 2 teaspoons of aloe vera and mix 2 vitamin E capsules with it. To make the cream a little flowy you can add a few drops of rose water and coconut oil. Refrigerate for a few hours and apply this under your eyes and massage for a while, sleep with this cream and wash your face the next morning.
Shea Butter And Chamomile Under Eye Cream
Know as one of the best hydrating natural ingredients for the skin, shea butter and chamomile under eye cream can help you get rid of the dryness in your eyes, the itching, sensitivity and help provide you a cooling and calming sensation to them. To make this super amazing eye cream you will need a mixing bowl, a spoon to stir, 1 teaspoon of shea butter, and 12 drops of pure chamomile essential oil.
Start by heating the shea butter in a pan and then add the chamomile in it, mix them well, and let the mixture cool. Apply it under the eyes and you will notice an instant relief from the pain and itchiness.
Don't miss: Simple Tips That Will Help You To Bid Adieu To Puffy Eyes
Cucumber And Mint Eye Cream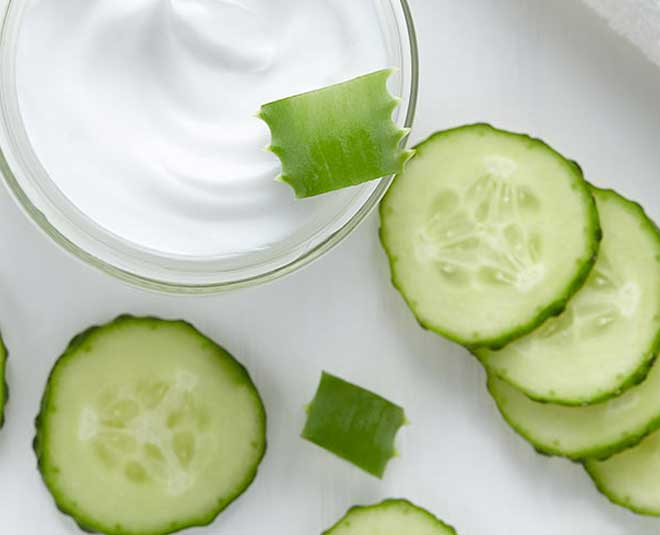 Cucumber is known to carry a lot of water content and that is the reason why this cream will be effective in taking away all the soreness, pain, and stress in the eyes. Apart from that mint is also a great coolant known to be enriched with skin-enhancing properties that eventually fade the dark circles and removes puffiness in the eyes.
In a blender mix both the ingredients along with rose water and a teaspoon of raw milk, then transfer the content into a mixing bowl, add a few drops of olive oil and apply this cream thoroughly under your eyes, massage, and let it absorb in the skin.
Don't miss: Here Are Some Tips That You Should Mind If You Wear Contact Lenses
So, take care of your eyes and try these eye creams for sure! Stay tuned to Her Zindagi for more such pieces.