All my bags are packed, I'm ready to go...
You start singing this song as soon as your tickets are booked but the task of packing can actually seem so tedious that you may feel like having an assistant to help you out. You start planning with excitement at first but then become lazy as the days go by. Then the day to leave is almost there and panic sets in. What to pack, how to pack, how much is too much, what would be essential for the trip are some of the questions that start making you crazy. Then it's time to leave and you have that sinking feeling – did I leave something out? Worry not, with these handy tips, you will be able to pack in an hour without feeling anxious about it and have an awesome travelling experience.
Step 1-Keep The Essentials
Make a checklist and keep essentials like a multipurpose scarf, medicines, undergarments (panties plus 1 dressy bra,1 t-shirt bra, 1 sports bra), toiletries, sleeping mask, earplugs, charger and a sanitiser on top of it. Then start keeping these things handy in the run up to your departure day. Throw in a roll of newspaper/wastepaper and few plastic bags to save yourself from spillage and to keep the dirty stuff separate in your luggage.
Step 2-Organise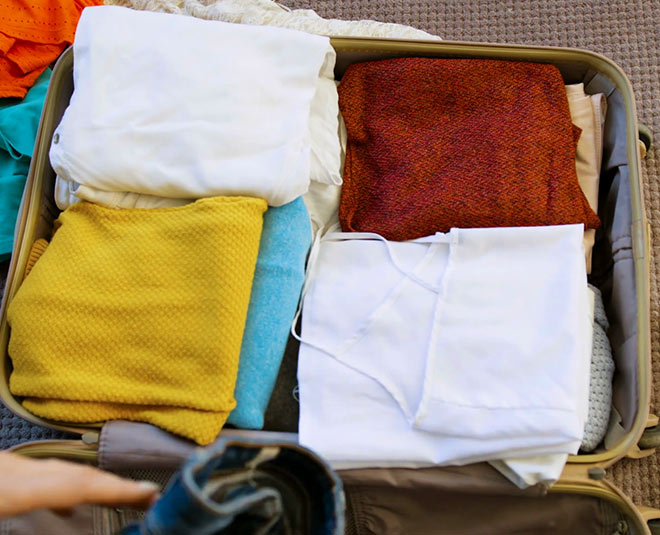 Image Courtesy: www.cloudfront.net
Empty out everything from your wardrobe that you want to take but then start stacking them as per your need. So 4 tops, two lowers, one jacket, one shrug, one dress, one dressy+1 comfy pair of footwear, sleepwear are good to go if you are travelling for a few days. You can always mix and match the outfits to create new combos and will still have all the basic stuff to wear. Place them into coloured organisers or packing cubes so you would know what to pick out when required.
Read More: These Surprising Reasons To Travel Will Make You Pack Your Bags
Roll Baby Roll
Rolling your clothes wins hand down when compared to simply folding your clothes in the luggage. Whether it is your towel or clothes, rolling them up saves a lot of space and also makes the stuff more visible while taking them out. Imagine fumbling through your bag and taking out layer after layer of clothing to find a pair of jeans versus just picking up the roll of T-shirt that you want to wear.
Apps To The Rescue
Image Courtesy: www.shopify.com
There are so many packing apps that can also help you to pack quickly. Packing Pro, PackPoint, Travel List App, Packr Travel Packing Checklist and The Vane are few of the packing apps that can customise your packing experience and also speed it up.
If you want to know about special packing hacks how to pack for a destination wedding, what to pack for honeymoon and travel shopping tips then keep exploring more about travelling on HerZindagi.