Yami Gautam has been making headlines for a long time now. About 3 months back this year, the URI actress got married to director Aditya Dhar. Her initimate wedding ceremony in Mandi, Himachal Pradesh became the talk of the town.
Now once again, Yami Gautam is trending and this time for her look in her recent release, Bhoot Police.
Directed by Pawan Kripalani, Bhoot Police revolves around the story of 2 brothers who are on a job to hunt and eradicate ghosts from a remote village for money.
Yami Gautam's Character Of A Possessed Girl
In her latest release, Bhoot Police, Yami Gautam plays a posessed girl and she is getting showered with a lot of love for her role in the horror comedy.
In her latest Instagram post, Yami Gautam shared what got her excited to play her role in Bhoot Police. She wrote, "My love for horror films was one of the main reasons that got me excited to play the part in #BhootPolice, where I get 'possessed'."
Getting In The Look
To get into her character, Yami Gautam shared that it took about 3 hours to get ready and 45 minutes to get out of the makeup look everyday. Shooting conditions for the team weren't easy as they shot bare feet and with cable work thhroughout the chilly nights in Himachal.
Yami Gautam Did The Spider Walk Herself
If you have seen the movie already and you think that was a body double doing the spider walk then you are wrong. Yami Gautam did it all on her own. On her Instagram post, she shared, "Despite my neck injury, I wanted to do everything myself, and my Yoga practice helped me to achieve it to a great extent. Although, I wish I could take some professional training but the pandemic restrictions made it impossible at that time. I did whatever best I could on the set! These are a part of the challenges that come along with the profession I love so much! ❤️ And I will do it again and again!."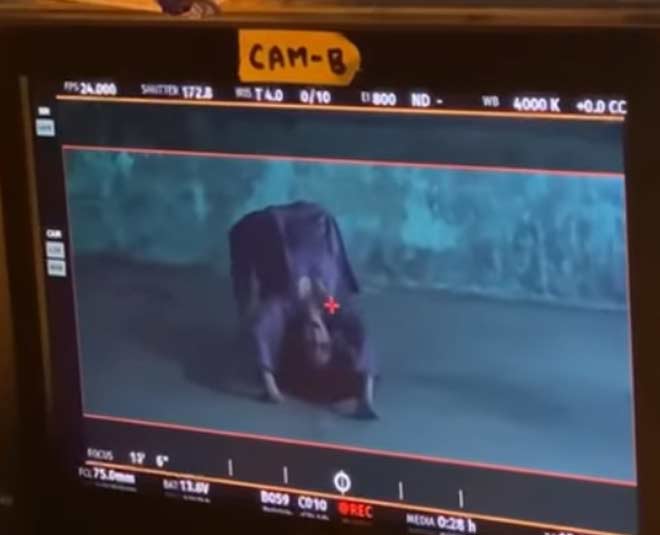 On her Instagram post, Yami Gautam shared a clipping of her doing the spider walk on the sets of Bhoot Police. She thanked her crew and director for helping her bring the look to life and for all the guidance and precautions during the shooting of the sequence. Yami Gautam also thanked her fans for giving her a lot of love for the same.
Yami Gautam's spider walk clipping from Bhoot Police made us recall of he spider walk from the Exorcist. It is still believed to be one of the scariest scenes from any horror film.
The much talked about scene from the horror film was originally cut because the firector thought it was too much of an effect for the audience. Though the scene was cut, it is still remembered all across as one of the most haunting moments of a horror film.
Don't Miss: See Pics: Yami Gautam, Aditya Dhar's Mehendi Ceremony To Unseen Wedding Pics Are Unmissable
Spider Walk In Yoga
Spider walk or crawl is a common Yoga practice and usually done to boost heart rate and strengthen the muscles. If done correctly, the spider walk is believed to have many benefits including strengthening of the lower part of the body - calves, glutes. Spider walk can also boost the core and strengthen it. The spider walk is usually done as a warm up exercise or a cardio workout.
Don't Miss: 5 Yami Gautam Bridal Looks That Are Super Inspiring This Wedding Season
However, what Yami Gautam did for Bhoot Police wasn't the regular spider crawl. It was done upside down just like the famous spider walk from The Exorcist.
Yami Gautam has indeed put in a lot of effort to get under the skin of her character for Bhoot Police. What are your thoughts on Yami Gautam's character of a possessed girl in the movie?
Have you watched the movie yet? If yes, share your review with us on our Facebook page. For more such stories, stay tuned!