Sayfty Self-Care Summit Day 2: Creating A Safe Space For Women!
Sayfty Self-Care Summit Day 2 lived up to its promise of creating a space for women to focus on their self-care needs!
'Self-Care Summit' is a two-day session held on the 26th and 27th of June, 2021. This summit is aimed at creating a space where all those who identify themselves as women feel safe. The summit is co-hosted by Sayfty Trust and Villoo Poonawalla Foundation.
After an extremely successful and productive day 1, participants joined day 2 of the summit with much excitement. The keynote speaker of the event was Deirdre Kent. Deirdre Kent is Canada's Acting High Commissioner to India, Nepal, and Bhutan. "The pandemic has disproportionately affected women" stated Kent. She acknowledged an increase in the mental health issues that women have seen in the pandemic. "I am sure this session will help us heal, connect and empower ourselves" added Kent, and encouraged women to take back as much as they can from all the sessions of the summit. On that note, day 2 of Sayfty 'Self-Care Summit' began!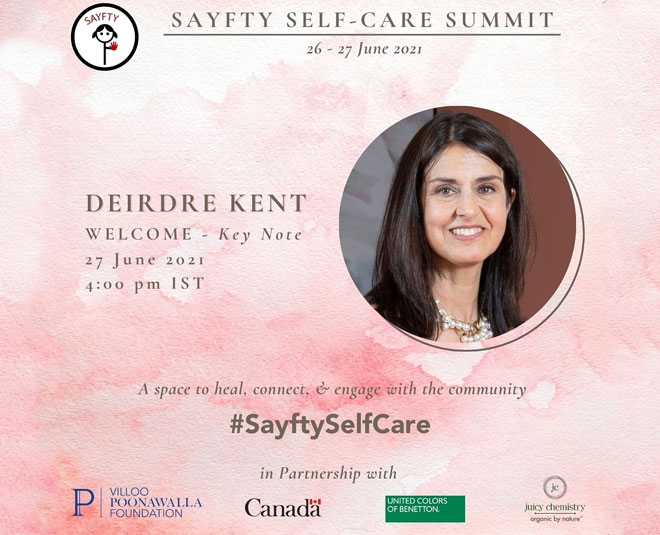 Image Credit- sayfty instagram
Session One- Serenity Surrender/ Self Care For Women Who Lead
For the first session, the participants were divided into breakout rooms of either the 'Serenity Surrender' or the 'Self Care for Women Who Lead' session. The 'Self Care for Women Who Lead' session was held by Mansi Panjwani, an international peace educator, and facilitator. The Serenity Surrender session was led by Mridu Bajaj who is a Serenity Surrender therapist and teacher. She explained how it is essential to find peace and joy within ourselves. She told the participants how every person who comes to our life is there to facilitate our growth and if we resist interaction, we are also resisting our growth. She led the session through a guided meditation and then went on to discuss the various emotions that we are faced with. Mridu Bajaj shared tips on how to deal with any situation in life. "Take one step at a time and your path will light up. Your path will always guide you to wisdom" and with this, the enlightening session came to an end.
Session Two- Finding Zen With Zenatangle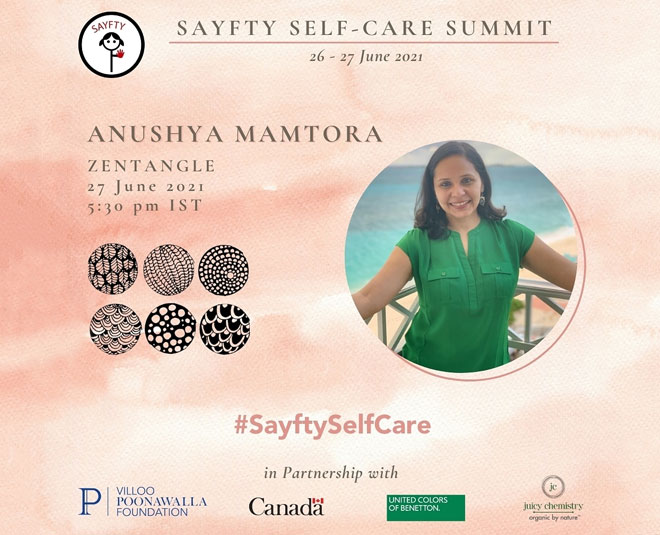 Image Credit- sayfty instagram
This session was led by Anushya Rajagopalan Mamtora, a certified Zentangle teacher and a self-taught Mandala artist. "Practicing Zentangle is like meditating with a pen" believes Anushya. In an extremely engaging session, participants were guided by Anushya Mamtora into drawing a beautiful mandala on a paper with the message of "I Matter" in the center. The step-by-step, repetitive procedure felt extremely therapeutic and calming.
Session Three- Cook With Me
The session 'Cook with Me' was conducted by Maneet Chauhan, an award-winning chef, author, and television personality. She is also the founding partner of Morph Hospitality Group in Nashville. "Cooking is a great way to de-stress, especially in the times we are in" believes Maneet. With a table full of ingredients and an extremely upbeat and charming personality, Chef Maneet Chauhan started an interactive session of making 'Quinoa Peach Chaat' and 'Lemon Yogurt'. "To me, cooking is all about having fun!" It is safe to say that Chef Maneet Chauhan surely did have fun and made all the participants enjoy the cooking and chit-chat session!
Session Four- Breathwork And Meditation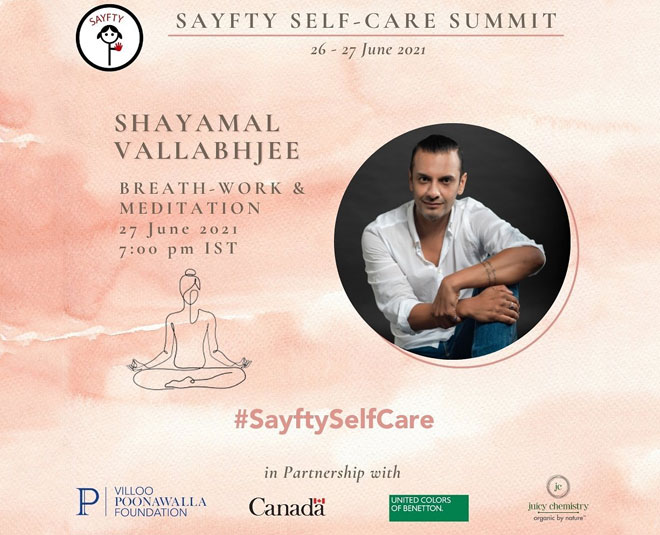 Image Credit- sayfty instagram
The fourth session was conducted by Shayamal Vallabhjee, author of four books, including the bestseller: 'Breathe Believe Balance'. He started the session with an extremely relaxing breathing exercise. He made all the participants close their eyes, played comforting music in the background, and chanted words to calm the minds of the participants. He made everyone think of something that they are grateful for. The session was extremely beautiful and post the session the chatbox was full of participants expressing their gratitude.
Session Five- Zumba
Conducted by Sucheta Pal, this session got everyone up and jumping! Sucheta Pal is an Ambassador and Education Specialist for Zumba in India and has also been a celebrity fitness coach for Gauri Khan, Bipasha Basu, and Yami Gautam. After an extremely calm session before this where everyone focused on their breathing, fitness coach Sucheta Pal left all the participants breathless. Calling this session fun-filled, would be an understatement!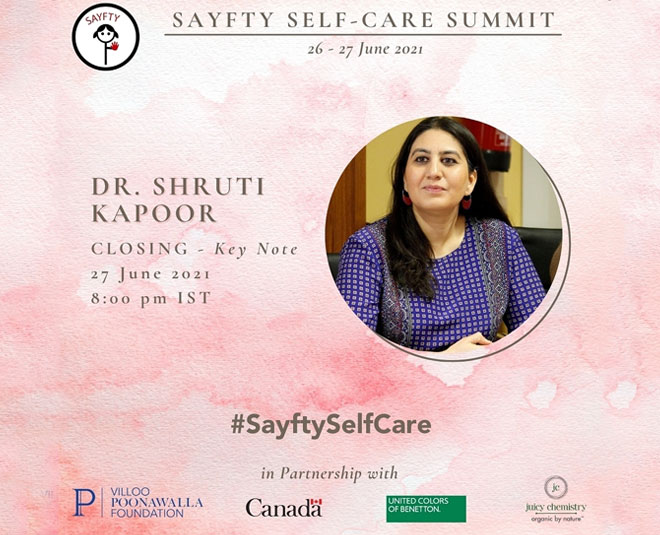 Image Credit- sayfty instagram
As all the sessions came to an end, Dr. Shruti Kapoor, the founder of Sayfty Foundation and an award-winning gender equality activist, delivered the ending keynote speech. "We as girls and women, are conditioned to put our needs last", while she believes there is nothing wrong in serving others, taking care of oneself is also important. She acknowledged how with the pandemic, a lot of women have faced a strain on their physical and mental health in various degrees. She emphasized the importance of listening to what our soul whispers to us, listening to our body, learning to set boundaries, learning to say no, reaching out for help, and getting in touch with our feelings. "Today I am asking all of you to take out time for yourself. Let us make a promise to commit to ourselves, focus on ourselves, and discover ourselves a little more" and with these insightful words, this engaging summit came to an end.
The Self-Care Summit was definitely a safe space for women to learn new things and interact with each other. Stay tuned to Her Zindagi for more such content!