Rumours related to love affairs and relationships were always a part of the entertainment industry. Not just today, years back too, all such rumours about different Bollywood actors used to do rounds. Today, we thought of taking you back to the time when Rekha and Sanjay Dutt's link-up rumours had sparked.
Both Rekha and Sanjay Dutt's personal lives were the talk of the B-town for the longest time. The two were linked with a lot of their co-actors through their journey in Bollywood. However, many don't know that there was a time when Sanjay Dutt was linked to Rekha.
Sanjay Dutt and Rekha first starred in a movie titled Zameen Aasman back in the year 1984. Soon after they started shooting for the movie, rumours of their growing proximity started floating around. Rekha and Sanjay Dutt had started spending a lot of time together.
Rekha Applied Sindoor For Sanjay Dutt?
Soon there were reports that Sanjay Dutt and Rekha had got secretly married in a temple. However, these rumours were denied by Yasser Usman who wrote the biography Rekha: The Untold Story. He said, "Rekha and Sanjay Dutt were working in a film together, probably Zameen Aasmaan (1984). The rumours of their affair surfaced at that time. In fact, some went on to say that they got married. These rumours became so strong that Sanjay Dutt had to deny the allegations in a magazine. It was an official denial."
He also shared that the news became the talk of the town because apparently, Sanjay Dutt while shooting for the movie was going through a rough patch and Rekha helped him overcome it. They got really close then and this sparked their link-up rumours.
Don't Miss: Akshay Kumar And Rekha's Lesser-Known Love Affair, What Happened And Led To Their Breakup
When Sunil Dutt Asked Rekha To Stay Away From His Son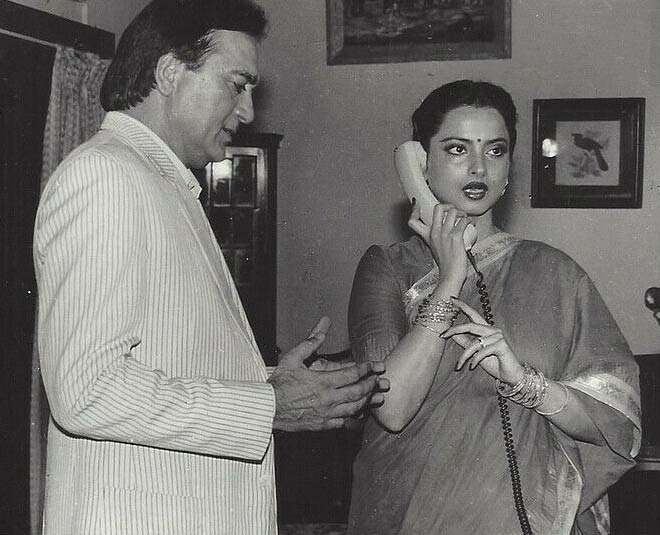 When rumours of Sanjay Dutt and Rekha's love affair were all over the news, Sunil Dutt decided to intervene. He told his son Sanjay to stay away from any such link-ups at that stage of his career. However, Sanjay Dutt didn't listen to any of his advise. Then, Sunil Dutt reportedly went to Rekha and requested her to distance herself from Sanjay Dutt. Later, both Sanjay Dutt and Rekha denied their link up or wedding rumours.
Rekha And Sanjay Dutt's Life Ahead
Sanjay Dutt got married to Richa Sharma in the year 1987. However, she died of a brain tumour in 1996. The two were parents to a daughter Trishala Dutt who now stays with her maternal grandparents in the US. Sanjay Dutt then got married to model Rhea Pillai in 1998 but they parted ways 10 years later.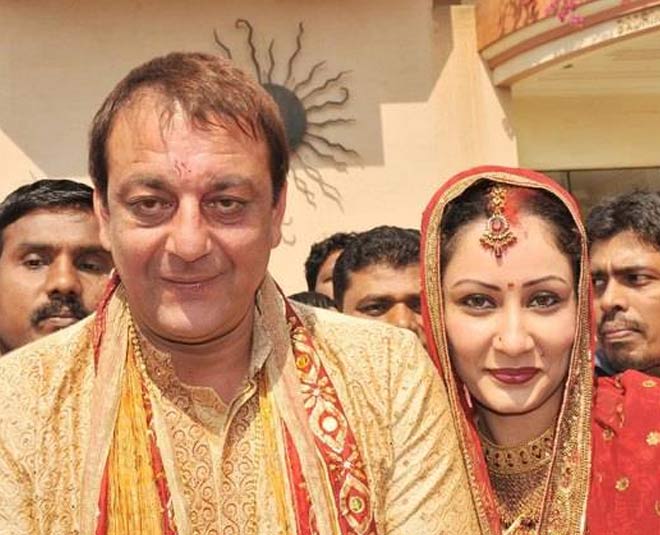 Sanjay Dutt got married to Manyata after dating her for 2 years in the year 2008. They are now parents to a boy and a girl.
Don't Miss: When Sanjay Dutt Followed Madhuri Dixit Everywhere Whispering 'I Love You'
Rekha got married to Delhi based businessman Mukesh Aggarwal in the year 1990. However, he committed suicide a few months later and left a note that said, "Don't blame anyone." All these years, Rekha was rumoured to be married to actor Vinod Mehra and Amitabh Bachchan as well. However, Rekha denied all these rumours.
Recently, Sanjay Dutt was diagnosed with stage 3 lung cancer. There are reports that the actor would soon fly to the US for treatment. After Sanjay Dutt's cancer diagnosis, Manyata Dutt released an official statement where she thanked all his fans and requested them to not fall prey to speculations and rumours. She also shared that they are seeking prayers and blessings for Sanju and they are looking forward to emerge as winners. For more updates, stay tuned!