Ambani family and Bachchan parivar, both are well known in India and on foreign lands, for different reasons. Both are powerful in different aspects. And when the two are together, the camaraderie becomes unbeatable. They meet a lot, write emotional posts and perform pujas together. Their bond goes back to the time when the late Dhirubhai Ambani and Amitabh Bachchan were friends. Here are some moments that prove that friends can be forever, giving us friendship and relationship goals we wish to have that can us hold us together through thick and thin and at the weakest hours.
A number of times you may have noticed pics of the Bachchan and Ambani family together be it Mukesh Ambani and Amitabh Bachchan or Anil Ambani, Tinu Ambani and Big B. The respected actor shares a beautiful camaraderie with both kids of Dhirubhai Ambani who was a good friend to him. In a public speech once, Big B thanked the late business leader and his family for their contribution to the nation's progress. He revealed that the late business magnate was there for him during his difficult times. The megastar shared that Dhirubhai had once offered to lend him money when his production house ABCorp Ltd had shut down.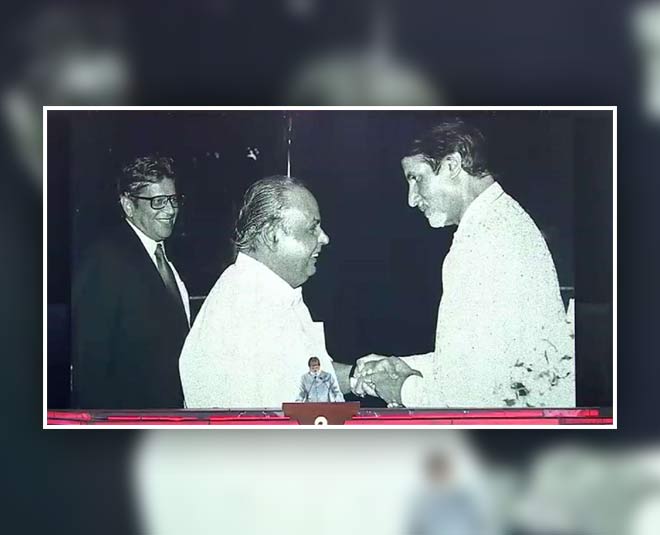 Amitabh Bachchan revealed that although he declined the offer, but he was definitely moved by his generosity. After all, having money is not everything, one should have a big heart to share and help as well.
Then the megastar has also worked with Tina Ambani when she was doing films. He has worked with her in the 1983 film Pukar, which also featured Prem Chopra, Zeenat Aman and Randhir Kapoor. Veteran actress Jaya Bachchan too has contributed to Tina's movie career when she gave the voice over for her 1982 film Yeh Vaada Raha, which also starred Poonam Dhillon and Rishi Kapoor.
Don't Miss: Nita Ambani's Western Outfits Are Super Inspiring!
Tina Ambani sure has a loving heart as when Abhishek Bachchan made his digital debut with Breathe: Into the shadows, she wrote an emotional note for him while he was undergoing treatment for COVID-19 with actress and wife Aishwarya Rai and daughter Aaradhya at Mumbai's Nanavati Hospital. She wrote: "Congratulations on your digital debut @bachchan – this is the medium of the future and you've hit the ground running! Proud of you."
View this post on Instagram
In fact, Tina Ambani once shared multiple throwback pictures that had her, Anil Ambani, Jaya and Big B. She wrote a sentimental note saying: "In a world where change is the only constant, it's wonderful to have some constants that never change. Happy Anniversary JB and Amitji. You are incredibly special to us."
Don't Miss: Know All The Secrets Behind Amitabh & Jaya Bachchan's Hush-Hush Wedding! See Pictures
The Bachchans are close to Mukesh Ambani and his family and we have ample proof for that. When Isha Ambani and Anand Parimal were getting married, there was a huge commotion regarding the videos and pictures that went viral on the net. It showed all the A-list stars like Big B himself, SRK, Aamir Khan, Aishwarya, serving food to the guests. When it was getting out of hand, Abhishek put everything to a stop by shedding light on an important custom. He tweeted to a Twitter user: "It is a tradition called "sajjan ghot" wherein the bride's family feeds the groom's family."
View this post on Instagram
When Isha & Anand exchanged marital vows, her lavish wedding was made extra special with Amitabh Bachchan playing a key role. The man with a golden voice narrated the meaning of the kanyadaan ceremony at the wedding. In the video, after the narration, you can see how Mukesh got emotional.
View this post on Instagram
Even during Ganpati Chaturthi puja, they have been seen together especially at Lalbaugcha Raja.
For more on Ambanis and the Bachchans, stay tuned to HerZindagi.