Probably the biggest piece of furniture at our house is the dining table. Not only does the dining table take up most of the space but it also is what our guests base their opinions on with respect to the interiors of our house. If you have the trendiest electronics, sleekest TV set, a modern sofa set then what is it with and your commitment with the old boring dining table set that is preventing you from upgrading it? You have no idea how big a turn-off it is to enter a modern home with an old and boring dining table. On the other hand, no matter how average the interior of your house is, having a fancy dining table will completely trick everyone into thinking that you have a modern house. If changing just one piece of furniture can do the magic then what are you waiting for? Take inspiration from these unique and fancy designs for dining table tops and ditch the usual glass tops!
Try A Quirky Layout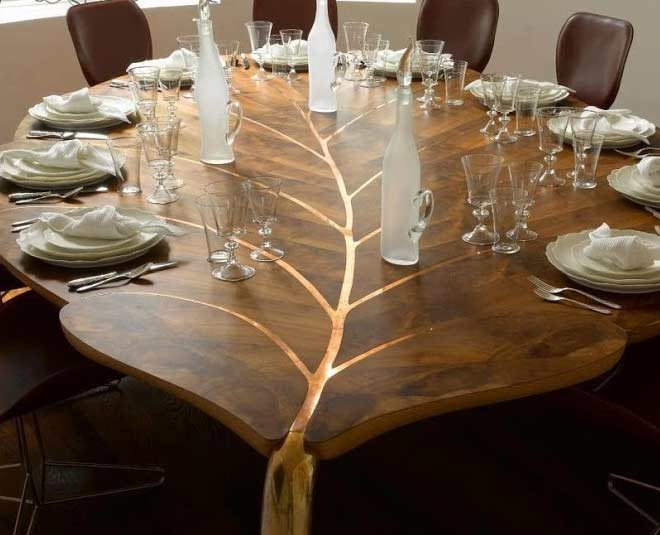 Image Credit: i.ytimg
Who said that a dining table has to be square, rectangle or circle? Rules are for boring people and we are definitely not one of them(read on Indian dining etiquette)! Have a dining table in the shape of a leaf right in the center of your dining room and see how the entire vibe transforms! We are suggesting a leaf because this pattern would look good on wood and is not way too quirky for the hall. It is just the right amount of quirk and sophistication!
Marble top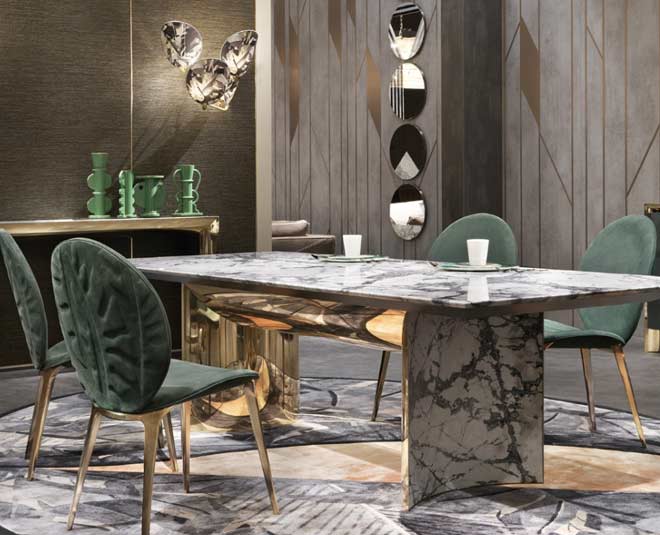 Image Credit: bocadolobo
If you want to purchase a tabletop that is classy and sophisticated then marble it is! It will make your dining room look very elite. Another thing with a marble table is that it creates an illusion and makes the room look slighter bigger. Unlike wooden tables which look like a solid chunk of furniture, the marble ones make your home look bigger. Thus they are perfect if your house is small and you want to shift from a glass-topped dining table.
Spend Less On Interiors- Some Amazing Hacks To Reduce The Cost Of Your Interiors
All White
We can't emphasise enough on how gorgeous white furniture looks and how much it is in trend right now. In fact, there are several restaurants(read more on restaurants) that have gone all while in their interiors. This makes the room look big as well as very unique. Even though maintaining may seem a little difficult, it will look absolutely gorgeous! You can either have a dining table that is white in colour along with chairs with a different and slightly tacky colour pallet or you can have both, table and chair, in the colour of white. Either way, this will be the best attraction for your house!
The Classy Wooden Top
This is perfect for a slightly bigger dining room. Have a long and wooden topped dining table with straight chairs. A wood-based table has been in the trend since forever and will continue to be in trend for a very long time now. It is because of its capability to match the other furniture in the room and look absolutely stunning. You can either go for a plain wooden dining table or have some patterns engraved on it. In both the options. The setup will look very classy.
Read More Interior Decoration- Ways In Which You Can Decorate Your Rented House
Unique Glass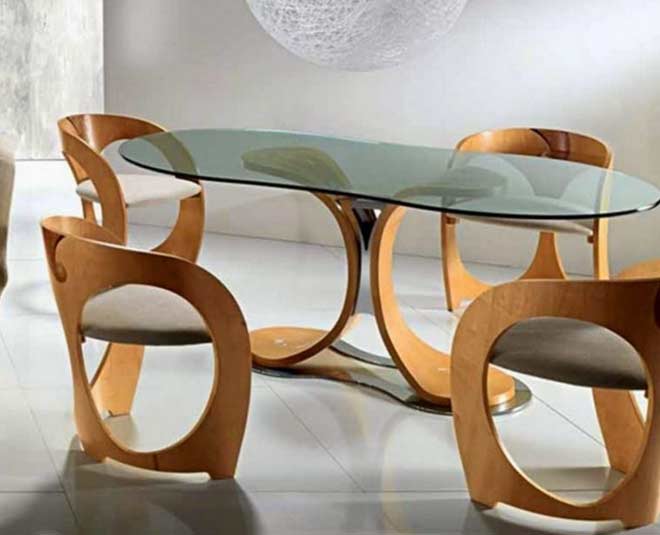 Image Credit: moetoe
Now if you are adamant about having a glass tabletop, well we still want to help you. Go for a classy glass top but change its look via the colourful chairs and funky table legs. Even though glass tables are extremely common, this one will make it look very unique. Using fancy chairs and quirky table legs also does the trick if you have a smill dining table. This addition will divert the people from the size of the table and in no time they will be complimenting you on your fancy table rather than its size and boring glass top!
If you liked these suggestions and would like to read more, stay tuned to Her Zindagi for more such content!