While devotees of Goddess Durga shall worship all 9 avatars of her, other Hindus who follow the Navratri festival shall begin by worshipping Goddess Shailputri. The festival that will begin on October 17, shall end on October 25. Here is everything you need to know about the first day of Navratri 2020, from the right colour of clothes to the shubh muhurat and vidhi.
Colour Of The Day
Where anything in grey hues. This color represents happiness, energy and brightness.
Kalash Sthapna Timings
According to dripanchang, this ceremony should be done between 6:23 a.m. to 10:12 a.m. You can also choose another muhurat called the Abhijit Muhurat which falls between 11:43 a.m. to 12:29 p.m.
Pratipada Tithi Timings
The auspicious timings here on October 17 will be 1 a.m. to 9:08 p.m.
Shailiputra Puja
This day, goddess Shailputri is worshipped, who is said to be the daughter of Himalaya as per mythology. Pictorially, the goddess is depicted with her hands holding a trident i the right and a pink lotus in the left one. Her forehead has a crescent as a bindi.
She is mounted on a bull that is also her vehicle. The Goddess is also referred to as Vrisha Roodha.
In her previous birth, she was th daughter of King Daksha, Sati. She set herself on fire when her father humiliated her husband, Lord Shiva. Her father did not invite him to a yagna where all the Gods and Goddesses had come as guests. This did not go down well with his daughter which led her to self-immolation.
Puja Vidhi
To begin the puja, you have to start by seeking Lord Ganesha's blessings for a peaceful Navratri and the fasts. Then invoke Goddess Shailputri with the right mantras.
Don't Miss: Festive Fashion: Exude Glamour In During Nine Days Of Navratri By Donning These Outfits
Mantras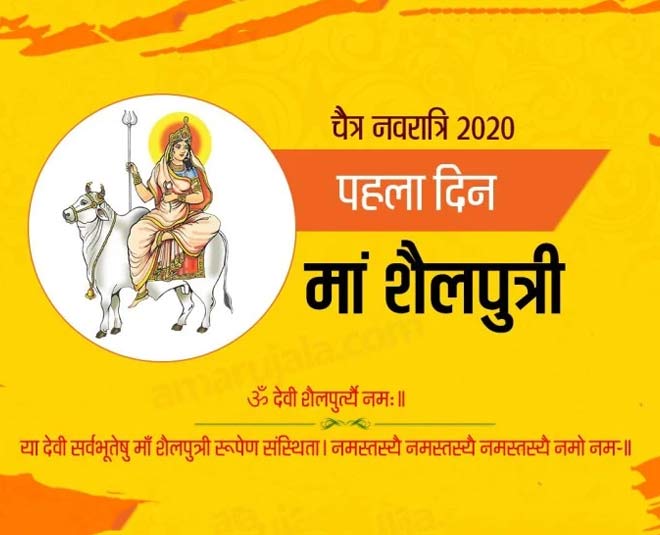 Om Devi Shailaputryai Namah
Vande Vanchhitalabhaya Chandrardhakritashekharam
Vrisharudham Shuladharam Shailaputrim Yashasvinim
Ya Devi Sarvabhuteshu Maa Shailaputri Rupena Samsthita
Namastasyai Namastasyai Namastasyai Namo Namah
Don't Miss: Navratri Special: During Fasts This Recipe Of Samak Rice Pulao Is Perfect!
Puja Thali
To perform the puja, your thali must have flowers and garland, desi ghee, red dupatta, beauty products that a married woman needs, incense cone or sticks, red clothes, a picture of the Goddess, sweets, cardamom, supari, paan, and unbroken pieces of rice.
Sing the aarti and then light the camphor. Once done, distribute the prasad offering.
Have a Happy Navratri and pray for go-corona-go if you can.
Stay tuned to HerZindagi