Your living room is perhaps the first thing that anyone notices when they enter your house. And no matter how much time you have spent in choosing the right flooring or shades of your furniture, if your living is still looking dull or boring, then you need to make some changes. Home décor does not always mean spending a huge amount on various things, but adding few accessories here and there can work wonders. Let's take a look at some accessory ideas from which you can take inspiration and add it to your living room.
Indoor plants
Let's start with the most natural and organic thing which will not only make your room look beautiful, but will also benefit your overall health. Indoor plants not only supply oxygen but also help you with reducing stress levels and improving concentration. They also keep your living room away from harmful chemicals which can enter your house through various types of furniture material, flooring, or paints. House plants can also uplift your mood in minutes and it also balances out the overall look of your living room.
Book Shelf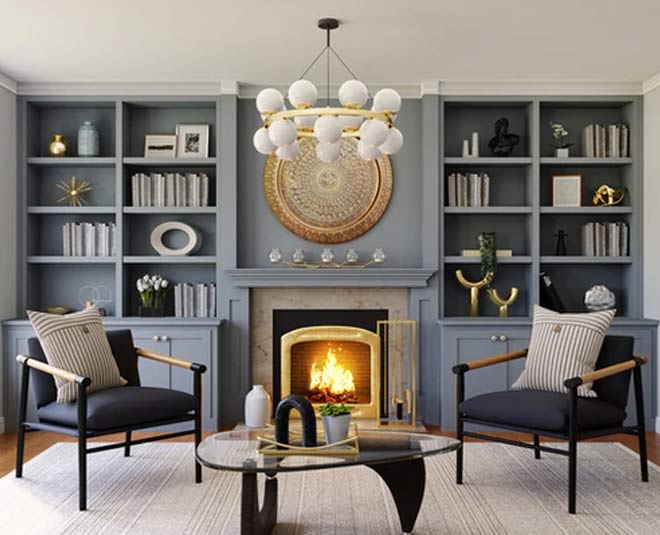 You might be thinking who keeps the books in the living room? Well, a bookshelf looks very elegant when kept in the living room instead of the study area. Plus it also provides your guests the option to go through your collection, and enlighten themselves with some stories or quotes.
Don't miss: Design Your Living Room Like The Hamptons With These Home Decor Tips
A Giant Painting
Good wall art or a painting looks very artistic yet soothing to the eyes of the viewer. Plus it gives very rich and vintage vibes to the house. If you are someone who is not much into paintings, then a beautiful sculpture can also work, or you can even create your art by sketching out something and hang it on the walls.
Make sure to choose a lot of colours in the painting which you can put against a plain neutral wall to add a pop of colour to the room. You can even go for metallic frames in gold and silver which look chic on your dark solid walls.
Big Mirrors
Mirrors are the ultimate accessory that you can add to your living room. It not makes your room look beautiful and elegant but also gives the illusion to make it look big and spacious. The best thing about mirrors is that they come in various sizes and shapes, and you can easily choose from them according to your room. Mirrors also provide your guest with an opportunity to fix themselves without running to the washroom every now and then.
Don't miss: These Are The Popular Home Decor Trends of 2021
Quirky Vases Or Antique Pieces
Vases and antique showpieces instantly amp up your living room and grab the attention of the viewer. You can choose from various varieties of vases like ceramic, crystal, metallic and add them to your house.
we hope you found these home decor ideas for the living room useful. Stay tuned to Herzindagi for more such stories.