For someone like me, who is a big fan of Karan Johar's celebrity chat show, Koffee with Karan, mixed feelings took over our hearts this Sunday. Last night we saw Kareena Kapoor Khan and Priyanka Chopra Jonas closing the sixth season of the show. It was the season's finale and honestly, it was a really fun episode. It was great seeing two leading actresses going candid about their personal lives and career. We were happy to see these divas on the koffee couch but also unhappy that the sixth season is coming to an end.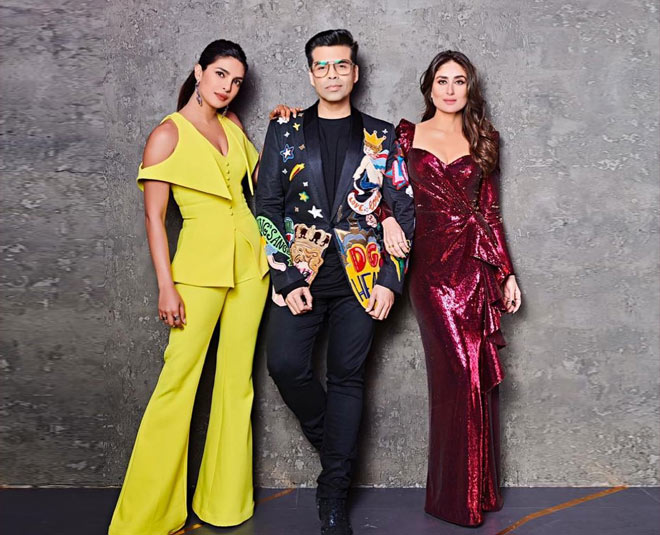 As soon as the show began, Karan Johar being Karan Johar put both the ladies in the most awkward zone by pointing out that the only common thing between the two is their ex-boyfriend - Shahid Kapoor. He also went on to mention the time period for which they dated him. Now that was followed by his curiosity to know if the rumours of animosity between the two were ever true. Well, this was something we also wanted to know because somewhere their previous remarks on the show made us feel so. But thank god! Both the actresses cleared the air and denied all their animosity rumours. We absolutely loved seeing Kareena and Priyanka on the show and here are our favourite moments:
When They Shared About Their Greece Proposal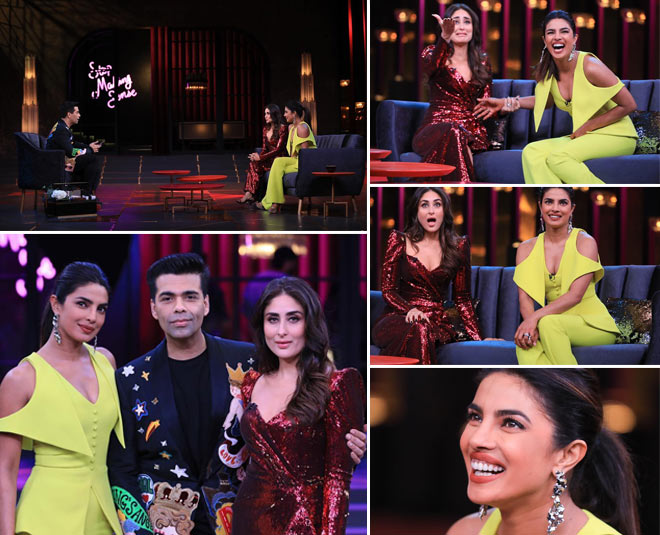 We didn't really know that both the actresses got proposed in Greece. Now Karan asked Kareena how Saif proposed to her in Greece and that's when we see Priyanka exclaiming that she got engaged in Greece too! Who knew that these actresses could bond over something like this?
Kareena shares that while she was shooting for the song Challiya Challiya from the movie Tashan, Saif stayed back and one day asked her to marry him. She said, "Just woke up one morning and he was like 'Listen, let's get married. I wanna marry you. Let's just go to a church, let's just do it right here. I was like ' Are you mad?' He was like 'Yeah. I don't care. We're just gonna do it. I wanna marry you. I wanna spend the rest of my life with you and I can't see it any other way.' That was when Bebo realised that Saif was the man for him and she said Yes!
On the other hand, Priyanka said that it took her 45 seconds to say yes because it was just 2 months that they dated each other. She shared that Nick went down on his knees and he had a big Tiffany box which had another box. Aww! Now, these two had some really romantic proposals!
When They LOLed At Their KWK Journey
KJo had the best flashback saved for the last episode. The flashback showed some interesting clips of Kareena and Priyanka from their earlier episodes. They were seen saying both good and mean things about each other on different seasons. The two laughed hard seeing how they dressed and got their hair done for the show. Don't Miss 5 Essentials Inside Priyanka Chopra's Make-Up Bag
When They Hinted At A Relationship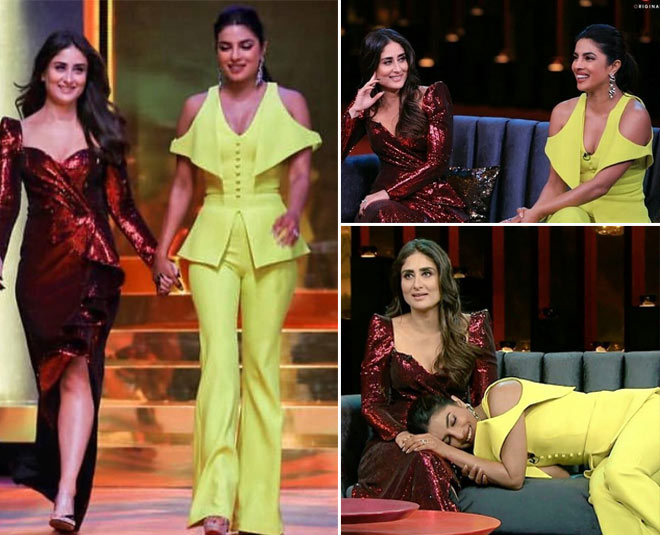 Ever since Arjun Kapoor and Malaika Arora's relationship rumours are doing rounds, we all have been waiting for a confirmation from the couple. However, Karan's chat show somewhere gave us clarity on that. On being asked about Bollywood relationships, PC said that she just knows that Arjun is dating Malaika. Karan went on to asking Kareena if she is going to be the bridesmaid. Karan didn't stop there and also asked her if she knows the wedding destination of her close friends, hinting at Malaika and Arjun's marriage.
When They Played The Koffee Quiz
The Koffee quiz is a really interesting section of Karan's chat show. For this one, Karan has some really fun questions. It was really funny when Karan asked her to name the first Jonas Brothers Album and she said she doesn't know it with a big smile. Also, this season, he introduced a thing called Calling Karan. Karan asked Kareena and Priyanka to call their respective partners but when they failed to do that, he asked them to call any of their family members. Bebo was lucky to get sister Lolo on call.
But before you go, let's give you some good news! Karan Johar has a special episode. It's not the finale. It's the Koffee Awards and it has a special Jury. The jury will include Malaika Arora, Kirron Kher, Vir Das, and Mallika Dua.