Apurva Purohit, group President of Jagran Prakashan Ltd who also happens to be the author of the national bestselling book 'Lady, You're not a Man – the Adventures of a Woman at Work', published in 2013, launched another best-seller earlier this year titled "Lady, You're the Boss" and held a book reading session on November 21 in Delhi. During the session, she shared with the audience that "a validation from a fellow woman helps us all to get additional confidence."
During a discussion, Apurva Purohit told HerZindagi that "The more you grow there comes the loneliness. Wherever you go, you only find men. I have always seen women being each other's biggest support system and not going by the cliched. Validation from a fellow woman helps us all to get additional confidence. Like the #metoo campaign... it was a big success coz women came together. That was a powerful demonstration of system, and we need those 5% of cheerleaders."
Sairee Chahal, Founder, and CEO, SHEROES also joined the discussion.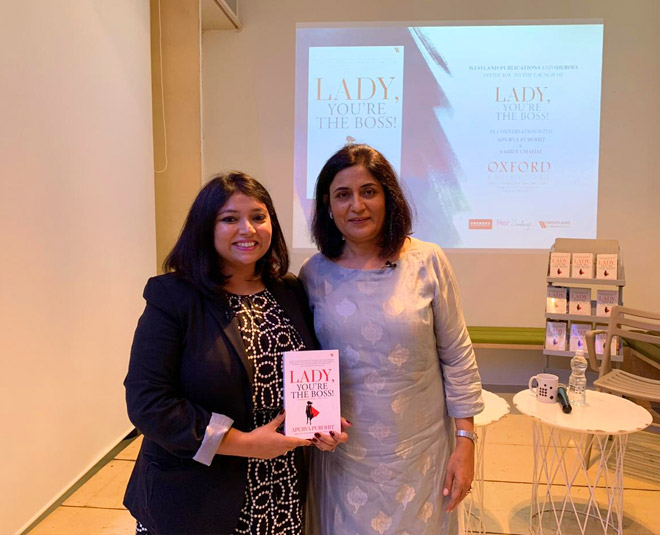 Talking about the stereotypes society throws at us, Apurva said that "We all will be stereotyped. Women get stereotyped even more. Like a tough male boss is a leader while a tough female boss is called a bitch. We have to make our choice but that control was never allowed to us earlier, so that control flexing muscle has to be there."
"Lady, You're the Boss" is all about countering roadblocks women face in their everyday life be it at home or at work. At work and home, there is latent institutional discrimination and social prejudice at play. Whether it is the assumption that a career is only a stopgap until marriage or the reluctance to promote married women for fear that they will prioritise family over work. These reasons lead us to second-guessing our own abilities and hesitate to claim what is rightfully theirs.
Don't Miss: Women Superheroes Are Out To Save The World, We Should Too
The author stresses on how important it is to believe in yourself, never minimise or question your achievements, resist stereotypes, and constantly and fearlessly call out biases.
The book is a compilation of some personal anecdotes and real-life stories of women professionals, giving out indispensable lessons on successful leadership, with practical insights into its fundamentals.
Her earlier book titled "Lady, You're Not a Man!: The Adventures of a Woman at Work", explored how every woman who has been looking for ways and ideas on work-home balance and is determined to succeed in her career and live a happy and fulfilling life, can be helped.