Working from home isn't easy especially when there are so many distractions in the house. It could be due to lack of proper light or comfortable sitting or any other issue. However, you can always transform one corner of your house to create your own home office. Your home office is the place where you are going to spend most of your time during the day. Hence, it should be the place that attracts positivity and flow of creativity and productivity in your work. So we decided to come up with some stunning yet practical interior décor ideas from which you can take some inspiration, and create your own work-friendly space.
Comfort Is The Key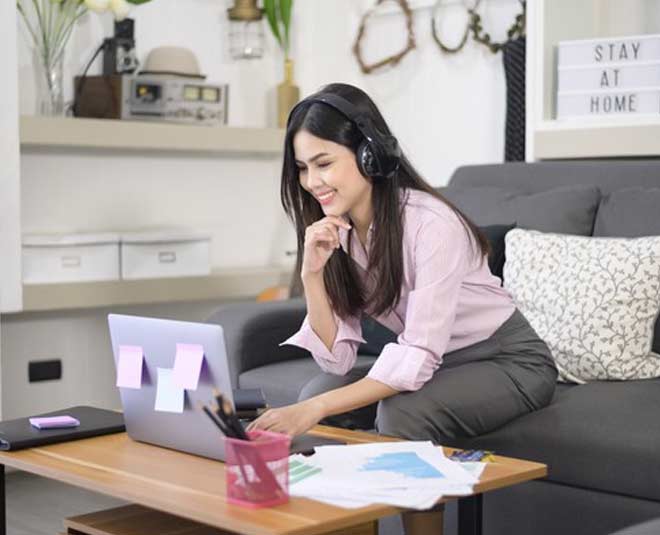 Since you are going to spend 8-9 hours daily at your home office it needs to be the most comfortable place in your house. Your home office should be designed in a way where comfort meets style in the most natural way. Try opting for couches or covers in interesting patterns, soothing appeal, and material that supports your body perfectly.
Minimalistic Design
If you are someone who doesn't like to have too many things in their workspace then this design is for you. Minimalistic design can be of monochromatic furniture and walls with minimum accessories apart from your gadgets and work-related things of course! Try and match the colour of your chair with your desk in white or grey colours to make your home office look chic and beautiful.
Indoor plants
Indoor plants not only purify the air and add greenery to your workplace, but they also keep you calm and stress-free. Plants can also help you deal with anxiety and boost your productivity and creativity. Go for snake plants, money plants, Fiddle-Leaf Fig Tree when it comes to having indoor plants for your home office.
Don't miss: Living In A Small Space? Here Are A Few Tips And Tricks To Make Your Home Look Spacious!
Bright Colours
Nobody wants to have a dull and boring office that can suck out all your positive energy and motivation to give your best. Revamp your workspace by adding a pop of colour via furniture, accessories, or wall paints. Make sure you are not opting for too many things at a time as that can look distracting and interrupt your work vibes. You can get contrasting bright chairs or paint one wall of your home office with vibrant colour, keep the rest of the walls neutral to give a hint of colour.
Don't miss: Here's A Guide To Using Mirrors For Decoration In Different Areas Of Your Home
Ample Light
Nothing can be compared with the bright natural light that can instantly fill your room with positive vibes and energy. You consider getting a fogged film on your window so that you can keep your curtains or blinds up or open and let the light enter your space. The sun rays can also kill bacteria and help you keep your office safe and clean. Place your work table near a big window and feed your indoor plants with natural air and light.
We hope you found these interior décor ideas for your home office useful. Stay tuned to Herzindagi for more such stories.