Teacher's Day 2020 is one day when we students wish our favourite teachers oodles of love and thank them for their hard work on us which shaped us into who we have become today. This day transports us to the day when we would hunt for the best of roses, make handmade cards (a concept lost in time), and even compete with other students as to whose card looks better. It was all innocent fun and pure love oozing out. No matter how old we get, our teachers never leave those memories when we were carefree. So scroll down, see which message goes best depending upon the kind of camaraderie you have with your teacher and share it on your Whatsapp status, Facebook story, send it as a message... go all out!
Famous Quotes
If you want to keep your wish a bit sober, full of gratitude and share quotes of legends like A.P.J Kalam, Bill Gates, Charles Kuralt, and Nelson Mandela, then the messages below are just perfect for you. So right-click, download and share!
"Teachers affect eternity; no one can tell where their influence stops." – Henry Brooks Adams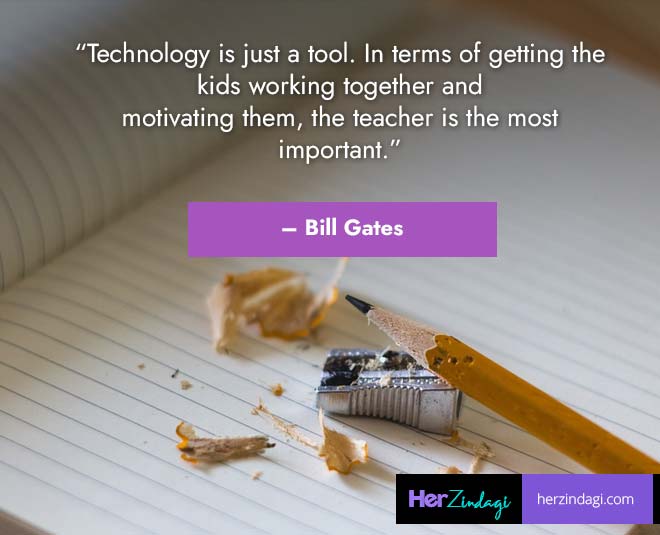 "Good teachers know how to bring out the best in students." – Charles Kuralt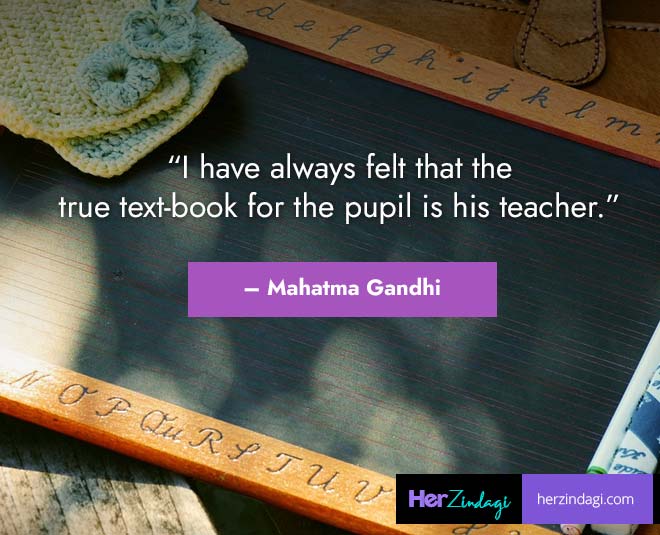 "One good teacher in a lifetime may sometimes change a delinquent into a solid citizen." – Philip Wylie
"The influence of teachers extends beyond the classroom, well into the future." – F. Sionil Jose
"Teaching is the profession that teaches all the other professions." – Unknown
Students' To Teachers
These are sincere messages to thanks and wish our teachers without being very dramatic. They sit perfectly if you are
You taught us like a teacher, protected us like our parents and guided us like a mentor. You truly deserve this day so much. Happy teacher's day to my most beloved teacher!
You have a very special power of inspiring young people like me. We need more teachers like you in our schools and colleges. Happy teacher's day to you!
You have always made a difference in your loving and caring ways! Happy Teachers Day! Thank you for holding my little hands and teaching me whatever I know till now mam. Have a wonderful teacher's day!
Dear Teacher, Thanks for inspiring hope in me; Igniting my imagination; And instilling in me – a love of learning. Happy Teacher's Day 2019!
Don't Miss: Indian Female Teachers You Probably Had No Idea About!
All the efforts and hard works your invested to bring out the best in us can never be repaid in mere words. We can only feel grateful for having a teacher like you!
Our parents gave us life and it was you who taught us how to live it. You introduced honesty, integrity, and passion to our character. Happy teacher's day 2019!
Teacher, you have shaped me to become the person I am today. I am forever grateful to everything you have for me! Happy teacher's day!
Thank you for teaching me a subject I thought I could never understand or be interested in. Thank you for making learning fun. Happy Teacher's Day!
Thanks for being our safe zone, someone who tried to be our friend first and a teacher later! We all owe you so much! Happy teacher's day!
Dear teacher, thank you for planting the seeds that are going to last a lifetime! I love you for everything you have ever done for me, happy teacher's day!
TEACHER is a full form of, T-Talent, E-Education, A-Attitude, C-Character, H-Harmony, E-Efficient, R-Relation. Wishing you a glorious and happy teacher's day!
Funny Teacher's Day Messages
Was your teacher also a friend with whom you shared some light-hearted moments? Then these messages are just what you need. Send it early morning or post a card with this message online. Go ahead, pick what attracts you the most.
Happy teachers' day to the most fabulous teacher who made me believe that not doing homework was the biggest crime in the world.
My parents always thought you were a magician. Because no one could make me do my homework except you. Happy teachers' day!
Cheers to you for always giving us school supplies even though you know you're never going to get them back; I appreciate your love for us, teacher!
I thank you for having my back even when I was troubling you much! Thank you so much, Teacher! I have huge respect and love stored in my heart for you.
Thanks for not giving us a hard time when we used to lose our homework's on Bermuda Triangles thus it went missing most of the times!
Parents To Teachers
Students or your children were definitely shaped by the teachers who taught them. Which teacher are you thankful to? Wish them a Happy Teacher's Day with a sweet message that thanks them for what they have done for you.
Don't Miss: Tips To Spend Quality Time With Your Kids
A good company can be very helpful in building one's personality. You guided him like a mentor and accompanied him like a friend. happy teacher's day to you!
Its very hard nowadays to find a good teacher. We are lucky parents to have you as a teacher of our kids. We wish you a wonderful teacher's day!
Thanks for sharing your wisdom with our kids. We hope someday our kids will grow up to be just as educated and wise as you! Happy teacher's day!
Not everyone can be teacher. Your knowledge and teaching style tells us you are one among the few who are destined to be great teachers someday! Happy teacher's day and wish you all the success in this profession!