Malaika Arora is one of the top actors of Bollywood and has proven her talent time and again. But ever wondered how this star lives? If yes, then we have something for you. After parting ways with ex-husband Arbaaz Khan in 2016, Malaika Arora moved out of the couple's Bandra home and started living in her own apartment in Mumbai. Her apartment is painted in ivory colour and screams luxury. Take a sneak peek into her home and decode her personal décor style.
Main Entrance
Malaika Arora takes festive decoration very seriously and these pictures are proof of the same. Be it Christmas or Diwali, Malaika makes sure to decorate her house beautifully for every festivities and gives special attention to the main door.
For Diwali celebration, Malaika decorated the mirror and main door with fresh marigolds and diyas. And for Christmas party, the actress tied several red bows on her main door.
The Living Room
The living space in the minimalist apartment is characterized by two large sofas, in ivory and a massive coffee table. On the right corner of this room, we can see the dining table and large windows which open up views to the cityscape.
In this still, we can see how beautifully Malaika has decorated the area with chunky photo frames, little jars and vases full of fresh flowers.
Cozy Corners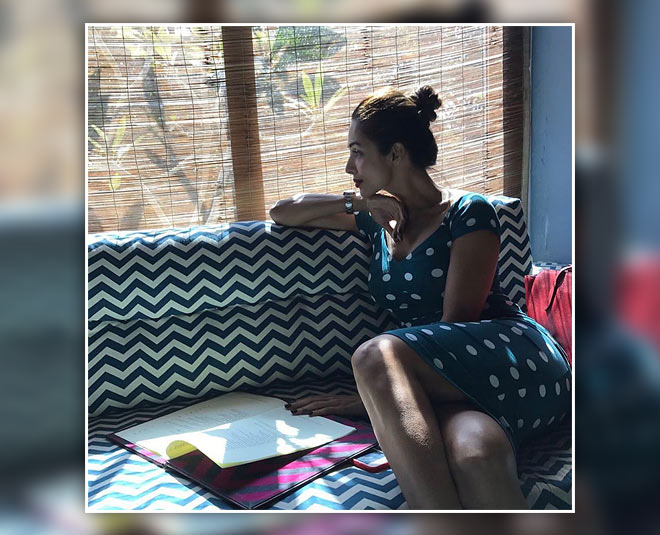 Just like most of us, Malaika too has a favourite spot in her home- it is next to the windows from where you can see the view outside and the potted plants in the balcony. The actor loves to relax and read her film scripts here.
Or after seeing this picture, it won't be wrong to say that this is her favourite spot to chat with her friends.
The Dining Space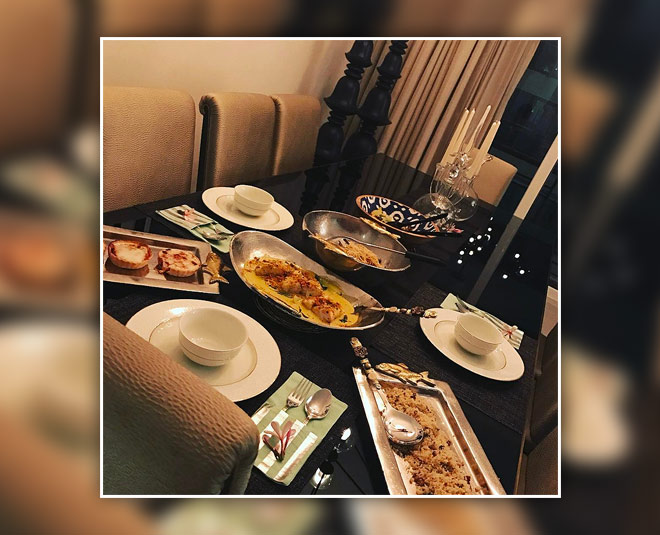 A long table runs through along with enough chairs for special guests invited home for a meal. She has also placed a silver geometric chandelier on the table.
Her Bedroom
Malaika Arora plush bedroom is a well-lit and painted white in colour. This all-white interior infused the bedroom with energy and warmth, two things that are always good to have in a room, no matter the season.
The Balcony Area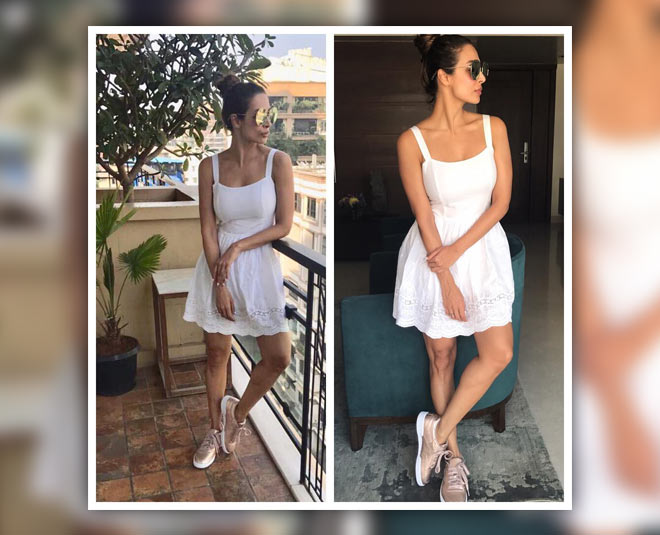 Malaika's love for greens and whites is evident in her home and this area is no different. Perfect for an evening cuppa, this corner has a table placed in a corner to sit and enjoy the view.
Her 'P-aww' Roommate
Malaika's love for her furry friend is not hidden and she often posts some adorable picture with her friend, Casper. He is often seen plopped on her bed or on her teal coloured chair.
Don't Miss: Inside Photos From Shilpa Shetty Kundra's Palatial Seaside Home That Will Make Your Jaws Drop
So, do you like this place? Or what do you think about Malaika's adobe? Share your views with us on our facebook page and stay tuned to HerZindagi for more such articles.