Life has not always been a bed of roses for this couple and neither was it love at first sight for birthday boy Anil Ambani and his wife Tina Ambani. The couple has had their fair share of ups and downs, something most relationships have but to hold hands through it all and stick together through thick and thin is what we can call commendable. Tina & Anil Ambani have given us some major couple goals that are extremely inspiring. Let's take a look at what all can we take home from the duo.
Most of us know that Anil & Tina Ambani did not fall in love at first sight. It began with Anil noticing a woman dressed in a black saree at a wedding, which is a colour people usually don't wear on such occasions. The next they met was in Philadelphia where Anil was introduced to Tina through some one and he asked her out. However, Tina declined his offer as Tina was an actress doing well at the time. And she was also very used to such situations when men would ask her out.
Then again the two met in 1986 when Anil was introduced to Tina by her nephew. She was egged to see him on the pretext of meeting "this Gujarati Boy". That is when Tina agreed to meet him but she postponed the date a number of times. It was after the final meeting when things changed.
Falling In Love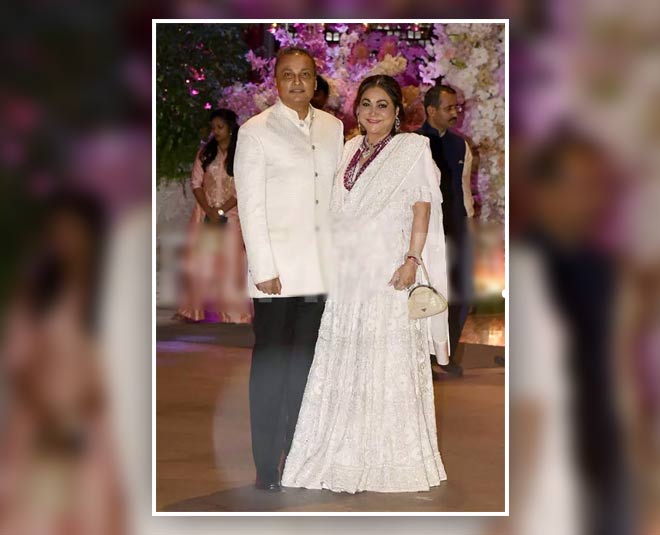 On the talk show, hosted by Simi Garewal, Tina spoke at length about their journey. She said: "The first time I met him, I was quite struck by his simplicity. I found him very upfront and genuine. He was unlike the other men I had met, because most of the guys I met were from films. Also, we spoke the same language, not literally, but we were brought up in a similar manner."
Anil too shared that he had some presumed ideology when it came to Bollywood actors but things changed after meeting Tina.
"When you meet someone from the film fraternity, you have certain notions about them. I have known many people from that industry, but she is just different. The attraction came about only after I met her," he said.
Don't Miss: Unseen Pictures From Anil Ambani And Tina Ambani's Gujarati Wedding
Family Rejection
The couple was in love but Anil's family was not okay since Tina had an acting background. Anil did try to make them see Tina for what she was, a simple girl but it did not waiver their decision. In the end, Anil had to tell Tina about the scenario. This broke Anil.
"There was a lot of pain. A feeling of great loss," said Anil.
They Did Not Forget Each Other
After the couple broke up, Tina flew to America to study interior designing and the two were not in contact at all. But when Anil heard that a major earthquake had hit Los Angeles and he knew that she was in LA, Anil got worried. He immediately called up Tina to ask if she was alright. The moment she said that she was fine, Anil hung up which shook Tina as he had called up out of nowhere and brought back all memories.
"That was the time I was so upset and crying away. And, I said why this guy called me, came into my life, and revived all the things Obviously he cared that's why he wanted to know whether I am ok or not. But, he did not even complete the conversation. The least he could do was complete the conversation," said Tina on the Simi Garewal show.
Anil added: "There was no conversation to be held. It would have been a sob-sob conversation because when you are talking to someone you love so much after three to four years, you get into it."
Anil Declined All Marriage Proposals, Stuck To His Love
Anil was getting many marriage proposals but he did not consider any as he had found love in Tina. It took a lot of convincing to get his family to agree to their marriage. After a long time when the family said yes, Anil asked Tina about her return to India which the actress kept delaying. But after six weeks, Anil gave her the ultimatum that if she does not come now, he will seize to call her again.
"That was when I realised that something is going on and I shouldn't miss this. Now, I should go back, and that following week, I came back," confessed Tina.
When she finally came back, Anil met Tina's parents with a charted out plan.
"Even before she came back to India, I had very clearly laid out a plan. This is the day she will meet my parents, this is the day we will get engaged, this is the day we will get married and this would be the location," he said.
Battling Rumours
The couple was going steady until some rumours of Anil having affairs with Bollywood celebs started shaking their foundation. However, it is said that Tina made sure nothing waivers her confidence in their marriage. She reportedly also said that she has given up a lot for this marriage and she cannot just leave.
Holding Hands Through Thick & Thin
Anil and Tina Ambani have stayed together when the waters were tested. When Anil Ambani and his elder brother Mukesh Ambani had a fall out, Tina held his hand and that is when they became closer and till now everything seems to be smooth between two.
Ambani couple has been together throughout this rollercoaster of a life journey and their's is a fine example proving that no marriage is perfect and that all relationships need hard work.
For more on the Ambani 'parivaar' stay tuned to HerZindagi and do not forget to comment on our Facebook Page.