Getting a gift for your spouse which she or he can show off is very difficult to find especially when you are on a budget. Given the fact that there are so many options out there adds to the confusion and we often end up giving things they may or may not need. Buying gold or diamond is one option which not everyone can afford as that is something we reserve for our wedding anniversaries. Worry not as I have put together a list that fits different budgets, has something for everyone.
Combined Or Individual Body Care Sets By The Body Shop
This combination is great if you want to gift something which costs you around Rs 5000 but you can also buy individual sets for something lower.
The first one on the left is a peppermint pedicure set which is priced at Rs 2335 and contains a foot scrub, a foot cream, and a foot file. It is gender-neutral so that should not be an issue. The scrub has exfoliating volcanic rock granules, while the foot cream is cooling and nourishing for dry skin with the goodness of English peppermint essential oil. The foot file that comes with it is sturdy and of excellent quality, completing a foot care set, made for those who believe in hygiene and dig clean feet.
The other set is that of the British Rose Premium Collection, priced at Rs 3335, which contains a shower gel, body butter, body scrub, hand cream, and a loofah. The products are full size and the packaging is pretty so perfect for gifting to your loved one. There are many other variants by the brand available at the store or online so don't worry about options in fragrances.
Morphy Richards New Europa Espresso and Cappuccino 4-Cup Coffee Maker
This gift is perfect for your coffee-loving husband or wife. They can make their own espresso, latte coffee, or a cappuccino as per their respective moods. The product as per the brand has a two-year warranty and comes with an instruction manual so using it should not be an issue.
Shimmer Necklace Set By Blingvine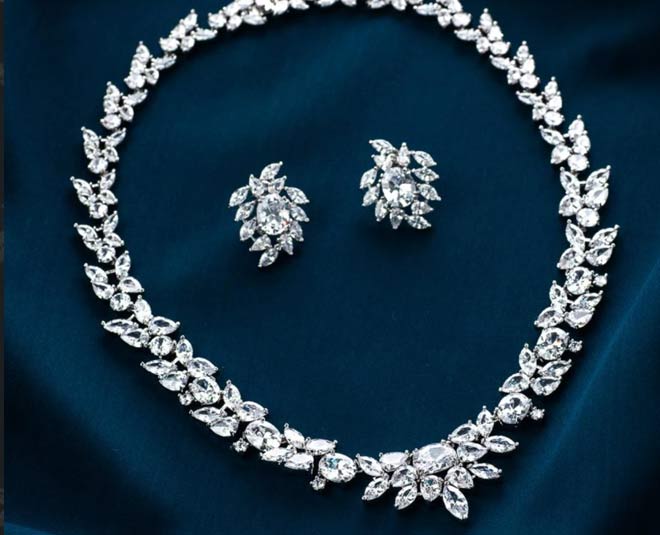 If you can think of nothing else for your wife then jewellery is the best. You do not have to invest in real diamonds every time. Priced at Rs 7000, this set is made using AAA Austrian crystals, German Rhodium polish, and high-grade lead and nickel free environmental alloy. It has one pair of studs and one necklace and the bling is perfect for a karvachauth look she wants to pull off.
Don't Miss: Diwali 2020: Looking For Some Quirky Diwali Gifts? Checkout These Eco-Friendly Options
Combined Or Individual Makeup Set By Too Faced & Sigma
These are two different brands but the set together is just perfect if you are feeling a bit extravagant. You can any day by them individually given the cost of each but together they will be just perfect in your wife's vanity box, on her dressing table. Every woman at some point of time wants an expensive, branded makeup set but worries about the costing and gives it a miss. If you think your wife would love it and it will be a wish come true then go for it and pamper her.
On the right is a Too Faced Natural Lust Eye Shadow Palette which is a first love for many and the quality is justified given the price which is Rs 5500. The palette has multi-finish 30 gorgeous shades that are highly pigmented, have a creamy texture which makes it easy to blend and the best part is that the shadows are paraben and gluten-free. Also, the brand is cruelty-free which adds to the goodness. From catering to the neutral shade lover to smokey eye look individuals to the metallic fans, this palette can be used for any occasion.
Don't Miss: Diwali 2020 Gifting Options: From Tea Lovers to Coffee & Chocolate Fans, Send Your Loved Ones These Gifts
On the left, we have a Sigma Brush Set, a brand well known for its makeup brush quality. It is indeed on the expensive side but certainly worth every penny. Priced at Rs 8100, this set has a flat angled brush, concealer brush, crease brush, domed utility brush, smudge brush, firm shader brush, and a flat kabuki brush. It has synthetic and antimicrobial fibers, the ferrules are corrosion resistant, the wooden handles are lightweight.
You can always go for either one of them if the combined cost is a bit too out of your budget.
All the prices mentioned above are as per M.R.P mentioned on different websites and have good reviews. If you are lucky enough, you can save more money if you come across sales as this is the time when websites and brands put offers on their products.
So best of luck, have a Happy Karva Chauth 2020 and stay tuned to HerZindagi for more.