The festivals of lights is here, shopping for amazing, different and quirky gifts tops our list for 'To-Do' things. Everybody gives sweets, chips, chocolates, and drinks but how about stepping out and giving something different? Here are some ideas we could come up with and hope they are of great help.
Paint Old Alcohol Bottles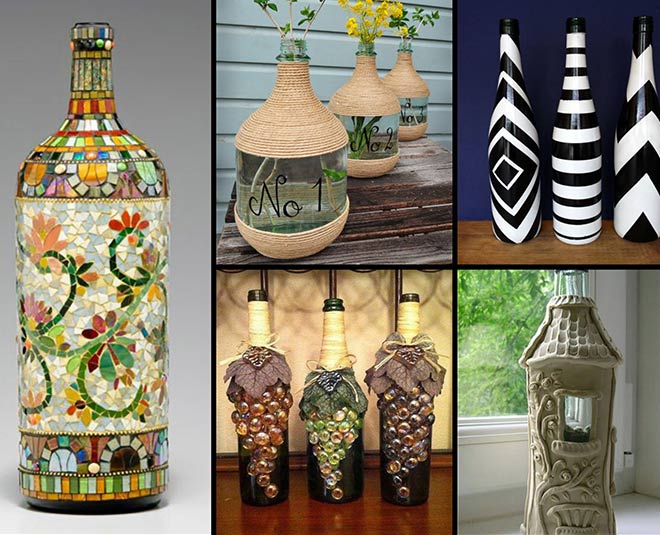 We all have a wine, beer, whiskey or vodka bottle at home which we plan on giving to the 'raddiwala'. But what if we give it a twist, bring out the creative soul in us by panting it or putting glasses or tones on it? These will make a beautiful gift if you set your heart on it. If you don't feel like making it, you even get readymade options on the net an in the market. With this, you won't only gift something beautiful but also with the idea that recycling is important.
DIY Lamp
Make your own lamp using coconut shells with reference to some kits an ways available online. This gift will be a reminder or an inspiration to your near and dear ones on how creative you can get and what all can be made with things we thought are garbage.
Animal Toys
If you know how to sew, get down to work today and use the weekend! Take out the rags that you have or the old kurtas or t-shirts you think do not fit you anymore and stuff them with cotton. Sew on the shape and decorate with borders, buttons etc for that blingy touch!
Succulent Plants
By your friend a succulent or dig into your garden collection, uproot some of your money plant or aloe vera plant and put them in a pot. Gift that plant to the friends you plan on visiting for the Diwali cards party perhaps. These plants not only look nice on the workstation or at home but also improve the air quality.
Recycled Photo Frame
All you need is a cardboard, some glitters, a coloured paper, glue and scissors! Making these frames can be a fun activity. You could even involve your children in this and if you haven't realised, these art and craft activities make for good stress busters.
Bookmarks
Gather some dried flower petals, art and craft material like stick-in-stones, rhinestones, stickers etc and make some bookmarks. These make wonderful and useful gifts for people who love to read. They are recycled and have a purpose!
Read More: Now You Can Save Money While Shopping For Diwali
Papier Mache
This is the traditional art form of Kashmir and can be found in some of its most famous landmarks and shrines. These eco-friendly paper mache curios could make green gifts as well as good conversation material.
Paper Baskets & Bags
Check out some D-I-Y's and make these amazing and useful bags which no one can dislike.
Green Tea
People in for fitness are suckers for green and herbal tea. With so many options available, why not get a box and gift it to our friend instead of a box of sweets which is nothing but fat and unhealthy to the hilt! You could even buy hampers off the shelf which has a mug and some candles too. It all depends on your budget.
Stay tuned to HerZindagi for more such cool gifting ideas.