The skincare game in India has picked up just recently and how but the market for men's skincare is still growing and is not at power. We have so many Indian brands coming up which are either dedicated to women or marketed like that and some call themselves unisex. It is a little unfair hence some have started exploring this void which has few competitors. If this Valentine's Day or for his birthday or even anniversary, if you are hunting for something you can gift to the men in your life, then here some made in India skincare and haircare brands which cater to men and have a good reputation in the market.
The Phy Life
This is a newly launched line by the brand called the Headspace which is all about high-quality hair styling products for men. The pricing of the products begins at Rs 395. The brand itself is a Unilever Venture Capital-backed skincare start-up, Pureplay Skin Sciences, which also has a fast-growing women's line called Plum. You can mix and match or simply make a kit of the products and gift it to your friend, boyfriends, husband, uncle, father or whomsoever you think is touchy about his hair. The brand claims that the products are dermatologically tested, and it is a 100% vegan men's lifestyle care brand. It is free from synthetic polymers & other harmful chemicals including sulphates & parabens
Inveda
Inveda claims to be a 100 % organic brand that also has a few products for men. It is affordable and has no parabens, silicone, harmful chemicals, alcohol in its products. You can buy a complete day and night skincare kit for men which is priced at Rs 925, from here. The theory of the brand is that it infuses natural ingredients with age-old wisdom from the Vedas with regenerative and therapeutic qualities intrinsic in natural extracts, as claimed by the brand.
Ustraa
A brand all for men's grooming, the parent company of this one is Happily Unmarried. Its products are paraben and SLES free. You can buy this set for Rs 1496 and it makes for a perfect gift item. You can also mix match other products as the website is your oyster dedicated to men.
Forest Essential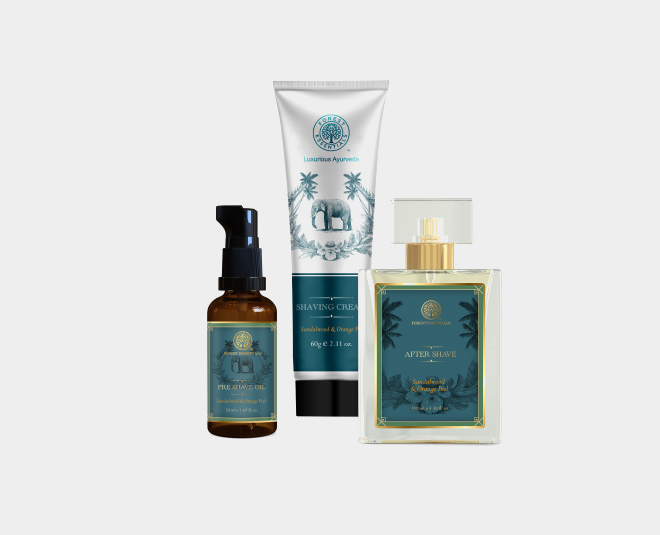 A luxury brand indeed, it specialises in Ayurvedic preparations in its products. This Indian brand began with just handmade soaps and candles and now caters to the world. If budget is not a constraint for you then you can buy this kit for the men in your life for Rs 3495, which is infused with a blend of sandalwood & orange peel. The brand claims to sell only natural, organic and Ayurvedic cosmetics and it is also cruelty-free.
Don't Miss: Top 5 Foaming Cleansers In India
The Man Company
Another men-only brand as the name suggests the co-founders claim on their website that they have "hustled and pieced together an honest brand that sells only products we personally believe in. Together we form a united and productive team, always striving towards the vision, culture and outlook of the brand." The brand has a strategic association with Emami. Their products as per the brand are infused with premium essential oils and are free of harmful chemicals. You can buy this set for Rs 1133 or simply explore the website if you wish to mix and match.
Take your pick and get something for him as the date approaches. You may get lucky if there is a sale going on so you will end up saving money as well.
Stay tuned to HerZindagi for more such gifting ideas and stories.