Online Kitchen Items Under ₹500
Add cheap appliances to the kitchen and work efficiently around the space. Take a look!
The kitchen is that one room in the house where you have to accomplish zillion tasks at once. Therefore, you need handy appliances that can help you work efficiently and quickly around the kitchen.
You will not believe that there are trendy appliances available on the online kitchen store on various websites. You can buy the item of your choice and use in the kitchen or gift it to your friend or relative. Take a look!
Egg Boiler
What is an egg boiler? Well! It is a device that will help you boil eggs without much hassle. You just have to pour water, set the eggs and allow the appliance to work its magic. It also required less amount of water compared to the other methods of boiling.
Are egg boilers any good? Yes! Working women must have this device in the kitchen. This budget-friendly kitchen item will help you achieve soft, medium and hard-boiled eggs to perfection. What more do you need in the morning? Healthy breakfast on the plate without soiling any dishes.
Vegetable Chopper
Image Courtesy: Amazon.in
Is vegetable chopper a worthy buy? Yes, definitely. How many times have you cried while cutting onions? How many times have you tried kitchen hacks to get rid of the smell of garlic from your fingers and nails?
With a vegetable chopper, you will never have to indulge in the hassle of chopping vegetables. Moreover, it can efficiently cut multiple vegetables simultaneously. Women in the kitchen can also cut and chop a vegetable in large amounts in no time.
Electric Juice Maker
How much does a juice machine cost? You would not want to know if you can buy an electric juice maker for less than ₹500. It is the best choice for an affordable kitchen item for women on the go. Whether you are travelling on the hills or going to the office, you can drink fresh juice at any time of the day.
Most of these appliances are chargeable and offer safe cleaning. They also serve multiple purposes like making a smoothie, grinding vegetables or blending a protein shake.
Tap Water Filter
Image Courtesy: Amazon.in
All of us are quite cautious about our health. Why not use a tap filter to ensure that we are washing our vegetables and fruits with clean water? It is one of the most useful devices that you can install in the kitchen and forget about it. It is also one of the cheapest kitchen items you can get online.
Does tap water filter work? Yes, it prevents the large dust particles and minerals from soiling our vegetables and fruits. It also maintains the flow of the water in the downward direction, preventing you from creating a mess around the sink (disposable mistakes to avoid).
Milk Frother
What does a milk frother do? Basically, a milk frother aerates the beverage to create a foamy layer on the top. You can find a budget-friendly milk frother on any website selling home décor and kitchen items.
A milk frother appliance is a multipurpose device that you can use while creating smoothies, coffee, milkshakes and hot chocolate. Most of these devices are battery-operated and easy to use on daily basis.
Don't Miss: Re-Do Kitchen With These Budget-Friendly Ideas
Digital Weighing Scale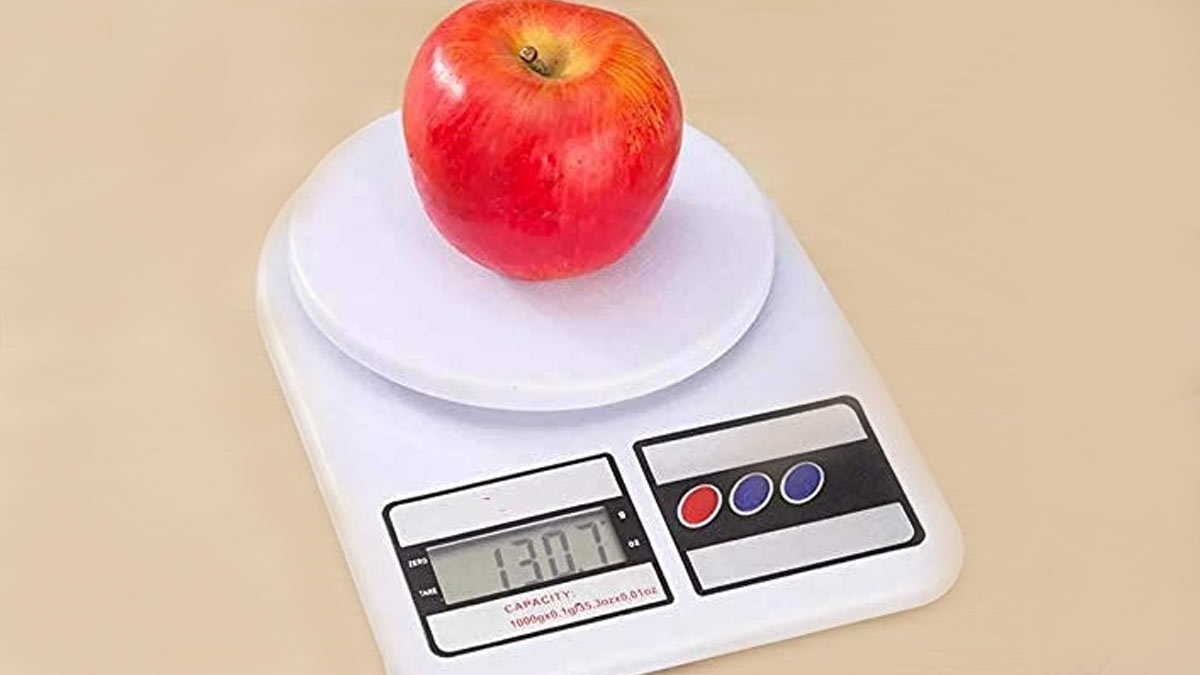 Image Courtesy: Amazon.in
Can we use a weighing scale for food? We are not sure about the weighing machine, but there is a digital weighing scale specifically designed to measure the quantity of food. It is a crucial appliance for women who love to bake.
Don't Miss: How To Clean Reusable Grocery Bags At Home
Baking requires every ingredient in a specific amount. While measuring cups are helpful, there are a few ingredients that we need to measure in litres or kilograms. In such a case, you can use a pocket-friendly digital weighing scale for food.
Stay tuned with HerZindagi for such budget-friendly recommendations.