Tunday Kebabs or Kababs or Kababi, are a melt in the mouth with so much history to it that you will be awestruck! Did you know it was initially made using 160 spices and while it was prepared in the Royal kitchens, it was heavily guarded?! Yes, you read that right! There is an entire history to this delicious Awadhi breakfast which is a treat that Lucknow has to offer to us all.
Lucknow, the city of Nawabs, is home to many poets, lyricists, orgasmic food like the kebabs or like they say in the city 'kababs', biryanin and more. The history, the architectural marvels, the rich literature or their opulent culinary affair, Lucknow has so much to offer that it never ceases to charm us all.
There is loads for the vegetarians but for the non-vegetarians, this place is like Disneyland. Lucknow is loved for its meaty delights with main focus being on the succulent kebabs (Tunday, Galouti, Boti, and Chapli).
How Did Tunday Kabab Come Into Existence?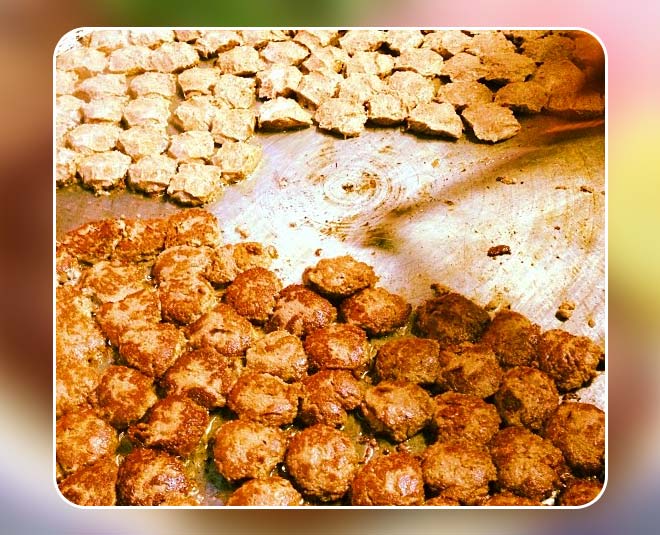 Did you know that this was the staple breakfast of Awadhis in the 14th century? But it was in the 17th century, that it changed to what we eat today, minced! All thanks to the toothless king. Until the 17th century, kebabs were a little chewy in texture, which was changed when Nawab Asa-ud-Daula came to power.
He was very serious about his food and took it to the next level like we like to show our best during our 'dawats' at home! So the story is that as he started getting old, he started losing his teeth. So he apparently set up a contest where the maker of the softest kababs would be rewarded and given royal patronage. From there came the famous Tunday Kababi. The famous Kebab shop by Haji Murad Ali came into being around the end of the 17th century.
Did you know that the kebabs made here are from a closely guarded secret family recipe? The women of the family make a special masala for the kababs that use 160 different spices!
Make Tunday Kababi At Home With This Recipe
Ingredients
Meat ½ Kg finely minced meat
Onions 50 gm
Papaya 2 tbsp
Ginger garlic paste 1 tbsp
Red chilly powder 2 tbsp
Roasted besan 2 tbsp
Saffron 2 to 3 strands
Rose water 1/2 tsp
Milk powder 1 tbsp
Salt to taste
Desi Ghee to fry
Galawat masala
Jeera 1/2 tsp
Cinnamon stick 1 inch
Cloves 4-5
Green cardamom 4
Nutmeg one pinch
Badi elaichi 2 to 3
Mace (javitri) 1/4 tsp
Poppy seed (khas khas) 1 tsp
Mustard seeds ½ tsp
Bay leaves 2
For Dum
Coal 1
Cloves 3
Choti elaichi 3
Method
Clean the raw papaya and make a paste of the fruit and add it to in finely minced meat. Leave it for 2 hrs.
Roast the besan.
Dry roast the spices and let it cool down, then grind to a paste.
Now cut the onions and sautee in ghee. After it cools down grind into a fine paste.
Grind ginger and garlic to make a paste or use the readymade paste that you get.
Soak saffron in 2 tablespoon milk around 15-20 minutes before use.
Add roasted masala powder, onion paste, ginger garlic paste, roasted besan, red chilli powder, saffron, rose water, milk powder and salt in marinated meat.
Mix the ingredients very finely with the meat
Cover the meat and refrigerate for 4 -5 hrs.
Heat a small piece of coal till it starts burning.
Put it in a metal bowl and keep it in the center of the vessel containing meat.
Add some ghee and put cloves and green cardamom in it.
This will release pleasantly aromatic flavor and flavoured smoke into the meat.
Quickly cover the vessel with meat and burning coal with foil so that meat absorbs all very earthy flavour of ghee and coal.
Leave it covered for about 20 minutes.
Meat is now ready for kebabs.
Make flat patties of the meat.
Heat ghee and fry the patties on very low flame till cooked.
Serve it with paratha with onions lemon and mint chutney.
Don't Miss: Cook Biryani In 10 Minutes Via One Pot One Shot Cooking Method!
Where Do You Get It In Lucknow?
The original two shops are in Aminabad and Chowk. Don't go to Sahara Ganj or all these branches as they are costlier and they are far off from the original ones.
Did you like this article ?