Christmas is synonymous to mulled wine, mince pies and hot chocolate galore! For Spaniards, it's honey and almond-encrusted turróns which spring to mind, for the French, yule logs (a frosted sponge cake of sorts), Panettone for the Italians and so the list goes on… each country has its own set of traditions which bring boundless Christmas cheer and joy! Swasti Aggarwal, Food Strategist at Foodhall, has shared tempting recipes to gorge on this Xmas. Here are my top picks of festive treats to tuck into, inspired by cross-cultural celebrations from around the world.
Torta Caprese
Named after the island of Capri where it originated, this decadently rich chocolate is made with ground almonds instead of flour, rendering it perfect for those on gluten-free diets!
Cook Time: 1 hour + chill time
Serves: 10 people
Ingredients:
325 g of blanched almonds, roughly chopped
175 g of bittersweet chocolate, chopped
110 g butter
110 g sugar
15 ml vanilla extract
Zest of 1 lemon
6 eggs, separated
Icing sugar for sprinkling
Method:
Preheat the oven to 180 degrees C. Line a springform pan with parchment paper. Lightly butter the paper.
Chop almonds on a board so you have it coarse textures in the finished torta.
In a double boiler slowly melt the chocolate and butter, and let cool slightly.
To this mix, add sugar and vanilla extract. Then fold in the ground almonds and lemon zest, and mix until combined. Keep mixing and add one egg at a time.
In a separate bowl beat the egg whites until they're stiff and then gently fold them into the almond-chocolate mixture.
Pour the batter into the prepared spring form pan. Bake in the middle of the oven for 50 minutes or until it begins to pull away from the side of a pan. You can test it by inserting a toothpick or a knifepoint. If it comes out clean or with moist crumbs, then you know it's done.
Let it cool and sprinkle the top with icing sugar. Serve with some fresh whipped cream.
Read More: Christmas: Try These Recipes Of Turkey, Yule Log And More
Java Latte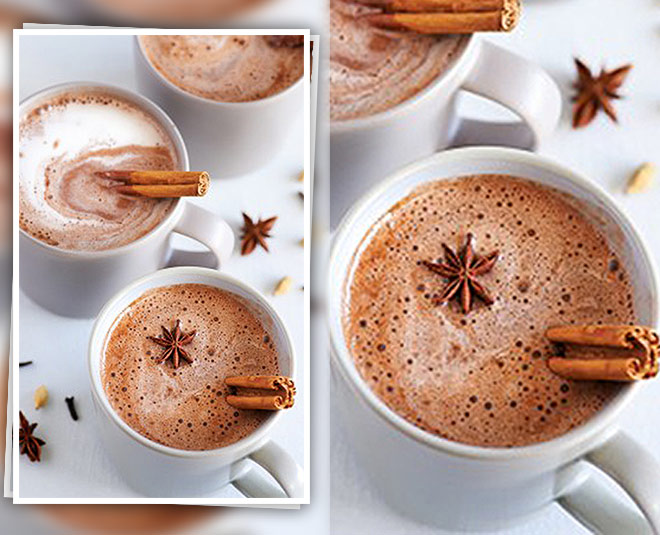 The traditional Italian latte is generally not foamed, and sugar is added by the drinker.
Ingredients:
1 cup milk
½ cup water
1 tsp sugar
1.5 tsp Arqa Java Chai Latte
1 shot of espresso
Method:
In a small pot, add milk, water, sugar, Arqa Java Chai Latte.
Heat on low flame until simmering, then turn the fire off, cover the pot, and let steep for 5-10 minutes. Before serving, heat again on low fire and add a shot of espresso.
Froth with a milk frother. Finally, strain out the spices while you pour the tea into a mug.