The festival of Halloween is among the world's oldest holidays and is celebrated today in a lot of countries across the globe. During this festival adults and children participate with equal zest. The tradition of Halloween includes costume parties, trick or treating, different pranks and games. This day is dedicated to remembering the dead, including saints (hallows), martyrs, and all the faithful spirits that departed.
To liven the spirit of Halloween and be a part of these festivities, how about whipping up some nice and sweet recipes for the kids at home? Here are two recipes by the chefs at Junkyard Cafe at Saket and After Stories, to get you started:
Halloween Trifle
Image courtesy: After Stories
Ingredients:
57 grams semi-sweet chocolate, chopped finely
1 box chocolate cake mix
110 grams chocolate flavour instant pudding
4 eggs, room temperature
1 cup sour cream
1/2 cup oil
1/2 cup water
2 cups cold milk
450 grams whipped topping, thawed
8-10 drops orange food colouring
Some marshmallows
Method:
Preheat oven to 350 degrees F.
Coat 13x9 pan with non-stick cooking spray.
Chop chocolate and set aside.
Beat together cake mix, dry pudding mix, eggs, sour cream, oil and water in a large mixing bowl until well blended.
Stir in chopped chocolate.
Pour batter into prepared pan.
Bake 40-50 minutes or until a toothpick comes out clean.
Remove from oven and allow to cool.
For the Filling:
Combine milk and chocolate pudding according to directions on the box.
Chill at least 5 minutes.
Combine the whipped topping with orange colouring, mix until well blended.
Top with 1/2 of pudding mixture, spread evenly on top of the cake.
Top with 1/2 of the whipped topping, spread evenly on top of pudding.
Whoopie Pie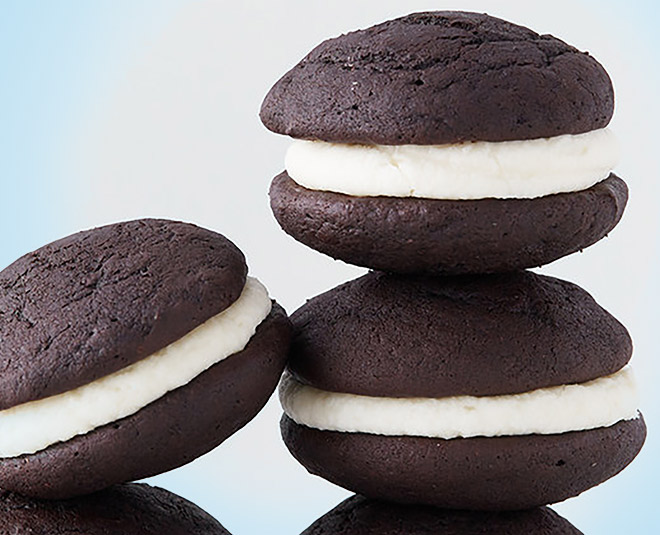 Image courtesy: Junkyard Cafe
Ingredients:
½ cup shortening
1 cup white sugar
2 eggs
2 cups all-purpose flour
5 tablespoon unsweetened cocoa powder
1 teaspoon baking powder
½ teaspoon salt
1 teaspoon baking soda
1 cup milk
1 teaspoon vanilla extract
¾ cup shortening
2 cups of sugar
1 pinch of salt
Read More: These Venues Will Make Your Halloween Night Spookier And Fun
Method:
Preheat oven to 350 degrees F (180 degrees C). Grease cookie sheets.
To Make Cookies:
In a large bowl cream 1/2 cup of shortening , 1 cup sugar and 2 egg yolks. (Set egg whites aside for filling.) NOTE: If you don't want to use raw egg white in the filling, leave it out. Substitute 1 whole egg for the 2 egg yolks in the cookie recipe so you don't end up with leftover whites!!
In a separate bowl sift together 2 cups flour, 5 tbsp cocoa, 1 tbsp baking powder, 1/2 tbsp salt, 1 tbsp baking soda. Add to other mixture alternately with milk, beating well. Add vanilla at the end.
Drop by large spoonful on greased pan.
Bake for 10-15 minutes. Remove to wire rack and cool completely.
To Make Filling:
Beat together 3/4 cup shortening, 2 cups sugar, 2 egg whites and dash of salt till light. Add 1 tsp. vanilla.
To Assemble:
Spread the flat side of one cookie circle with a spoonful of filling. Top with another.