Veteran actress Shabana Azmi is one super inspiring personality that many of us look up to. She doesn't mince her words and takes no trash be it whomsoever. Some of her works reflect her strong personality and her solidarity with the unnecessary taboos that maar India. She is the daughter of poet Kaifi Azmi, and stage actress Shaukat Azmi. An alumnus of the prestigious Film and Television Institute of India of Pune, Shabana is also well known for her body of work in meaningful cinema which is also called "parallel cinema" today.
The five-time winner of the National Award and the Padma Bhushan awardee is celebrating her birthday today. So, as an ode to the Goodwill Ambassador of the United Nations Population Fund (UNPFA), here are some instances when she spoke up, defending the right of women and slammed misogyny, on social media and on other platforms.
#StandWithNida
A few years back, the hashtag trended big time on Twitter with a number of supporters coming out to back a woman named Nida, who was a victim of triple talaq. She accused her husband's family members for causing her plight. However, she was ridiculed by a Maulana. A number of press reports came out which angered Shabana and she retweeted one of the news pieces lashing out against such injustice towards a woman. She tweeted: "And this is the 21st century? And Maulana you speak in the name of your religion? Shame on You! May the law of the land prevail upon you for inciting violence!"
Mandsaur Gangrape
When the Nirbhaya gangrape tragedy happened in Delhi, the entire country was in shock, leaving the doctors baffled as they had never seen such brutality. It took several years to bring the late victim justice but to a cost which is debatable. However, it did not stop there. There have been many cases that followed the treatment Nirbhaya got and one of them was the Mandsaur gangrape case where a 7-year-old girl was brutally raped and killed by a few men. It took two surgeries to undo the damage done to her private parts. The news was baffling as one is unable to fathom how do these men get the courage to do so and how sick anyone can be. Here is what Shabana Azmi tweeted, as a voice against the brutal crimes against women so easily committed in our country and sadly becoming common by the day.
And Still I Rise
The Creative Services Support Group (CSSG) made a video called 'And Still I Rise', which had Shabana Azmi and many other actresses, speaking to encourage the voices of young marginalised women, reach out to people. Here is what she said.
Don't Miss: When Abu Jani Sandeep Khosla Made Shahrukh, Salman, Ambanis, Amitabh, Shabana, Dimple, Wear Their Creations!
Self Defense Is A Must
Encouraging someone to teach self-defense to women in much needed times, Shabana Azmi lauded the individual, spreading the word that this is exactly what women need.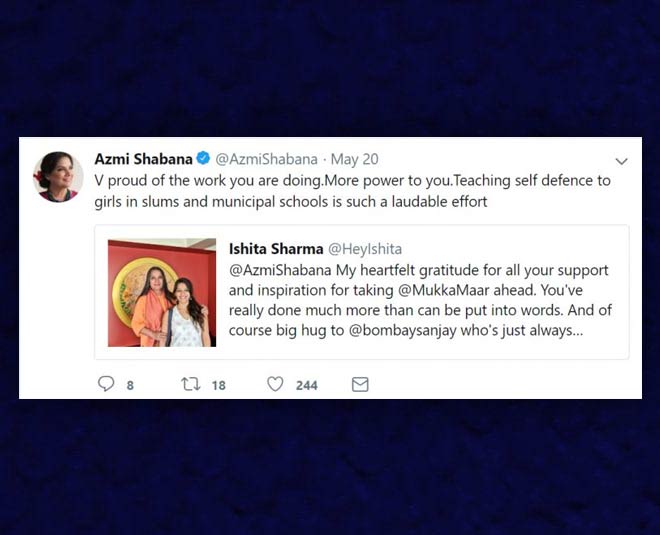 Item Songs
This has been a long debate where women are objectified in songs used in Hindi cinema. It clashed and represents the way women are percieved by men. In a press conference for a brand, Shabana Azmi explained how this and especially cinema, impacts the minds of viewers. She said:" If a top actress sings 'I am a tandoori murghi, eat me with alcohol...' it's not a laughing matter, it's serious. She sends out an invitation. A small team made the song, but millions saw it, sang it, and appreciated it. Their six-year-olds are dancing to it, and singing to it in schools and cultural events. Whose responsibility is that? Is no one responsible for that? It is not fun. You have to take it very seriously!"
Don't Miss: Shabana Azmi Gets Injured In Road Accident While Heading To Khandala
"What gets me worried is when the argument of sensuality is brought in. I believe that there is no harm in celebrating female sensuality. It is great, and should happen. But is it truly a celebration? No! You are surrendering to the male gaze. You are commodifying and objectifying yourself... The camera strips you of your autonomy. You have no control over it," she added.
When Actresses Carried Successful Films On Their Shoulders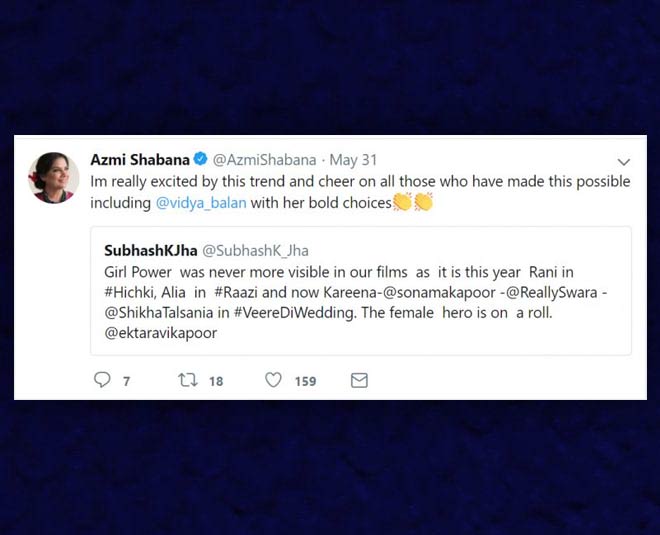 From Vidya Balan to Alia Bhatt, Indian cinema saw that a wave that we hope continues, where the burden of an entire film's success was on the actress for a change and they turned it into a hit with their work. More and more women-centric films started emerging which is a much talked about topic even today. Shabana Azmi lauded all the leading ladies in a tweet, expressing her happiness, supporting them all.
Shabana Azmi is among those actresses who is a force to reckon with. She is a prime example of how one should be vocal about their thoughts and speak up when it is needed. Hope she inspires many more.
Stay tuned to HerZindagi for more on inspiring women India has.