Ways To Style Puffed-Sleeve Blouses To Sharpen Up Your Look
Puff sleeves are extravagant statement sleeves that add a dash of glamour to any outfit.
Fashion trends come and go, but some of them stick around for a long time and continue to improve. The puffy sleeves trend is one such example. Many celebs have worn these stunning puff sleeves, including Anushka Sharma, Alia Bhatt, Priyanka Chopra Jonas, and Sonam Kapoor, among others. Here are a few ideas to get you started if you're new to the game and don't know how to dress a puffed-sleeve blouse.
1. Animal Print Top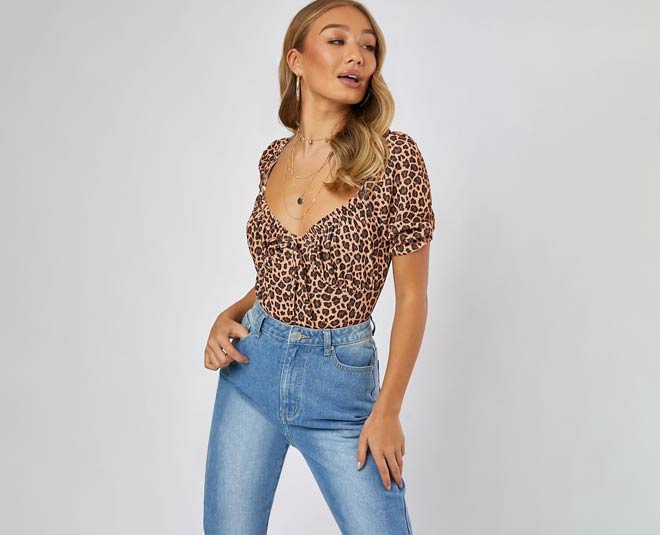 Animal patterns are always in style, and when they're incorporated into a puff sleeve blouse, you can be confident that your style is on point. Wear it with a pair of blue jeans to complete the outfit. When it comes to accessorising, try for a statement necklace or gold chains that aren't too flashy but still give your outfit a polished look. To finish the outfit, you can use black heels.
2. Puff Sleeves Top And Denim Shorts
The most effortless summer style is a white puff sleeve blouse with a pair of denim shorts. To give your look a more relaxed feel, add bright and attractive accessories. To pair with the shorts, you can choose any colour top. Choose a pair of white sneakers or leather mules that complement the hue of your blouse to complete your ensemble.
Don't miss:Ananya Panday Flaunts Her Beach Looks In Style
3. Puff Sleeves With A Leather Skirt
With large sleeves and a leather skirt, dress up in a colourful and whimsical design. When your sleeves are eye-catching, it's best to keep the rest of your outfit simple. As an accessory, choose a basic leather belt and a bold necklace, such as a gold chain. Nude heels or kitten heels are the ideal footwear choices for this style.
Don't miss:Trendy Outfit Ideas To Rock Your Holi Party
4. Wear Them With Casual Pants
When you want to keep things casual on a date night with your girlfriends, all you have to do is pair a floral puff sleeve blouse with casual slacks - yes, you read it correctly! This may appear to be a fashion faux pas, but the key is to match your top with the correct colour jeans.
Share your thoughts in the Facebook comments. Stay tuned with HerZindagi for more details.