Bridal trousseau consists of many elements. As per the Hindu culture, there are sixteen steps or components that the girl follows to finally get ready as a bride. It is called solah shringar that comprises donning bindi, necklaces, earrings, finger rings, bangles, and much more.
One of the significant elements is wearing flowers in the hair called gajra. Traditionally, jasmine flowers are used to make a garland or gajra to adorn the bride's hair. However, bridal fashion has evolved over the years, and so does the elements to enhance the beauty of a bride. If you are looking for different flowers to prepare the most stunning gajra, check out some of these gorgeous options.
Carnations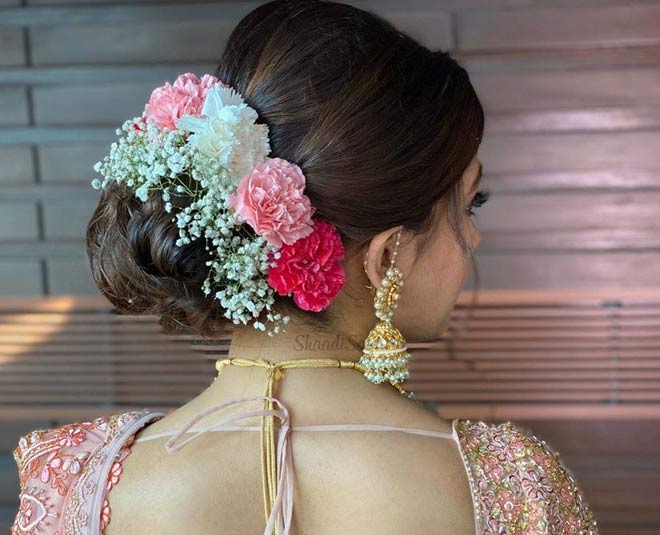 If you are a fashionista, you must have seen a lot of runway models donning amazing carnation gajras to complete their wedding collection look. It is one of the most trending flowers of the season to adorn the hair bun. Since the carnation gajra happens to be fuller, it gives that larger-than-life look. You can go for a single hue carnation, or mix and match two to three subtle shade, such as pink, white, red, yellow, and scarlet. However, don't go overboard by mixing way too many colours.
Pansies
For all those brides, who are a huge fan of adding vibrancy to their D-day appearances, pansies are for you! Available in almost all the gorgeous tones, pansies can assist in achieving a traditional regal look, and even a quirky modern appearance. These delicate flowers can go with a hair bun, side braids, and even can be added as garland on the open hair. However, it might cover your gajra pin or hair chain, so plan your hairdo in advance.
Roses
There is nothing that looks as stunning as the red and pink roses on a bride. The traditional hues add more glamour and elegance to her appearance in the most amazing way. From Deepika Padukone to Anushka Sharma, almost all the top-notch stars have been seen exuding charm in them. If you are planning to get ready all by yourself on your wedding day, arranging a rose in your hair bun might turn out to be tricky. Go for pieces that don't have thick and hard stems, the ones with the soft cane will be easy to fix in your juda.
Daisies
Sonam Kapoor looked drop-dead gorgeous at her wedding reception. Thanks to her exceptional couture and outstanding hairdo that was finished off with pretty and delicate white daisies. If you have gorgeous locks or are planning to go for a long-plated hairdo on your big day, daisies will add the perfect amount of oomph. They are easy to prepare a gajra with and stands out even when covered with a net of chiffon dupatta (must-have duapttas).
Don't Miss: Tips To Help You Hide Your Belly Fat Under A Lehenga
Gardenias
Gardenia, known as gandhraj in India grows in tropical climates. These flowers have the most amazing fragrance (how to change fragrance game with solid perfume), which can not only make you look charming but also smell amazing on your wedding day! You can pair gardenia flower gajra with great head accessories as they look subtle with everything and anything. However, if your hairdo is already huge and heavy, it might add extra weight to the hairdo.
This flower tends to have larger blooms than jasmine, so it can be worn alone instead of woven into a garland. Perfect for those who want to accessorise with flowers that leave a nice, fragrant whiff of perfume in their hair, this is a rare but beautiful floral accessory.
Don't Miss: Want Flawless Skin? Try This Amazing Marigold Face Pack To Combat Dryness And Acne
Do let us know which flower you liked best for your bridal gajra by commenting on our Facebook page. Stay tuned to HerZindagi for more such stories.