Gone are the days, when gym outfits used to be a secondary thing for women. With increasing fashion trends and necessity to look good has driven lot more people to sweat out in full style. And television actor Hina Khan is a perfect example to get it right. This gym rat is often seen flaunting her oh-so-tempting gym outfits. In her recent workout post, she is seen wearing a pink sporty bralette teamed up with a blue funky ganji. Her gym fashion is simply awesome.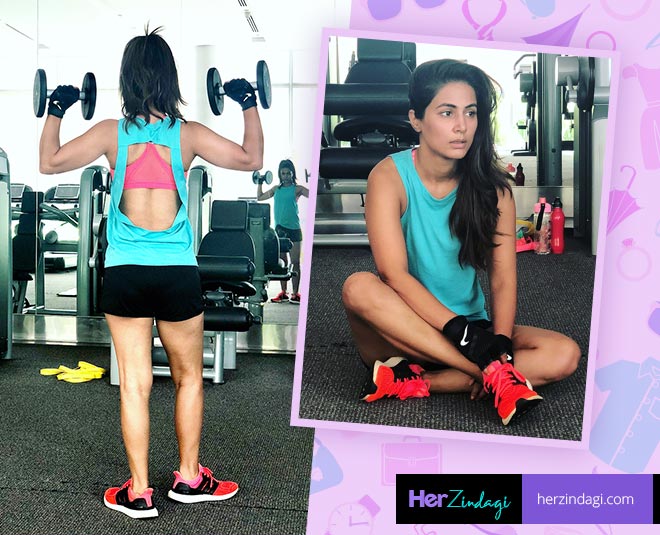 Are you confused what to wear during workout? She has many cues up her sleeves to level up your style game instantly. "No matter how you feel,get up, dress up, Go to gym, sweat it out, look hot and flaunt your gym wear And never Give up.. So my Gym swagger is on point #GymFashion #FitGirlAreTheHottest #GymSwagger," she captioned in one of her Instagram images.
Flexible leggings, cool sweatshirts, sporty bralettes and military print jerseys dominate her gym wardrobe. Want to upgrade your gym closet? This is what you need right away. You can finish your look with hand out gloves. "The hotter you dress when you workout,the better you feel and the harder you workout.. #MyWorkOutMantra #GymSwagger #GymFashion #FitGirl #VictoriaSport @victoriassecret," Hina Khan wrote.
This sari-clad TV bahu surprised everybody by posting her super fit captures. Hina Khan took to her Instagram handle to flaunt her oh-so-fit abs. She has been a dedicated practitioner of knee squats and somersaults to make her body flexible and fit. Apart from working out, she likes to keep her system clean by drinking lots of fluids and coconut water, at least twice a day.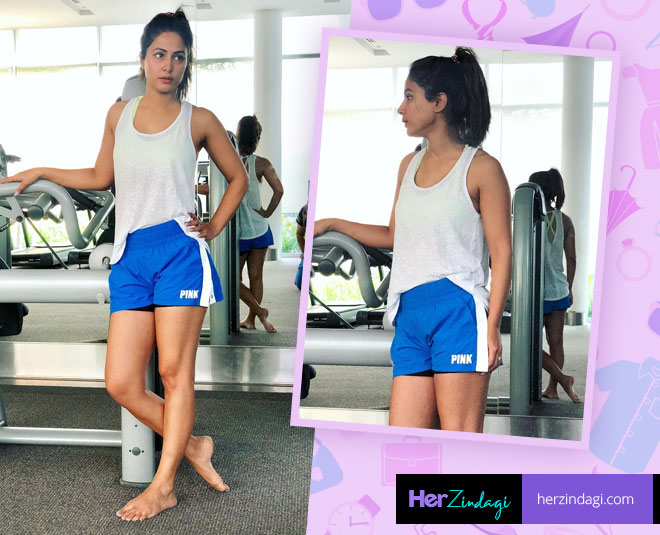 Undeniably, her tremendous hard work towards achieving a perfect body and zest to score a perfect 10 in style is visible to all of us. Every outcome requires certain amount of efforts and this 'Fear Factor: Khatron Ke Khiladi 8' actor has done her homework right. We are excited to see her all-new avatar in 'Kasautii Zindagi Kay 2'. Aren't we?
Don't Miss: Sick Of Constipation? Shilpa Shetty's Latest Workout Really Works
The 31-year-old actor, who is grabbing eyeballs with her super stylish character in 'Kasautii Zindagii Kay 2', has a collection of sporty shorts in her wardrobe. From black to blue, she certainly knows how to dress like a boss during her workout sessions. "Leg day, My legs are Hungover Hungover Hungover don't go by the pictures posing to look picture perfect just for Instagram now can somebody plz call for a stretcher," she captioned.